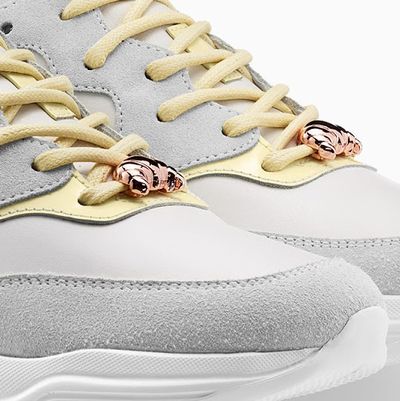 Check out those croissants on Dominique Ansel's Koio sneakers.
Photo: Koio.
Restaurant merch is the new band tee: You show your New York bona fides with your long-sleeved Nom Wah Tea Parlor shirt. Spend enough on latkes and vodka at Sammy's Roumanian and a "free" shirt will follow. Roberta's has built an entire second revenue stream out of hoodies, hats, and, uh, lifeguard shorts. But anyone can print their logo on a T-shirt. For more chefs and restaurateurs, the ultimate fashion collaboration isn't a walking fabric billboard. It's a pair of custom-branded sneakers: Limited-edition Air Force 1s or Boosts announce that you've made it, like a cookbook, but fire.
"It's a way we make a statement. We're in uniform, and it's the one thing you can wear that can go under the radar,'" says Michael "Mikey" Cole, who runs the Manhattan ice cream shop Mikey Likes It and has collaborated with Ewing Athletics on two sneakers (each $150). "Like, you wear black-on-black Jordans or Yeezys, no one notices, but some kid might be like, 'Oh my God, mom, look at those sneakers.' That's our only way of being fresh."
Sneakerheads are, of course, one of the fashion world's most obsessive subcultures, one that is built on a foundation of exclusivity, onetime releases, and rare, limited-edition collabs that become instant status symbols. Resale sites like StockX, Grailed, Flight Club, and Sole Supremacy have created a marketplace that's worth $6 billion, according to StockX. Chefs and cooks are just as likely as anyone to covet a pair of Nike Mars Yard 2.0, but the true grail is to collab with a brand to make a sneaker specifically for you or your restaurant.
Today, in fact, the chef sneaker-verse will expand with not one but two more culinary collaborations: limited-edition Koio sneakers that honor New York's Cronut king, Dominique Ansel, that feature shiny, golden croissant clasps on the laces. Ansel says that the $348 croissneakers are meant to "reflect my work, the world of baking." The kicks feature "flour white" suede and two types of leather meant to evoke crystallized sugar and butter. They are also firmly rooted in the dadcore aesthetic that has taken over the sneaker world in recent years.
The other collab debuting today takes cues from another continent: It's a joint project between the nearly century-old brand Feiyue — the Shanghai company whose low-cut white sneakers are a summer staple around the world — Brooklyn's Hickies, and Manhattan restaurant MáLà Project. Sold online only on Feiyue and MáLà Project's websites, the $88 "Flying Pigs" honor the year of the pig, are branded with the restaurant's signature orange color on the pull tab, and arrive in a crisp shade of white.
MáLà Project owner Amelie Kang first encountered Feiyue when she went home to Beijing for the Chinese New Year. Smitten with their comfort (the shoes have been popular for martial arts since they were first sold), she bought several pairs and then discovered her mom and aunt used to wear them all the time. "I thought it might fun for us to collab," she explains. "We don't think of ourselves as restaurant — we more consider it a project. We work on things that seem interesting to us, maybe entirely out of fun."
Ansel and Kang's sneakers are just the latest example of the chef sneaker explosion. In 2011, MOZO Shoes collaborated with chefs like Marcus Samuelsson and San Francisco's Chris Cosentino on a line of $70 shoes designed for kitchen work. In 2014, Nike SB (the company's skating line) worked with food personality Eddie Huang on a pair of limited-release sneakers named after his restaurant Baohaus's mascot, Chairman Bao. In 2015, Vans collaborated with the New York chef Tyler Kord on his No. 7 Vans Classic Slip-On and has since introduced shoes with Jon Snook and Vinny Dotolo, the chef duo vying to be the kings of Los Angeles; Cosentino, a skateboarder; and two more ($80 to $90) with Hedley & Bennett. Later in 2016, Adidas joined the fray with a pair of $200 sneakers with Huang (black with a silver metal toe), as did Fila, which released limited-edition maroon Cage sneakers for the restaurant Sweet Chick that are branded on the tongue and feature lace medallions with the words "chicken" and "waffles."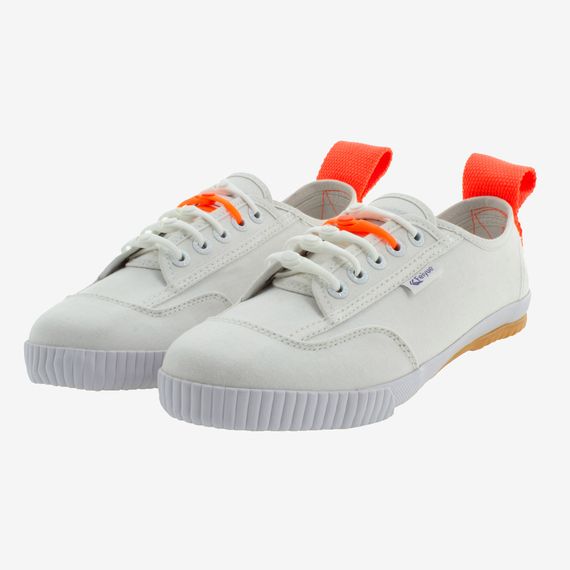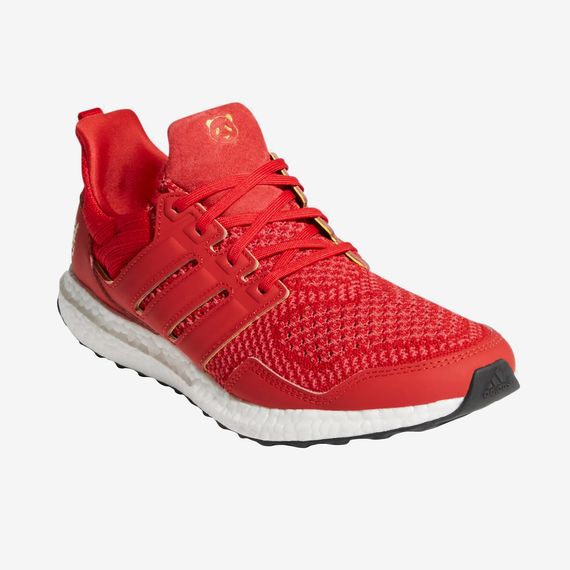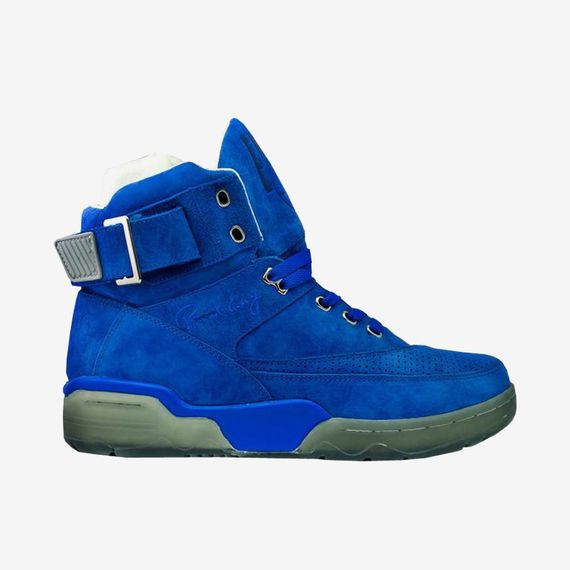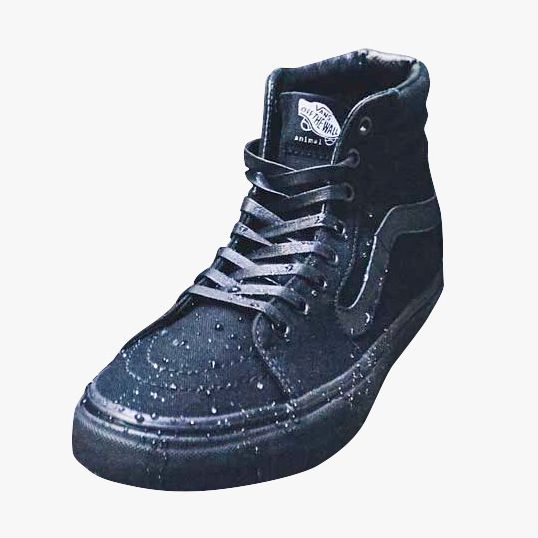 Sometimes, the collabs are just for fun. Other times they play up functionality in the kitchen: In 2016, Los Angeles' Keep Company collabed with Alvin Cailan on the $65 Shaheen Gourmand, billing the sneaker as "the ultimate non-slip kitchen shoe … tested by real chefs and real crews."
But more than anything, custom sneakers are about status. Any restaurant can sell its own shirt, but a sneaker establishes credibility, because it means you're a big enough deal to actually work with the likes of Nike or Adidas. Certainly, David Chang felt as much when, in 2017, Nike SB debuted Dunk High Pros featuring Momofuku's signature peach logo. Dozens of people lined up hours ahead of time to buy the extremely limited shoes. It was a win for everyone, especially the chef, who may not have been on some hypebeast's radars before the shoe was released.
"I think our generation, we're all sneakerheads," says the chef JJ Johnson. "Then we kind of stopped — I've started again in the last five years." Johnson has received plenty of accolades throughout his career (Esquire named Johnson's first restaurant, the Cecil, its best of the year in 2014, and his cookbook Between Harlem and Heaven just won a James Beard Award), but he talks about getting a sneaker collaboration like it's a trophy he still craves. Nothing is in the works, yet, but Johnson says he's dropped hints in the ears of friends who work at Nike and Jordan brand. After all, anyone can sell a T-shirt, but a pair of neon-pink JJ Jordans would be real fire.