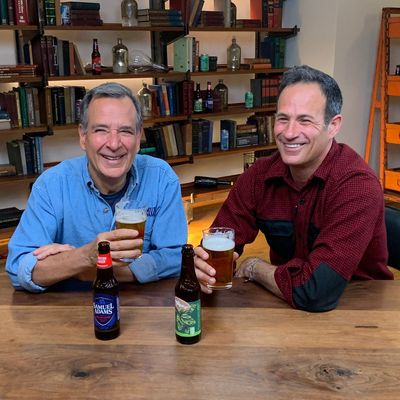 Boston Beer Company founder Jim Koch (left) and Dogfish Head co-founder Sam Calagione.
Photo: Courtesy of Dogfish Head Brewery
When the words "merger" and "craft beer" appear in the same sentence, it's usually bad news. But this week saw the $300 million buyout of Dogfish Head by Sam Adams producer Boston Beer Company to create what will likely be the biggest craft brewer in the United States. Dogfish Head founder Sam Calagione will join the board of Boston Beer Company and receive 406,000 shares of the company, which are currently valued at about $128 million. Whether you love both brands or strongly prefer your own hyperlocal brewer, this is good news for the craft beer industry and craft beer lovers everywhere. Here's why:
It makes both companies less vulnerable to being bought out by a major corporation.
Within craft beer there are at least two tiers: At the local level are microbreweries with small footprints but fierce brand loyalty. Then there's a second tier occupied by Boston Beer Company and Dogfish Head, brands that you can find in almost any American grocery store, but that have maintained their independence.
The latter group is a major target for companies like MillerCoors, AB In-Bev, and Constellation Brands, the three largest beer companies in the United States. All three do a remarkable job of buying craft breweries and then obfuscating the fact that they're owned by multibillion-dollar corporations. (Think MillerCoors–owned Blue Moon, AB In-Bev–owned Goose Island, and Constellation Brands–owned Ballast Point.) But by pooling their resources the two companies will likely be too powerful on their own to ever consider selling. Boston Beer Company and Dogfish Head are the second- and 13th-largest craft breweries by sales volume in the United States, according to the Brewers Association. (The top craft brewery is Yuengling.) When beer corporations take over small brands, they give them national distribution, but they can also use their purchasing power to muscle out craft brands at stores and bars — in the same way Kellogg can afford the eye-level shelves in the cereal aisle — while creating less variety in the beer aisle overall. Through Boston Beer Company, Dogfish Head will join one of the largest distributors of craft beer in the country without losing its identity.
It's a pathway that other craft breweries can follow.
Though craft beer is on the up and up, with the industry seeing 7 percent sales growth in 2018, the $28 billion craft beer industry still represents only a quarter of the $114 billion beer industry, which is still primarily the domain of AB In-Bev and MillerCoors.
But a merger like this, between two well-known craft breweries shows that an alternative to shuttering or "selling out" could be consolidating resources with another craft brewery with the same values and dedicated following. Call it the "Join or Die" method.
It's a giant middle finger to beverage corporations.
Some may recall that not once, but at least twice AB In-Bev, has fired shots at the craft beer industry. First, in 2015, with a Super Bowl ad which states that they proudly brew "macro beer" that's "not brewed to be fussed over" and again in 2017 with a national ad that criticized the use of unusual ingredients in craft beers. For the most part, craft brewers and people who love their beers have had to take these not-so-subtle digs on the chin, but a massive merger like this between two independent breweries is as significant a "fuck you" that the craft beer industry may ever get. Sam Calagione of Dogfish Head put it this way in a 2015 interview with Men's Journal: "I do think the world's largest breweries are disingenuous in their intentions moving into the craft beer world. They'll buy a once-independent brewery — not naming names — and suddenly its IPA's kegs are on the street for half as much as a true indie craft beer. It really shows they're using these once-craft brands as pawns in their game to knock the true indie breweries off the board."
Beer lovers could get some great new beer collaborations out of this.
As a publicly traded company, Boston Beer Company may seem more buttoned-up than the "off-centered" Dogfish Head, but they've been known to come up with some pretty creative brews as a team. Back in 2011, the two breweries collaborated on Savor Flowers, a barrel-aged beer made with rosewater, lavender, hibiscus, jasmine, rosebuds, and a obscure hop varietal known as #369. The beer was never widely distributed, but as one company, there's a strong possibility that something as delicious-sounding as Savor Flowers could be on the horizon.