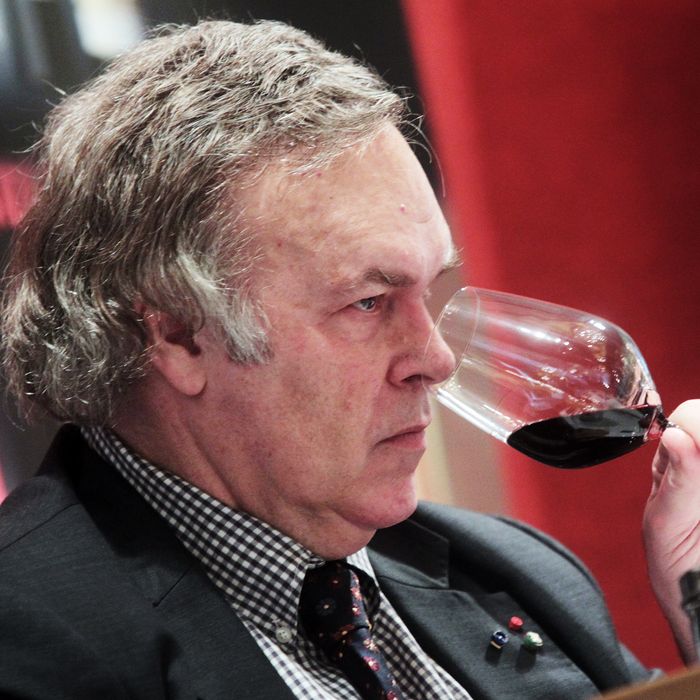 Robert Parker, doing his thing.
Photo: K. Y. Cheng/South China Morning Post via Getty Images
Robert Parker, the long-standing and tastemaking wine critic, will retire from the world of professionally sniffing and swirling Bordeaux. The news was announced in the Wine Advocate, in which the publication's editor-in-chief, Lisa Perrotti-Brown, calls him "the father of modern wine criticism" and says that his "expert, straight-talking opinions will sorely be missed." He's been a presence in the world of fermented grape juice since 1978, when he launched the Baltimore-Washington Wine Advocate. (He'd drop the municipalities from the name the next year.)
Whatever your feelings are about Parker's approach, taste, and power, his influence on the world of wine is tangible and undeniable. His freaking nose is famously insured for what was last reported to be a million dollars; a 2000 profile in the Atlantic was called, aptly, "The Million-Dollar Nose." Go to most any wine store — except, well, those that sell natural or organic wines and whose owners position themselves against Parker — and you'll more likely than not see certain wines with tags displaying their Wine Advocate rating.
The Wine Advocate ratings, doled out on a 100-point scale, are Parker's most significant and controversial contribution to the world of wine. The origin of the ratings is surprising, given the system's status now. Parker was into the consumer advocacy of Ralph Nader and wanted to create a more democratic approach to wine. As Perrotti-Brown argues, he sought to create a publication that was "free of financial ties to wineries and merchants" and "served only the interests of wine writers."
Of course, as Parker's influence grew, his scale and his big and boozy tastes became the industry standard-bearer. The scale has been criticized for, some argue, encouraging wine-makers to produce wine tailored to Parker's taste, at least by default of influence. One winery's marketing director told VinePair back in 2011 that the system is "inherently political." That same year, Wine Advocate reviewer Jay Miller resigned following allegations (which he denies) that he sought to trade appearances for payment.
"Whenever I got to try one of the high-scoring wines, I could never really make a connection and thought that it was just the part of learning about wine that I wasn't going to get," says Tammie Teclemariam, a freelance drinks writer who covers wine. Over time, she realized their tastes are just different. "That said, the man was a tastemaker. Like, a global wine tastemaker. His preferences affected the profile of a large part of the wine industry from low to high, and we'll be dealing with the bad-wine leftover from that for years to come. In that way, I guess he was like a Supreme Court justice … which is funny because he was a lawyer."
Over the course of this decade, Parker has been winding down. He'd sold an interest in Wine Advocate in 2012 and stepped down as editor-in-chief. In 2017, he stopped reviewing wines for the publication. Now, apparently satisfied that he has completed his mission, Parker is ready to retire and, presumably, admit that he's actually really into natural wine these days.