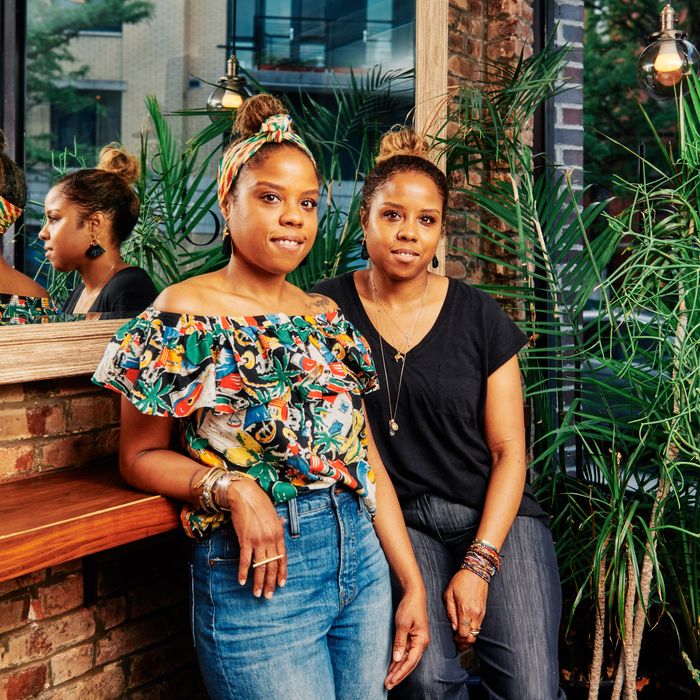 Ode to Babel owners Marva and Myriam Babel.
Photo: Christian Rodriguez
In early May, Marva Babel-Tucker, who owns the four-year-old Prospect Heights bar Ode to Babel with her twin sister Myriam, was checking her email when she spotted a message with a curious subject line: "Fwd: Ode to Babel – Liquor License review hearing." The email was from her friend Gina Keller, a longtime Prospect Heights resident who'd hosted two events at the bar, which tends to draw a crowd of young brown and black people from surrounding neighborhoods like Crown Heights, Bed-Stuy, and Clinton Hill.
Babel-Tucker opened the email to find a post from the "Crime & Safety" forum of the Prospect Heights' page on NextDoor, a San Francisco–based website that provides "a free private social network for your neighborhood community" that has been accused in the past of becoming a hub for racial profiling.
The post, created by a woman who lived near the bar, called on her fellow residents to protest the impending renewal of Ode to Babel's liquor license and laid out allegations of assault, noise, disrespectful patrons and management, a run-in with the owners, and even a domestic assault incident between a couple outside the bar. Below, the woman attached a picture of a large scratch on her neck that she'd received during the assault, as well as a picture of the liquor license renewal notice in the bar's window.
"Oh my God," Babel-Tucker says of the post. "I was devastated. I was just like, why wouldn't this person just come to me directly? Why would you do that?"
Keller offered to send a text describing the incident to her circle of friends, which Babel-Tucker, who describes herself as "shy," gladly accepted. It read: "Ode to Babel is having issues and needs 'us' to attend the community board meeting on Monday in support of their liquor license." One of Keller's contacts took a screenshot of the text and posted it to social media while Nathalie Vil, the Brooklyn-born founder of advocacy platform Nellie's Compass, called on her followers to flood Community Board 8's inbox with letters of support.
By the time the meeting took place three days later, 180 letters of support had been sent to the community board, and neighbors were on hand to dispute any allegations. Ultimately, Vil says, "it all came down to [the accuser] just not being comfortable with the operating hours and the crowd that was being attracted." Keller adds, "I think the woman from NextDoor was a little taken off guard, because she didn't anticipate this outpouring of support." The community board ultimately decided to renew Ode to Babel's liquor license, and Ode to Babel's victory is being seen by some as a blueprint for how other minority-owned businesses operating in gentrifying neighborhoods can protect themselves while maintaining spaces where people of color can express themselves freely in neighborhoods that once welcomed them.
Liquor license disputes and NIMBY arguments are, of course, not exactly uncommon in New York City, especially in neighborhoods that have seen a rapid change in their demographic makeup from the effects of gentrification. In Community District 8 — which includes Crown Heights, Prospect Heights, and Weeksville — the black population fell from 78 percent to 65.5 percent between 2000 and 2010, while the area's white non-Hispanic population jumped from 6.8 to 16.7 percent, representing the neighborhood's largest demographic shift. In Prospect Heights alone, 50 percent of residents are white as of 2016. Accordingly, the few remaining black-owned businesses in the neighborhood are held in high esteem by black Brooklynites who don't feel like they fit in other spaces.
"It's definitely not unusual for me to go out in my neighborhood now and to be the only person of color in the establishment and I hate it," says Tara Duvivier, a patron turned DJ, who's lived in Clinton Hill for a decade. She adds, "a lot of the things that we have done for generations in this city are now seen as nuisances — even just somebody playing music out on their stoop is considered a nuisance. We have to fight that idea."
In fact, Ode to Babel's liquor license dispute arrived on the heels of a more serious event that happened in October 2018. On a Friday night, when the bar is often at its busiest, more than 30 employees from several city agencies, including the State Liquor Authority, Department of Buildings, Department of Health, and the FDNY, barged into Ode to Babel for an unannounced inspection, known as a Multi-Agency Response to Community Hotspots raid. Less than 2 percent of New York City's 12,000-plus bars are subjected to them every year.
In a single evening, the Babel sisters racked up $2,000 in fines. They were all later dismissed, but Babel-Tucker says, "the visual of it was damaging beyond words — it was a financial and emotional hit." Local organizations like the NYC Artists Coalition and the Hell's Kitchen Democrats as well as City Council members Stephen T. Levin and Rafael Espinal have protested the city's use of M.A.R.C.H. raids, citing a lack of transparency into who gets raided and why. Three days before Ode to Babel was raided, Levin introduced Bill No. 1156, which would require the Mayor's Office of Criminal Justice "to report on Multi-Agency Response to Community Hotspots operations."
Four months after the raid, Babel-Tucker appeared before Levin and the City Council's Committee on Justice System to share her personal experience and why she believes the raids are especially detrimental to businesses frequented by people of color and other minorities. "Our popularity has translated into disdain by some of our neighbors; neighbors who are new to the community and want to see us silenced, literally and figuratively," Babel-Tucker told the council. "Their weapon of choice in the fight is 311, 911 calls, and to bombard the [community] board with complaints and pressure. As a person of color, I don't need to go into the dangers of using police presence as a weapon against people of color, but this is exactly what is being done."
Now, Babel-Tucker says the last seven months have convinced her of two things: First, that it's more important than ever for the community of mostly black and brown customers to support local business. "I lived in Brooklyn in the '90s, when it was like Chocolate City," she says. "Fort Greene was black and beautiful. Now, you wouldn't know that's Fort Greene. As our erasure happens, we're trying very hard to protect our spaces — it's incredibly important that we do."
That coincides with her second revelation: This moment should serve as a wake-up call, and an inspiration to any aspiring black business owners. "I would say to anybody who may be reading this: jump in — we have our community's support. We don't know each and every person, but you're gonna feel the love."