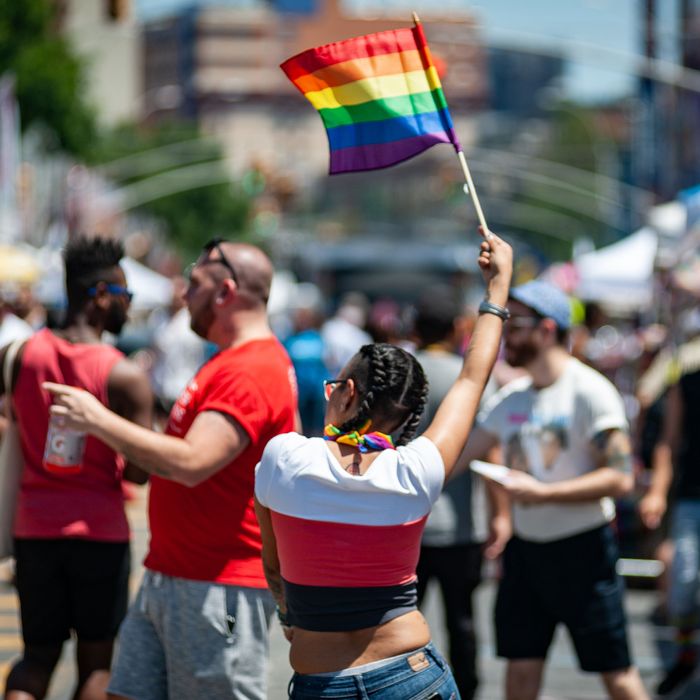 Check out Bronx Pride on June 23.
Photo: David 'Dee' Delgado
This weekend marks the start of June, which also happens to be the start of Pride Month here in New York City. Pride never fails to be a source of both joy and entertainment, but this year's celebration marking the 50th anniversary of the Stonewall riots is sure to stand out. Here, a list of 19 ways to celebrate Pride 2019 whether you're LGBTQIA+ or a steadfast ally.
Enjoy city views at God's Love We Deliver's Savor Pride event.
On June 28, charitable organization God's Love We Deliver will open its gorgeous public-events space for Savor Pride, a culinary event featuring LGBTQIA+ and ally chefs, including Renee Blackman and author Julia Turshen. The evening will include plenty to eat, cooking demonstrations, and the GLWD terrace overlooking Sixth Avenue and Spring Street. General-admission tickets are $70, while VIP passes (which include early entry and a gift bag) are $125. Proceeds will benefit both GLWD and NYC Pride.
Attend the Miss Stonewall pageant.
A big part of this year's celebration is focused on the 50th anniversary of the Stonewall riots. So you can bet that the competition will be especially fierce at this year's Miss Stonewall pageant on June 2. With Miss Fire Island Ariel Sinclair hosting, expect celebrity judges, more than $5,000 in prizes, and a whole lot of drag queens. (There will also be a special Stonewall for All lager on tap from Brooklyn Brewery.) Admission is free, but plan to show up early to grab a good spot.
Party at Threes Brewing in Gowanus and Greenpoint all month long.
Brooklyn brewery and bar Threes Brewing is going all out this June: They'll kick off the month with the release of Gender Neutral, a hop-forward lager that benefits the Anti-Violence Project. The weekend of June 7, Threes will host a Queer Dance party with Oakland's Temescal Brewing, a post-Brooklyn Pride Run happy hour, and a World Pride 2019 variety show featuring burlesque performers, drag queens, dancers, and comedy. Finally, on Pride Day itself (June 30), Threes will throw a post-Pride party for all your dancing needs.
Take the family out for movie night at Pier 45.
On Friday, June 21, NYC Pride will post up at Pier 45 for a very special kid-friendly screening of Coco. Before the movie kicks off, there'll be live entertainment and games with drag queen Miss Richfield 1981 leading the charge. Admission is free, but if you want to reserve a blanket ($50) or, even better, a couch ($750), click here. Proceeds will benefit NYC Pride and other LGBTQIA+ organizations.
Learn the true meaning of camp at the Met Museum.
The Met Gala has come and gone, but the "Camp" exhibit doesn't close until September 8, and there's something poetic about checking it out during Pride Month. (And may we suggest pairing your visit with a two-hour Gay Secrets Tour of the Met?)
Celebrate Pride in your own backyard.
Who says you can go to only one Pride parade in June? If you take as much pride in your borough as you do in queer culture, then you'll want to check out Queens Pride on June 2, Brooklyn Pride on June 8, and Bronx Pride on June 23. (Staten Island held its Pride festivities in May.) As for the Big One: Expect a route this year that will take revelers past the Stonewall Inn Memorial and the AIDS Memorial before ending in Chelsea. Some good spots to post up include Gabe Stuhlman's West Village restaurants Fairfax, Bar Sardine, and Joseph Leonard; Blind Tiger Ale House, if you want to get dive-y; and the NoMad Bar.
Catch a movie with Queer Soup Night.
For those looking for a relatively laid-back way to celebrate Pride, look no further than chef Liz Alpern's Queer Soup Night, which welcomes all people to enjoy great soup for a good cause. On June 9, QSN will partner with Nitehawk Cinema Prospect Park to host a drag show and screening of queer cult classic But I'm a Cheerleader. (Director Jamie Babbit will be on hand to discuss.) Admission is free, though attendees are encouraged to make a $10 to $20 donation, which will benefit interACT, an advocacy organization for intersex youth.
Party like a Brazilian at the New York Botanical Garden's WorldPride Night.
On Saturday, June 15, the New York Botanical Garden is going all out celebrating both Pride and its exhibit on Brazilian artist Roberto Burle Marx. Brazilian-born drag queen Pietra Parker will play host, and all-female samba reggae drum line Fogo Azul will lead a samba parade. Finally, trans vocalist Liniker Barros and her band, Liniker e os Caramelows, will close the evening. Tickets for this 21-plus event (expect a lot of caprihanas) are $28 for members and $38 for nonmember.
Enjoy a night of culinary delights with other womxn at MoFAD.
On Friday, June 21, the Museum of Food and Drink will welcome the team behind feminist food magazine GRL SQUASH and the chefs at This Queer Kitchen for bites, dancing, and drinks. At 7 p.m., you can buy $30 tickets that get you two beers from Brooklyn Brewery, plenty of food, and admission to the exhibit "Chow: Making the Chinese American Restaurant."
Enjoy NYC Pride's only sanctioned Drag Brunch.
There will definitely be a lot of drag brunches in June, but the only one approved by NYC Pride is taking place on June 30 at Burger & Lobster in the Flatiron. Bob the Drag Queen, winner of season eight of RuPaul's Drag Race, will play hostess.
Schmooze with queer business leaders at the Pride Luminaries Brunch.
For the eighth year in a row, NYC Pride will team up with the National LGBT Chamber of Commerce and New Orleans Tourism to host Pride Luminaries, a rooftop brunch featuring industry insiders, media mavens, and proud politicians, including Out editor Phillip Picardi and Allison Graham of She Does Him. $85 tickets include four hours of unlimited drinking, eating, and a gift bag with proceeds benefiting NYC Pride. Purchase tickets here, and come dressed to impress.
Take in an all-star show at the WorldPride Opening Ceremony.
China may have set the standard for opening ceremonies back in 2008, but NYC Pride is trying awfully hard to beat it. To kick off the days leading up to the Pride March, the organization is staging a benefit concert at Barclays Center featuring Whoopi Goldberg, Chaka Khan, Ciara, Cindy Lauper, Billy Porter, and more. Tickets start at a rather affordable $45.
Get a Pride Shake at Shake Shack.
A lot of corporations have Pride specials going on. It's just what they do. But the one that we're genuinely excited about is Shake Shack's Pride Shake, which involves cake batter and a lot of glitter and rainbow sprinkles. Proceeds benefit the Trevor Project.
Eat your way through the Center's Garden Party.
If you have no post-work plans for June 24, consider attending the Center's WorldPride celebration at Pier 97. Starting at 6 p.m., the organization, which acts as a one-stop hub for people in the LGBTQ community, will showcase food and drinks from some of the city's finest restaurants, including High Street on Hudson, Butter & Scotch, Dinosaur Bar-B-Que, Kreung Cambodia, MeMe's Diner, Vic's, Shuka, and Ample Hills. Tickets start at $85.
Join Outcycling's NYC Pride Ride.
Because Pride is all month long, you've got to pace yourself. And who better to help than other queer cyclists. This Sunday, join the folks from Outcycling for the annual NYC Pride Ride. (Registration is still open.) Riders are free to cycle for 30 miles or up to 100 miles with food and drinks along the way. The whole ride will end in a Finish Festival at Riverbank State Park with refreshments and barbecue.
Take in the Hester Street Fair's WorldPride Market.
Hester Street Fair is always worth the visit and especially so on June 29. That Saturday, the Lower East Side market will feature more queer-owned businesses than ever before, in addition to the usual food, drink, and dancing that makes fairs so fun to check out. Admission is free, but the wares aren't.
Rally like it's 1969 at the Stonewall 50 Commemoration.
Every year, people gather to commemorate and relive the first NYC Pride rally, which took place shortly after the Stonewall riots. This year's ceremony, on Friday, June 28, at the corner of Christopher Street and Waverly Place, is sure to be extra special and will feature speeches from local activists, politicians, entertainers, and organizers on why gay rights matter, especially in the current political climate. The event is open to the public.
Enjoy a five-course dinner featuring the stories of queer chefs.
From June 17 to June 19, StoryCourse, a dinner series founded by Dinner Lab founder Brian Bordainick and Broadway actor Adam Kantor, will host Pride Table, an LGBTQ dinner series. Over two weeks, five queer chefs will put together five-course dinners (with wine pairings, tax, and tip included) that tell the story of their journey. Tickets are $169; purchase them here.
Picnic and take in a drag show on Governors Island.
This summer, the Human Impact Institute has put together the House of Solutions, an event space on Governors Island dedicated to engaging visitors about the threat of climate change. To kick off the residency, the HII will host Climate's a Drag, a climate-change-themed drag show featuring House of Yes's Madame Vivien V. The show is totally free to take in, so just pack a picnic and show up.