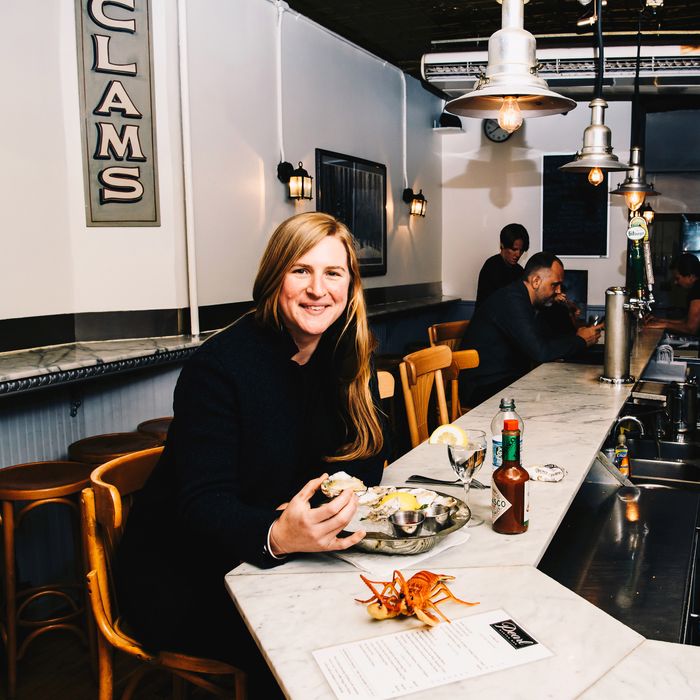 Criminal
's Phoebe Judge at
Pearl Oyster Bar
, a favorite stop of her's for lobster rolls.
Photo: Nina Westervelt
Podcasting may be Phoebe Judge's profession — she is the host and co-creator of the essential, award-winning Criminal podcast, as well as This Is Love — but food is her passion. "My favorite thing," she says, "is cooking dinner." And when she's traveling, she plans her trips around restaurants. That means that, while in town this week for work and for the Webby Awards (at which Criminal won an award), she was able to hit I Sodi for lasagna, and made the trip to New Haven for some pizza at Frank Pepe's. Read it all in this week's Grub Street Diet.
Thursday, May 9
I woke up around seven. I had a dentist appointment at noon and was very worried about the dentist, and always have been, so I didn't eat much before. I had two cups of coffee and half a banana. I drank a couple seltzers, too. Then I spent half an hour doing the seven-minute New York Times workout, which I do four rotations of. I think that sounds kind of nuts, but I like how structured it is.
When I got home I had work and emails to attend to, but I was also starving so I had an apple, and almond butter. And my third can of seltzer of the day.
Later, my partner Sara and I had friends over for drinks. We had tequila and soda, and carrots and hummus. We live in Durham, which has a great farmers market, and this is a good time for radishes and carrots.
Each Thursday, we also take part in this thing called Snack Service. A local chef and baker, Phoebe Lawless, drops off this wonderful wild assortment of things.  This time, we got egg salad, kale caesar salad, pistou, shortcakes, and carnitas. Two of our friends stayed for dinner, so we made dinner out of the kale salad, carnitas, and a baked sweet potato. And we supplemented with greens from our little vegetable garden in the front yard, which has a lot of kale and swiss chard and tons of lettuce. We had tomatoes grown from heirloom seeds from Thomas Jefferson's garden at Monticello earlier this spring, and we had salad from all of that.
Our friend Pete is a vegan, so I toasted some good bread and put some pistou on it and swapped out the meat. We also had some rosé. I really like this boxed one called VRAC. It had been 90 degrees in Durham for weeks, so rosé seemed appropriate.
Friday, May 10
I don't like really bad coffee but I also don't care about really good coffee. I also don't like very weak coffee, but I really hate strong coffee. We buy our coffee from Costco, a Colombian Roast, and I usually have one and a half cups in the morning.
I also drink a seltzer every morning when I wake up. My favorite is the ginger seltzer from Whole Foods, but I had to settle for lime this morning. I also make the same smoothie for breakfast most days of the week. It's Redwood Farms Plain goat's milk kefir, coconut water, wild Maine blueberries, and frozen cherries. Someone once told me that goat's milk is better for you.
We had an episode of Criminal come out this morning, and so I was up very early checking to make sure the episode was up, and looking to see if anyone was talking about it yet.
After I went for a run — something I never am very happy about, but always feel better about when it is over — I quickly packed for my flight to New York City. I was flying with Lauren Spohrer, my co-creator for the shows. She picked me up on the way to the airport.
One of the great things about living in Durham is that RDU is the easiest airport in the world to manage. It has a million flights a day to NYC. It only takes me 17 minutes to get over, but I always build in some time to go the Delta Sky Lounge. I am a wild Delta loyalist, but they were switching over from breakfast to lunch and it confused my whole eating plan. So I just had four carrots and went to find something else. I found a turkey Reuben at Jason's Deli, which was actually pretty good, and a Diet Coke on the flight to LGA while I caught up on emails. I love sauerkraut and mustard, a lot.
In New York, I stayed at this new hotel Sister City in the Bowery. I checked in and bought a Pilot Kombucha, the orange-ginger flavor, from the front desk.
After a 5 p.m. conference call, I ran downtown to meet my best friend Minden Koopmans. We went to college together and have been friends ever since. It's very lucky when I get to see her, and even more lucky to have a night alone. We walked from Wall Street to the Williamsburg Bridge, considered walking over it but opted for the J instead. We had a million things to catch up on and didn't stop talking once.
We went to Donna for a drink. I had a gin and tonic, which had too much Schweppes in it. Minden had an Aperol Spritz. Then we walked right down the block to Marlow and Sons. Williamsburg is too hip for me. But the back room of Marlow and Sons is quiet and dark — it could almost be an English ship — and I like it. I love little hidden spaces.
We started with the peanuts, and a sour cabbage pancake. Then we both shared the tilefish and brick chicken with shiitakes. And we had a really good French rosé. After dinner, I took a cab back to the Bowery and walked around for awhile.
Saturday, May 11
I woke up really early and worked. There was no coffee but I did manage to find a can of seltzer the night before. It was warm by this point, but at least it was something.
I took a cab to Grand Central and found a cup of coffee at the Great Northern Food Hall. I walked downstairs and sat at this place called the Tartinery and had avocado toast and an actually very good fruit bowl. I ditched the old coffee and got a new cup there. Then I got on the 9:02 A.M. train to New Haven. I spent the two-hour ride reading and not looking at my phone or doing work, and it was just great.
I was meeting my father and 10-year-old niece Madeleine, who live in Western Massachusetts. This felt like halfway, and it was a good excuse to go to Frank Pepe's for lunch, which I still think has the best pizza around. They picked me up from the train station and we made it to Frank Pepe's before the line started.
We all had birch beer, which is really great if you haven't had it, and better than root beer. We shared a Caesar salad, and the white clam pizza, and the gorgonzola pizza with spinach and mushrooms. Usually that is white pizza, but we had them make it with tomatoes, since we were having the clams as well. I like everything about Frank Pepe's. It's worth the two-hour train ride.
Then we walked around the New Haven farmer's market and I stared at a man making crepes for a long time. I wish I could do that for an hour some time. After, we drove out to the beach and looked at the ocean for a minute before they dropped me back off at the train station.
I got back around 4 P.M. and decided to walk down Park Avenue back to my hotel. I realized along the way that I was hungry and thirsty, so I stopped in Whole Foods and bought an apple and an Honest Moroccan mint green tea.
I was going to see Oklahoma and didn't know what I wanted for dinner so I just started walking around. I don't know why, or how, I found myself at Balthazar but I did. They had a table open when I walked in and it seemed easy, and there I was. I don't think I had been there since 2006. All of my favorite restaurants were all really hip, like, 15 years ago, and I think that's fantastic. Now they're just really good, but not the new, it thing, and that's perfect for me.
I had a mixed-green salad with sherry vinaigrette and a glass of rosé, and then trout with lentils, spinach, and walnuts. I sat by myself and spent most of the time listening to a father try to get his two teenage daughters to have a good time. He started a toast and the two girls were having none of it, and I felt bad, and I hate a toast, but I almost leaned over and touched his glass. I was very happy with the trout, and the service was good. And right before I asked for my check the waitress told me that they offer all people dining alone a glass of champagne, and would I like it. And yes, I would, and that was that.
I took the subway to 49th Street. For some reason the idea of Oklahoma has always appealed to me. I thought the whole thing was really very wonderful, and odd, and good in the best way. There were no hoop skirts, but it didn't matter. At intermission, they gave out chili and cornbread and I had a little of that. I was as content as could be. It didn't end until 11 P.M., and I took the N back to the hotel and spent the next half hour looking up all the old songs and feeling like I had a good day.
Sunday, May 12
I woke up earlier than I had hoped and it was raining and horrible outside so I walked down to the lobby and got a cup of coffee and a croissant and an orange. Then I went back up to my room and worked on a script that I'd been procrastinating working on. And I called my mother, Valentine, to say Happy Mother's Day.
I met my friend Eric, who helped start Criminal with us, at Shopshins at the new Essex Street Market for a cup of coffee. We were going to go for a run but it was 49 degrees and raining so this seemed like the smarter plan.
Afterward I got in a cab and went to the East Village to meet my aunt, Phoebe Legere, for lunch. She suggested Little Poland. She is a wonderful singer, and painter, and musician who also now runs the Lower East Side Children's Chorus, and she has lived in the East Village for years. She has been going to Little Poland just as long. We had chicken noodle soup and cheese pierogies, and I had a seltzer. We caught up on everything and I am always very happy to see my aunt. She is talented and wonderful, and I am very proud to be named after her.
I then quickly made my way over to the Fat Radish where I met Lauren and an editor who we were discussing working with. I was full, but I have always been fascinated by an Eton Mess with a rhubarb syrup.  So I had that and a cup of Earl Gray tea. I love desserts that aren't too sweet, and I rarely eat them but this was fantastic.
I went back to the hotel and worked some more on the script and thought about dinner. It feels like this whole thing is just me listing off good restaurants, but when I am here I want to take full advantage and go to the places I love. So, I walked over to the West Side and stood in line, in the rain, to try and get a seat at I Sodi. I think I Sodi is fantastic. I had a negroni, and the fava salad with radishes. Then I had the meat lasagna, which was too much for me to finish, but I got it anyway. And a nice glass of red wine.
I Iike spending a trip trying out new things, but I often return to the places I've been. That was the case this time in New York. I don't live here, but I'm here often enough that I feel familiar. Like with I Sodi, I know what the deal is, and you have to show up at 4:45 P.M.
It was still raining but I walked back to the Bowery and stopped at Whole Foods on the way. I bought a seltzer, and some sort of charcoal ginger lemon health shot, and an orange, and a RXbar for the morning. I got back to the hotel at 8 and worked some more and got into bed early and read.
Monday, May 13
I woke up and went down to the hotel lobby for a cup of coffee and then came back to my room and did some work and caught up on emails. I had my RXbar and apple. Then I went to NPR near Bryant Park to do an interview with a retired mounted NYPD detective. We had hoped to interview him in Central Park, but the weather was horrible.
I took a cab down to the West Village with Lauren. We had lunch with Ian Chillag — a friend who hosts a wonderful podcast called Everything is Alive — at Hudson Clearwater. I had a wild rice bowl with avocado and beets, and chicken, and a Diet Boylan's Soda. And someone ordered fried artichokes and we all split french fries. The lunch lasted longer than we thought, because we were having a good conversation and no one wanted to go out in the rain.
At five, I met Lauren and Radiotopia's executive producer Julie Shapiro in the hotel bar for a meeting. We then all made our way to a place called Winslow, where the show Reveal was welcoming a new editor with a cocktail party. I had a Gin and Tonic with one of my favorite gins, Irish Gunpowder. I had it for the first time in Dublin. They put a lemon in the drink instead of a lime and that is how I will ask for every Gin and Tonic now. (And I also like a dash of Angostura Bitters.)
Criminal won Best Crime Podcast at the Webbys this year. So we made our way down to Cipriani's on Wall Street for the awards ceremony. It was all a real production. Jenny Slate was hosting, and Monica Lewinsky was there. I have always wanted to interview her.
They were serving dinner. The first course was prosciutto and mozzarella. We stayed until 8:30 p.m. and when they announced there would be an hour break for dinner before things started up again, Julie, Lauren, and I slipped out.
We went to Freeman's where we met Kerri Hoffman, the CEO of PRX/PRI. I had white bean soup and Hen of the Woods mushroom toast and a glass of Bordeaux and called it a night.