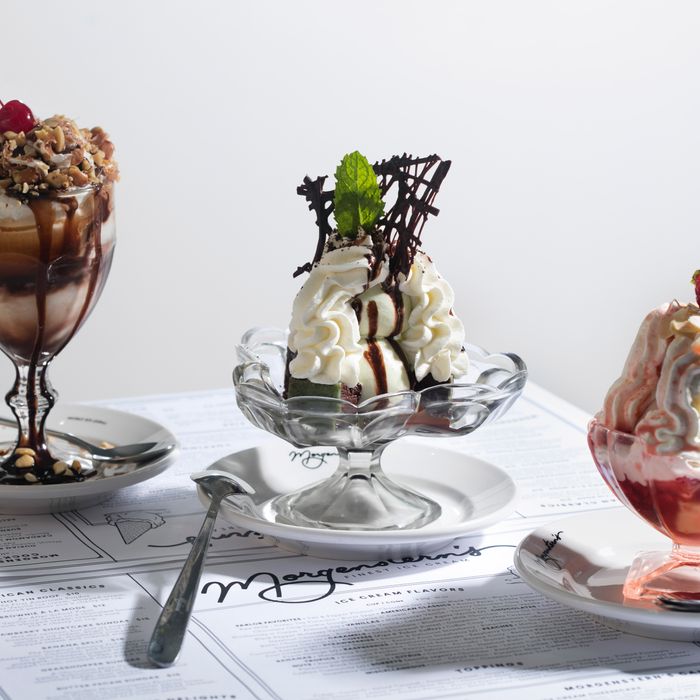 Try all the new sundaes at Morgenstern's.
Photo: Melissa Hom
This weekend marks the unofficial kickoff to summer, and if you're staying in the city, you will probably be happy to know that many of the city's finest restaurants and bars will host more barbecues and pop-up markets than anyone can count. Here are 13 ideas for spending Memorial Day Weekend 2019 in the city.
Try food from the African diaspora at the DanceAfrica bazaar.
Every Memorial Day weekend, BAM hosts the epic DanceAfrica festival spotlighting music and dancers inspired by the cradle of civilization. Starting Saturday and going through Monday, the intersection of Ashland Place and Lafayette Avenue will become a bazaar featuring more than 150 vendors from around the world selling crafts, clothing, and, most important, food. The bazaar kicks off at noon every day.
Drink up and share a sundae at Morgenstern's Ice Cream.
Last week, everyone's favorite fancy ice-cream counter launched a new cocktails-and-sundaes program, and the long weekend is a perfect excuse to spend the day sidled up to the soda fountain. Try a burnt-honey daiquiri and grasshopper sundae or pair the banana-durian highball with the banana split. Whatever you choose, it's sure to be good.
Grab all your friends for Memorial Day brunch at the Dutch.
Every year without fail, the Dutch puts together a menu for Memorial Day, and this year is no exception. On Monday, grab a gang of your favorite staycationers and head over for cocktails, oysters, and plenty of barbecue fare, including a BBQ plate with smoked beef brisket, kalua pig, roast chicken, watermelon, and, of course, a Parker House roll. The restaurant's regular menu will also be available, but what's the fun in getting that?
Enjoy a lobster bake at Madcap Cafe.
Starting this Friday, the team at Madcap Cafe will add a $25 lobster-bake special to its regular menu featuring a whole lobster and drawn-butter potatoes. For dessert (at additional cost): blueberry cobbler with vanilla ice cream. And on Memorial Day, drop by the diner-style restaurant for an $8 brunch special that'll run until 4 p.m.
Attend a massive barbecue at the Knockdown Center.
Summertime is all about a good cookout, and you can enjoy your very first of the season at Queen's Knockdown Center. This Sunday, the venue is hosting Dope BBQ, a dance party and barbecue featuring R&B singer Trey Songz. Tickets are on sale now.
Hit up the city's best new rooftops.
The forecast for the long weekend is looking downright delightful. Sunny, but not too hot, which means it's the perfect time to hit a few rooftops. Luckily for you, Grub already put together a list of all the new rooftop spots worth checking out. Our official recommendations are Last Light at Bowery hotel Sister City, Summerly at the Hoxton Hotel, and Lemon's, the new rooftop restaurant and bar at the Wythe Hotel with food from the team behind Chez Ma Tante and run by Golden Age Hospitality (Slowly Shirley, ACME).
Get your asado on with cookware company Great Jones and London chef Ollie Templeton.
Earlier this month, Fort Greene's Colonia Verde kicked off its yearly Sunday Asados series, where chefs and revelers gather in the restaurant's backyard for an afternoon of drinking and meat-eating. For the second installment, Colonia Verde has tapped IG-famous cookware company Great Jones (run in part by Grub alum Sierra Tishgart) and U.K. chef Ollie Templeton to start the party. The $60 tickets, which include food and drink, can be purchased here.
Take in the Brownsville renaissance.
Through the end of the month, the Pitkin Avenue Business Improvement District will host Storefront for Brownsville, a pop-up market and art installation featuring creative types from around the neighborhood and beyond, including beloved Bushwick spot Sol Sips. Drop by for a bite and some light shopping, and see what's going on in Brownsville.
Kick off beach season at Rockaway Beach Surf Club.
.The city's beaches (legally) open this weekend, so hop aboard the A train and make your way to the Rockaway Beach Surf Club, which is kicking off the summer season with live music, cocktails, beer, and, of course, tacos from Tacoway Beach this Saturday alongside Locals Surf Club. It's not exactly time to swim, but hanging out on the beach is pretty damn close.
Indulge in some Peruvian tiki drinks.
On Wednesday, Williamsburg hotspot Llama Inn launched a new cocktail menu featuring its very Peruvian take on tiki cocktails to celebrate the summer opening of the restaurant's new and improved rooftop. Sip on the China Moreno with goji berry and ginger chilcano or Gasolina with lime, roasted pineapple, coffee, pineapple rum, and more.
Shop, eat, and drink lots of beer in Bushwick.
Should you find yourself in the "Jefftown" area of Bushwick over the weekend, stop by KCBC for not only beer but an afternoon of shopping and eating. Starting this Sunday at noon, the brewery will host a Spring Pop-Up Market featuring nine vendors; pizza from Traze, ceramics, plants, coloring books, jewelry, vintage clothes, and more. Admission is free.
Party alfresco at Williamsburg's Gertie.
On the border between North and South Williamsburg, the folks at breakfast hotspot Gertie are turning their patio into a Memorial Day party spot. On Sunday, drop by for hot dogs, burgers, and wings as well as "buckets of beer" from Sunday Beer Co. The festivities start at 3 p.m.
Attend a super-chill grill out at Popina.
If you're missing your family's annual backyard cookout this weekend, the next best thing might be dropping by Popina in Brooklyn. This Sunday, starting at 11 a.m., the restaurant is welcoming any staycationers to drop by for an afternoon of burgers, ribs, and chicken wings, plus plenty of Buds and drink specials. Tickets are $25 in advance and $35 at the door.