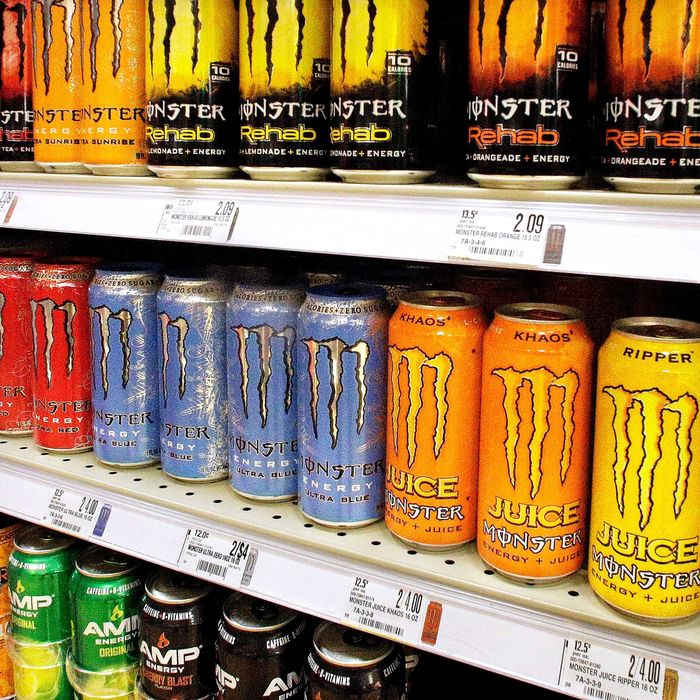 Do these drinks
look
like they're good for you?
Photo: Seth Perlman/AP/REX/Shutterstock
If you're the type to regularly pound energy drinks during the day or as a pick-me-up before a night on the town, bad news: Energy drinks are, as we've always known deep down, really bad for you.
This week, the Journal of the American Heart Association published the results of a study involving 34 college-aged participants that found that not only do energy drinks raise your blood pressure, but they also mildly change the heart's electrical activity.
Sports cardiologist John Higgins told CNN that while most people won't experience any drastically harmful effects, those with heart conditions, those taking certain medications like Adderall, pregnant women, people under the age of 18, and people who don't regularly consume caffeine should consider avoiding energy drinks.
As for people in decent physical shape, it's worth noting that energy drinks are a completely unregulated drink category, which is why beverage companies are able to pack them with a cocktail of supplements and chemicals — caffeine, vitamins, added sugar, guarana, taurine, L-carnitine, etc. — with little regard for the health implications. Yeah, not good. So, consider giving up your energy-drink habit and imbibe nature's best energy drink: a good night's sleep.