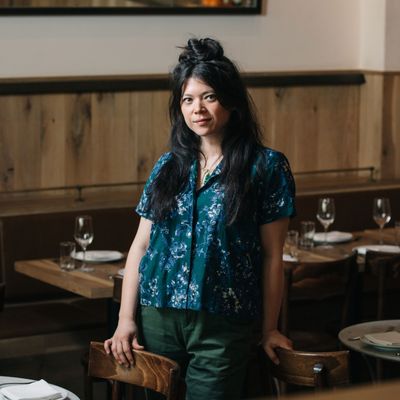 In its third year, Natasha Pickowicz's Planned Parenthood fundraiser was bigger than ever.
Photo: Scott Heins for Grub Street
The first sign that Natasha Pickowicz's third annual Planned Parenthood NYC bake sale was going to go well came with the weather report: 76 degrees and sunny with absolutely no threat of rain. The second sign: the two lines of eager New Yorkers that snaked from the entrance of Café Altro Paradiso, where Pickowicz leads the pastry team, through Spring Street Park to Broome Street.
Before the bake sale even started, the fundraiser raised $17,000 just through the sale of blue tote bags filled with hundreds of dollars worth of treats from Artisan Books, Reynard, Crown Shy, Gertie, High Street on Hudson, and 21 other contributors. And now we have a final tally via Pickowicz herself: $96,000.
It's not altogether a surprise considering the fact that the wait to get into the adjacent plaza where the sale was taking place (a big improvement over last year's cramped sale inside the restaurant) was more than an hour, and news was beginning to leak that certain tables had already sold out. (Looking at you, Frenchette.) Still, there were sandwiches from She Wolf Bakery, frozen treats from the Good Batch and Morgenstern's, a proper cookie spread via Ovenly, pizza with stretchy cheese from Roberta's, Daily Provisions' famous crullers, greens and feta fatayer made by Zoe Kanan of Simon & the Whale, and even more up for grabs. An hour and a half later, the pickings were decidedly slimmer, but the line to get in was just as long as it had been at the start of the day.
Check out some photos from the day below and prepare to camp out overnight for next year's sale.