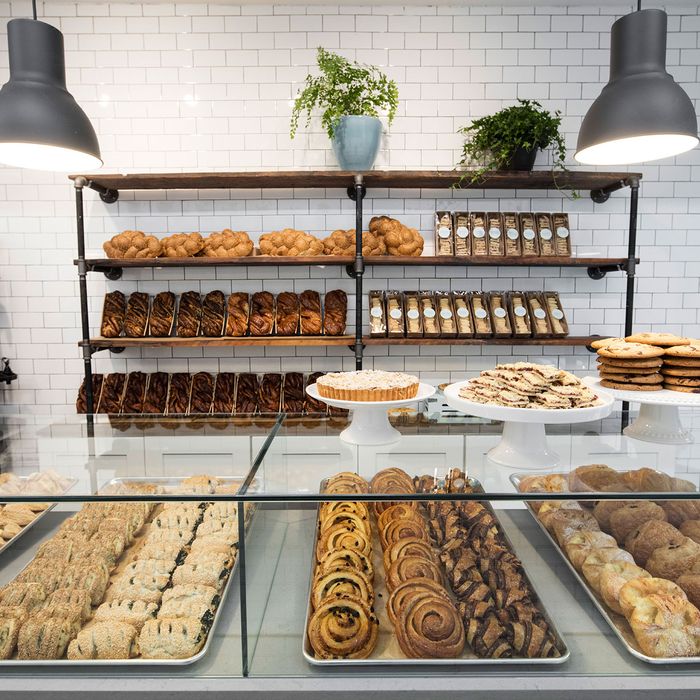 The pastry case at Michaeli Bakery.
Photo: Melissa Hom
New Yorkers love their babka — now more than ever — but the version at Breads Bakery has taken on a life entirely its own. The chocolate loaf became a sensation among sweet tooths as soon as Uri Scheft brought his Israeli bakery here in 2013, and it's subsequently been called one of the city's best desserts and named the city's very best babka. If you're part of the Breads Babka Brigade, you can thank, in part, Adir Michaeli. The pastry chef worked for Scheft in Tel Aviv for four years, before coming with him to this city to, he says, "establish the branch in Manhattan" and bake a whole lot of babkas. Now he's setting out to establish a bakery of his own.
This Thursday, Michaeli will open the eponymous Michaeli Bakery, where he'll dive even more deeply into the world of Israeli pastries. "I tried to focus on deliciousness. Some of the items won't be that pretty, but inviting to bite and eat," the pastry chef says. "The pizza bourekas will be like that."
Located on the Lower East Side across from the popular Kiki's, Michaeli Bakery will mostly be a to-go operation, but will offer eight seats for anyone who just can't wait to dig in. The space has an open kitchen, so you can see whatever is being baked, and there's a basement production kitchen as well. The plan for this bakery has been long in the works: After originally intending to open in Tel Aviv, Michaeli returned here. "Pretty fast I decided, no, New York is better for me," he says. But his goal is still to run the type of local pastry shop he went to as a kid. "Breads is the boulangerie — this is the first Israeli patisserie here," he says. "I've tried to bring the classic Israeli, Tel Aviv style to New York."
The menu, then, will be familiar to anyone who knows their Israeli pastry shop, from the buttery rugelach to the bourekas, considered the signature pastry of the country. There will be some seasonal specialties like krembos, chocolate-covered marshmallow and biscuit, and like any pastry chef worth his weight in ganache, he's worked hard to develop his own creation. It won't come out until October, and he won't say much for now. "I want the bakery to get popular without it," he says. "It has chocolate, yeasted dough, and needs to be always fresh. The shape of it, everything is brand-new."
Here, a look at what's on the menu.
"The vegan doughnut is made from a special dough that's different. We have what's called Sfenj, it's a Moroccan doughnut, that we eat during Mimouna," Michaeli explains, referencing the post-Passover holiday. He hardly kneads the high-hydration dough, which he says give it a "unique texture" and makes it "crusty and kind of ugly in a good way."
The brioche-like kugelhopf is offered as an individual cake. The buttery, yeasted dough is light, and has ingredients including vanilla and currants in it. "It's not very popular here, but it definitely should get the stage in the bakery scene," he says.
Pizza bourekas sound like a New York "fusion" dish , but they're popular back in Israel. "They're flatter, very basic. I just gave my own touch to it," he says.
"This is my favorite flavor, much more than the pizza," Michaeli admits of the burikitas. They're made with a lot of feta cheese, which he says gives them a "nice saltiness with a great, delicate cheese dough." The crust is speckled with sesame seeds. "This is so simple to make and the outcome is so amazing," the chef says. "It's wow."
Other boureka flavors include spinach, if you want to go green …
… and potato, if you're in a carbs-on-carbs mood.
There are also very French items like croissants and what they're calling a vanilla-raisin Danish (but which you'll know as a pain au raisins).
The chef speaks about his rather attractive looking, crunchy cinnamon roll modestly. "It will be not as pretty, because I use a good amount of pastry cream with sugar and cinnamon which makes it moist inside," he says.
Michaeli is using leavened dough for his croissants and danishes like this cheese danish, to give it "a kick of sour flavor." That danish is made with cream cheese, ricotta, sour cream, and lemon zest.
The rugelach are Israeli-style, rather than the American-style cookies, meaning they're like a small, very chocolatey danish. They're made with a mix of two-thirds dark chocolate and one-third Nutella.
Just your classic over-sized chocolate chip cookie, which is no small thing.
The babka are beautifully braided, à la Breads Bakery, and have that nice marbled look to them. The chocolate version is made with a mix of one-third dark chocolate and two-thirds Nutella.
There's also poppy seed…
…and cinnamon.
There's challah if you're looking for something savory or to make eggy French toast.
Apple pie, too, is available with dough made from low-gluten flour and a filling of Granny Smith apples, cinnamon, lemon zest, sugar, and vanilla. It's topped with butter, sugar, and a flour crumble.
You can buy packages of cookies, pound cakes, and other things for people to take home for hosting. Two of those items include the shortbread cookies and raspberry jam crumb squares.
He's also baking Argentinian-style alfajores, the cookie sandwich typically filled with dulce de leche.
Michaeli promises plenty of cakes, including one covered in chocolate and shaped like a pyramid and this chocolate layer cake log.
Other log cakes include the black forest …
… coconut mango …
… and, finally, meringue roulade log cake made with heavy cream and mascarpone, fresh strawberries, toasted almonds, and vanilla powder.
Michaeli Bakery, 115A Division St, at Orchard St; 646-360-2284