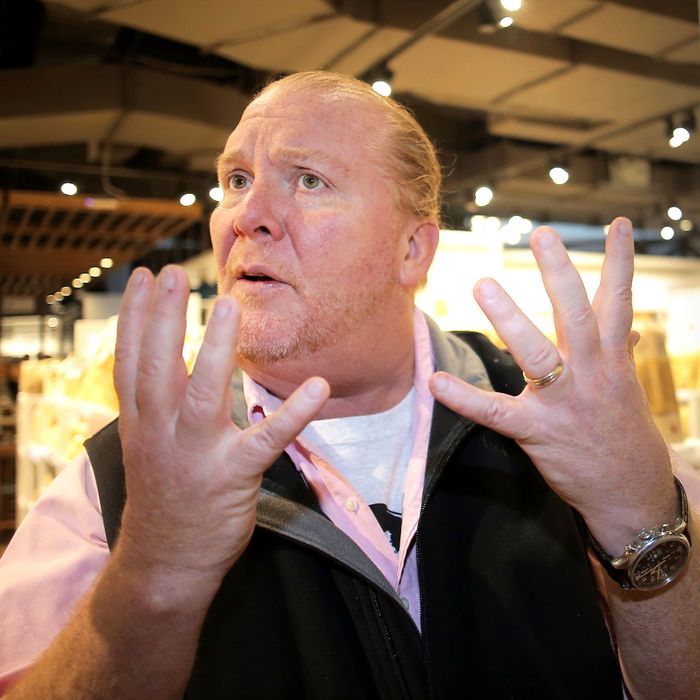 Mario Batali at the Boston Eataly.
Photo: Lane Turner/Boston Globe via Getty Images
A year and a half since first facing sexual harassment allegations, Mario Batali now faces criminal charges for indecent assault and battery in Boston. The criminal complaint was filed on April 4, and the Boston Globe reports that the former celebrity chef will appear in Boston Municipal Court tomorrow morning.
The accuser's name was redacted from court records, but the Globe reports that details from the charges match those from a civil lawsuit filed last August. The alleged incident occurred on March 31, 2017 at Towne Stove and Spirits, located near Boston's Eataly, and involved a fan rather than an employee of Batali's. According to court records, the woman says that Batali saw her taking a photo of him, invited her to take a selfie with him, and then allegedly started groping her, kissing her against her will, and touching her groin. When she pulled away from the chef, she alleges he continued "pulling on her face" and invited her back to his hotel room.
In the civil complaint, the woman's lawyers wrote that Batali did all this "without asking her permission or giving her any warning," that she showed no sign of interest in him, and that "Batali sexually assaulted her." In response, Batali's lawyer Anthony Fuller tells the Globe that the charges "are without merit" and that the chef "intends to fight the allegations vigorously and we expect the outcome to fully vindicate himself."
If Batali is convicted, he could spend up to two and a half years in jail and would need to register as a sex offender. This is the first criminal charge Batali has faced as result of the various accusations against him. Last year, the NYPD confirmed it was investigating the chef for allegedly drugging and sexually assaulting women. In March, the chef gave up his ownership stake in his restaurant group.