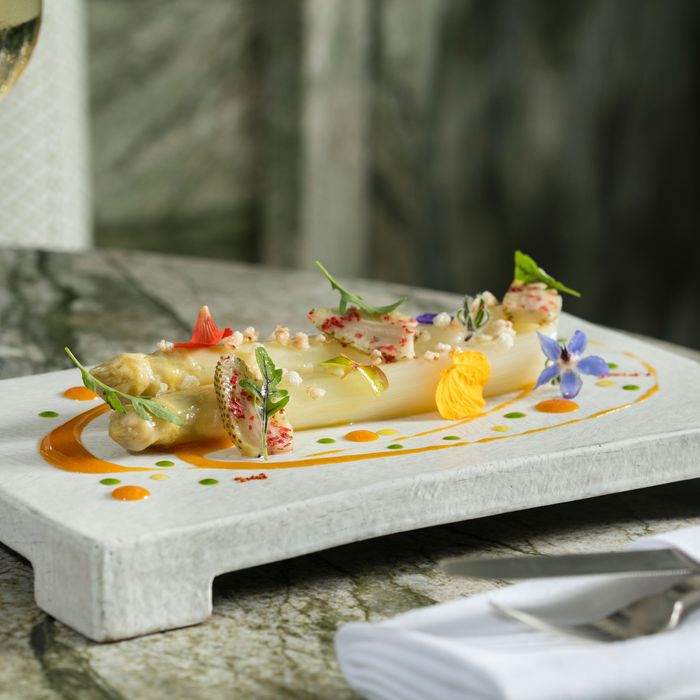 White asparagus with blood orange and buckwheat.
Photo: Melissa Hom
Alain Verzeroli cooked for 21 years under Joël Robuchon, the late, acclaimed "world-changing" chef. Eighteen of those years were spent in Japan, and for the past 11, Verzeroli worked for the master of mashed potatoes as the culinary director of Tokyo's three-Michelin-star Château Restaurant Joël Robuchon. Those experiences shaped Verzeroli's own approach to cooking, which he's been navigating in a new and more personal way for the first time: by opening his own restaurant here in New York, Le Jardinier. Located in a Norman Foster–designed and Aby Rosen–developed building in midtown east, it opens tonight.
Verzeroli understands the power that Robuchon's name still conveys. "Either you take his legacy as, Okay, something I want to pursue, or, This is what I've done for the last 20 years, and now I need to find my own way," he explains. "I have to find a new approach, a new definition to my cuisine." Verzeroli says this strategy has led to an unexpected sense of liberation: "For me, I feel very free right now."
Whereas Robuchon deployed a grab bag of global luxuries that was not rooted in any one place, Verzeroli says he wants the cooking at Le Jardinier to be more seasonal, less technical, and more instinctual. This attitude is inspired, ironically, by the years he spent in Japan in a culture that celebrates hyperseasonality. "When you have the sakura season, everyone is going out to celebrate not only the season but the season passing," he says. "It reminds you that everything is ephemeral, that you have to enjoy this moment."
At Le Jardinier, the 62-seat, Joseph Dirand–designed dining room feels unusually verdant for a part of town that's all concrete, pavement, and towering office buildings. There are louvered windows and plants lining the walls, and that green echoes through the space via the chair cushions and the Italian marble streaked with more green. Wine and cocktails will be poured and made at the 10-seat bar. The whole space feels ensconced away from the outside; you can barely hear any of the Lexington Avenue traffic.
The plants are part of a theme here, as the menu goes heavy on the vegetables and freshness takes a premium. All eight of its first courses are built around vegetables, such as white asparagus with blood orange and buckwheat, chilled pea velouté with razor clams and mint, and a particularly striking plate of heirloom tomatoes with stone fruits and burrata. A dessert also calls to mind L'Atelier's terrarium-nestled forêt-noire.
The garden salad features a spiced lavash, one of the convincing gluten-free breads that baker Tetsuya Yamaguchi (a fellow Robuchon alum of more than 20 years) is making for the restaurant. In Yamaguchi's bread basket, there will also be Parker rolls made with rice flour, along with purple-ish baguettes made of buckwheat, teff, and sorghum. The bread is more incidentally gluten-free — just as the food isn't meant to be "healthy" — rather than purposely so.
For the sweets, Verzeroli completed the Robuchon trifecta and brought along Salvatore Martone, who is also the executive pastry chef for the Robuchon restaurants in the U.S. The desserts are beguiling: The strawberries with strawberry mousse comes in the aforementioned terrarium, looking like a millennial-pink science project, with herb granité. The meringue in the blueberry-lemongrass duo is made without egg, the ice creams from rice or cashew milk. As with the strawberries, other desserts double down on an ingredient like a note sustained. "It's not that I want to repeat the ingredient," Verzeroli says. "With people who want the lemon tart, it's because they want the acidity. So let's go focus on this."
After years of working for others, Verzeroli is finally putting himself front and center. And this isn't the only restaurant he's opening: Later this year, he'll launch the second-floor space he's calling Shun. It's named for the Japanese concept of food at its peak seasonality and will include a bar, two private dining rooms, and a 58-seat restaurant. The food will be French-Japanese. "It's super-similar to what I was doing in Japan—three Michelin stars, superluxurious," he promises.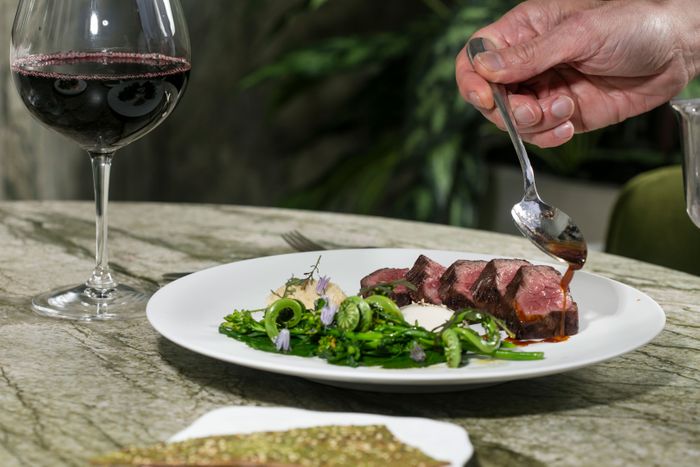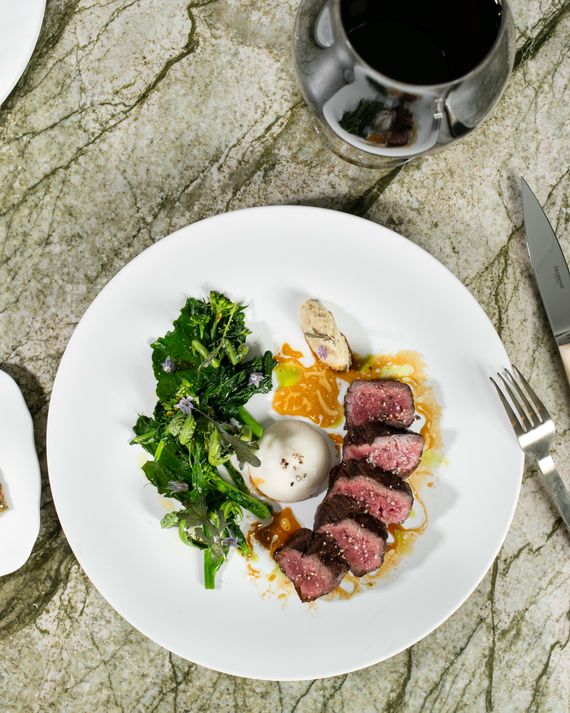 Le Jardinier, 610 Lexington Ave., at 53rd St; 212-451-9211