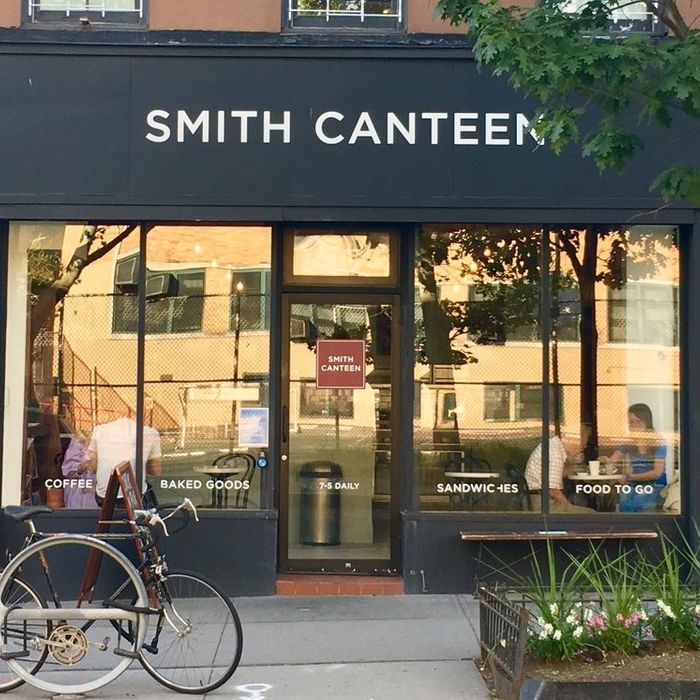 The neighborhood spot is closing.
Photo: Smith Canteen
In 2011, chef Rob Newton and Cherry Bombe editor Kerry Diamond learned that an abandoned building on Smith Street had recently been opened. Inside, sat the remains of a relatively well-preserved pharmacy dating back to 1901. "The landlord had put a sign out saying that if people wanted to buy any of the mirrors, or the woodwork, and come in and tear everything out, they could," Diamond says. "And that just seemed like the saddest thing in the world to us." So Newton and Diamond decided to take over the space, turning it into neighborhood coffee shop Smith Canteen.
Last week, Diamond announced via Instagram her decision to close Smith Canteen on June 30 and sell the shop to someone else. "I had to be honest with myself that I just don't have the bandwidth required to take this very special place on this magical corner in Carroll Gardens where it deserves to go," Diamond wrote. Grub caught up with Diamond to discuss her decision to sell the coffee shop, what she's looking for in a potential buyer, and how she plans to redirect her energy into the ongoing women-in-food mission that is Cherry Bombe.
What's the history of Smith Canteen?
This month is actually the eight-year anniversary of the Canteen, and Rob and I had opened Seersucker, and this space became available down the block. It had been boarded up for years. A couple bought the building on the corner, and pulled all the boards down, and there behind the boards was a 1901 pharmacy. It was amazing. You know you don't see that a lot in New York.
About two years ago, you and Rob ended your relationship and you decided to take on Smith Canteen. What drove that decision?
We had two restaurants and Smith Canteen. And we had talked a few times about me maybe taking over Smith Canteen. I couldn't run a restaurant, but I figured I could run a coffee shop.
How did you make your own mark on the coffee shop when you took it over?
Well, it had been around for seven years and it was a well-oiled, popular coffee shop. I really didn't change much. I mean I added a few more vegan and gluten-free options [laughs]. And I became focused on sustainability. The first thing I realized when I took over was how many disposables we went through in a week. And that was what I knew I needed to change. The nice thing about the food world right now, and the restaurant world in particular, is, I think, people's eyes are being opened up to a lot of different things, whether it's sustainability of things or sustainability of people, and that's something that I'm really happy about.
What made you realize that it was time to hand Smith Canteen off?
It was a matter of bandwidth. One of the great things about Cherry Bombe is that I've been exposed to the best of the best in the business. I've been able to see how different people run things, you know, from Thomas Keller to Danny Meyer to Martha Hoover in Indianapolis to Amanda Cohen at Dirt Candy, the team at Ovenly, and so many people. And I knew the potential of Smith Canteen and I knew I needed to make a choice. The number of people who asked us to do catering and we always said no, just because I haven't had the time to organize a catering program. People want to like rent a space, but I don't have the time to deal with it. You know, little things. I mean those aren't little things, those are things that contribute to your bottom line.
What are you looking for in the person or people who take it over?
The most important thing for me is that it's someone who is community-minded. I would never let it get in the hands of a Starbucks or something like that. And they don't have to live in the neighborhood, but I would like somebody who cares about people because Carroll Gardens is a great place.
What was your first experience with Carroll Gardens?
The first time I went to Carroll Gardens was for [WSJ Magazine editor] Kristina O'Neill's 30th birthday. And Laura Brown, who is now the editor-in-chief of InStyle, and I went to Frankie's for dinner before heading over to this bar. It was a snowy night, and the windows at Frankie's were all fogged up, and I was like, what is this magical neighborhood? This is unbelievable. And it just felt like home. I actually started looking for an apartment there two days later and I haven't left since.
Your decision to sell Smith Canteen is coming at a time when Cherry Bombe is growing rapidly with new programs and events in the works. How are you going to redirect the energy you were giving to Canteen to Cherry Bombe and other endeavors?
I have a lot coming up for Cherry Bombe. Like, the podcast has really grown in terms of popularity and we've been doing more and more of these tours, which have been incredible. Because the media tends to just focus on the coasts, but the Bombe Squad is all over the world. So, it's really nice to go to places like Minneapolis and Indianapolis. On this tour, we just went to Nantucket. We're going to Baltimore and we're going back to Savannah, which will be interesting given what's going on down there with anti-abortion laws. I'll have my Planned Parenthood pin and Altro Paradiso bake sale tote bag.
I want to take some time this summer to, not just write a business plan, but also to go out there and listen to people whose opinion I really value, people I trust, people in the media space. I mean, nobody thought this feminist food magazine would still be around six years later, especially when so many things in the category have gone away. I do not take for granted at all that we have a mission. So I need to sit down and figure out how to marry this being a viable business for the long haul with our mission.