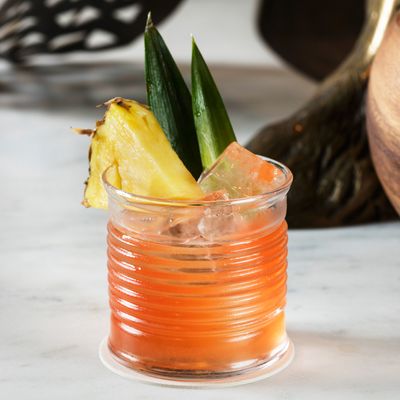 The bar gets its name from a cocktail invented in Malaysia in 1978.
Photo: Melissa Hom
There may be no drink that sums up New York's current bar scene better than the Jungle Bird, a delicate, tropical cocktail that combines molasses-heavy rum with Campari, lime juice, simple syrup, and pineapple juice. It's fun, it's easy drinking, and it's essentially a tropical Negroni. Krissy Harris, the owner of upcoming bar Jungle Bird, is obsessed with the drink, which originated at a hotel in Kuala Lumpur in 1978, disappeared for a while, and has been making an unexpected comeback for the past few years.
"It was invented by a bartender, Jeffrey Ong, who didn't even drink," Harris says. "Strangely enough, he added Campari. Usually, rum cocktail drinks don't have a bitter agent like Campari." Ong's invention, as well as the flavors of Southeast Asia, where Harris has traveled extensively, are the inspiration behind the Gramercy Tavern vet's new endeavor.
Located on Eighth Avenue between 18th and 19th Streets, classy, laid-back Jungle Bird, which opens on May 21, is made for long summer nights. Patrons will find nearly a dozen tabletops with teal chairs and light-brown leather banquettes plus two corner booths for larger gatherings, both of which sit beneath a mural of nude figures by L.A.-based painter Jessalyn Brooks.
On the opposite side, stools sidle up to a dark-green bar with white countertops, home to two brass peacock kegs that will pour Harris's take on the Jungle Bird: small-batch pineapple rum from Puerto Rico, no simple syrup, and Contratto Aperitif, a liqueur that's not so different from Aperol. The final product is clearer and more to the point taste-wise than the original recipe. The drink will be available by the glass or punch bowl. "What did people used to do in the '50s?" Harris asks aloud. "They had punch bowls. Everybody was drinking and it was this social event."
The influence of 1950s party culture also makes an appearance in the names of the drinks, which are all based on jazz songs from the era. The gin-based No Other Love features elderflower, rose, aquafaba, and lemon and tastes like a bouquet in drink form, while the aptly named Easy Living, combining papaya, honey, sparkling wine, Aperol, and lime, may very well be the Aperol-spritz update we've been searching for. "I know the classics," Harris says. "But for me, the fun about it and the whole passion of it is to create something that's bigger than the parts you put into it."
Harris also wants her cocktails to play nicely with the bar's food menu, which relies heavily on the flavors and ingredients of Southeast Asian cuisine. "I've been to Cambodia, Bali, Bangkok, Singapore, and Malaysia," she says. "So I love Thai basil, cilantro, any kind of hot pepper, and all those warm, tropical flavors."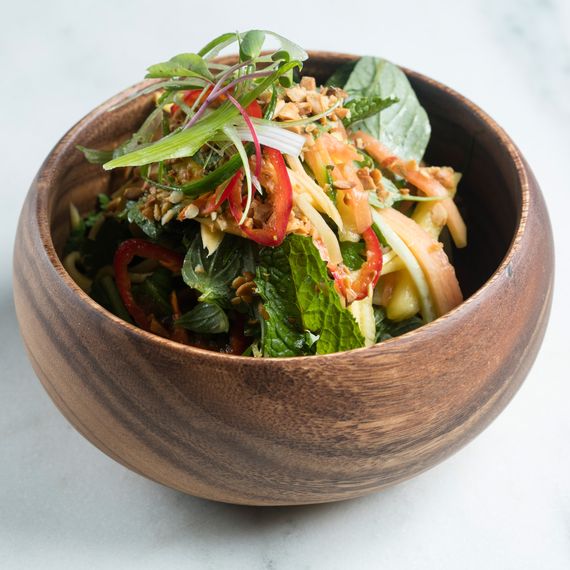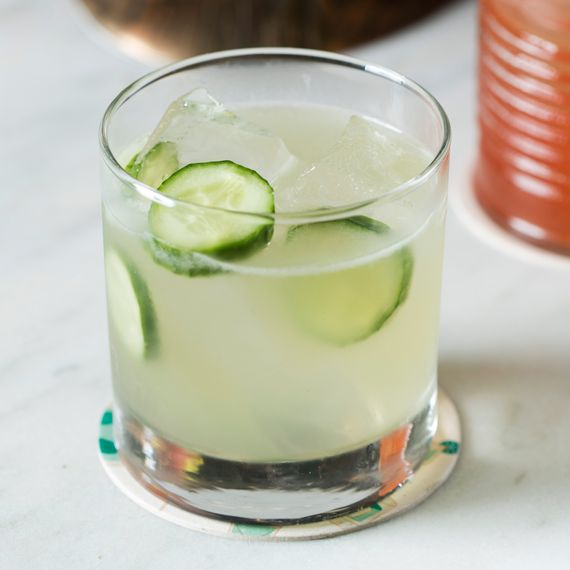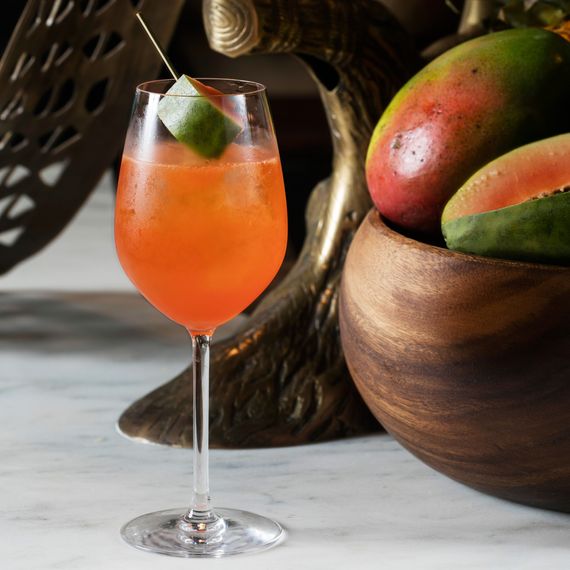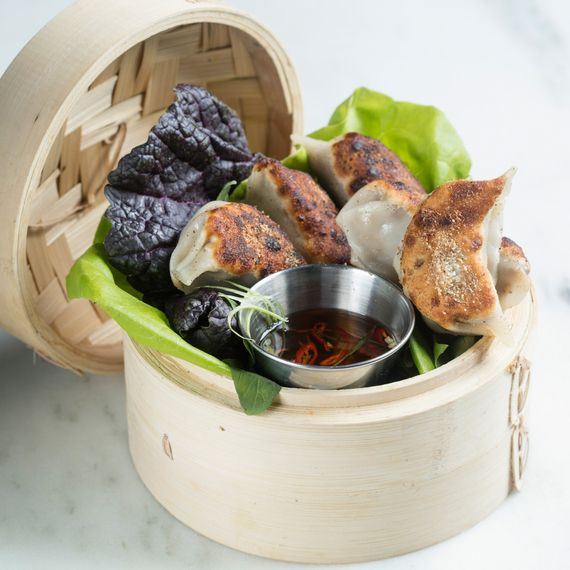 Guests will find dishes like green-papaya salad, turmeric chicken salad, pork-and-herb dumplings with nac cham dipping sauce, lotus chips, and three kinds of bành mí, including a vegan version. Everything downstairs will also be available to parties that rent the bar's private-events room on the second floor, where Harris imagines drag-queen movie nights and corporate get-togethers.
"There are so many cocktail bars in this city, and I really wanted a place that was warm, inviting, and bright," Harris says. "The reason I'm in this business is that I love bringing people together."
Jungle Bird, 174 Eighth Ave., at 19th St.; no phone