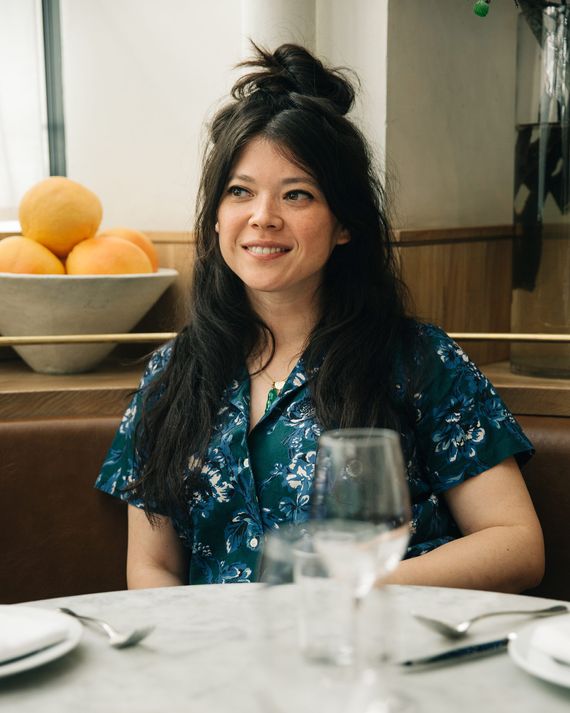 Natasha Pickowicz.
Photo: Scott Heins
On Wednesday, November 9, 2016, Natasha Pickowicz woke up, like many Americans, after a fitful night of sleep. The pastry chef — at Café Altro Paradiso in Soho and Flora Bar on the Upper East Side — never had much time to devote to politics, but she says that when she went to work that day after the presidential election, "there was this overwhelming sense of shame, of confusion, anger, guilt." A meeting among managers and chefs turned into "a kind of call to action," she remembers. "There was this sense of, 'How can we take this energy and funnel it into something positive? What does that look like?'"
A bake sale was born. The first year, in the spring of 2017, Pickowicz and the team at Altro Paradiso, a relatively compact 75-seat restaurant, invited 18 pastry chefs and friends to bake 50 items each. The plan was to see how many they could sell for $5 apiece, with all of the revenue going to Planned Parenthood.
"I didn't think anyone would show up and I'd have to apologize to all of these chefs for asking them to work on their day off," Pickowicz recalls. But on the day of the sale, "I saw a line around the block half an hour before the doors opened, and I thought, Who are these people and where did they come from?"
That first sale raised over $8,000 for Planned Parenthood New York. "I remember being stunned. Excited, but stunned. I kept walking around and telling people, 'We sold $8,000 of pastries! Can you believe this?!'" A year later, buoyed by the positive experience of the first sale, and with a bigger goal in mind, Pickowicz and her team of bakers, chefs, and volunteers raised $22,000.
Now in its third year, the bake sale is growing again. When it arrives this Sunday, May 19, it will be bigger than ever, not only expanding into an outdoor plaza next to the restaurant, but also involving florists, savory chefs, and even Central Park–style portraits. Grub Street sat down with Pickowicz to see how she turned a once-humble bake sale into a flourishing community in support of a powerful cause.
It's so good to see you. How's it going?
I just got out of a bake-sale meeting. There are so many moving parts. We have biweekly meetings to just go over every little thing. It's kind of insane.
What are you working on now?
We're gathering volunteers. It's kind of crazy to me that everyone who is coming out to support is in the industry. Not even just to donate product, they're coming to help with setup, cleanup … Yossy Arefi, Ana Ortiz, Erin Patinkin from Ovenly, the lead host at Eleven Madison Park, the cake designer Nicole Pensabene. They're like my bake-sale angels.
Let's back up a bit. Why a bake sale?
Three years ago, when we were trying to figure out what to do, how to put our energy into something good, I remembered participating in bake sales as a kid. This was the one time my parents let me make a mess in the kitchen. I remember laying out the box-mix brownies on those fluted white paper plates, and how I felt so grown-up because I was going to raise money for whatever it was — a field trip or school-bus repairs.
At its core, a bake sale is empowering and inclusive — everyone can participate. There's a very low barrier to entry both in action and cost. You don't even need to buy anything! You can just come hang out. When we were first talking about it at the restaurant, a lot of us had these same memories. There was this real nostalgia for it. I wanted to do something that would evoke that sense of pride, but on a grander scale.
I also wanted it to be a reflection of what my strengths were as a pastry person and a baker. And also something that not just the one percent could donate to. Galas are great; we do those, too. But I wanted the people in my world to be able to come, and bring their kids and their dogs.
Did you think the message of the bake sale would work at such a formal restaurant?
In the service industry sometimes, you get the feeling from guests that they don't want to acknowledge that restaurants are these organisms that are full of people — there's a humanity that comprises restaurants. We're not just bricks and tile. It was really important for me that I could work somewhere where I could be as vocal about my values as I wanted to be, and that no one was going to stifle me or say that I was being inappropriate, or like, "No one wants to know what you think; just make desserts." I think you are kind of seeing this more now, where restaurants are becoming fiercely personal. I believe our humanity should be visible to anybody that comes into this space, that we aren't a neutral space, and we have values. I want everyone here to be proud to say, "I stand with Planned Parenthood."
Why did you choose Planned Parenthood?
It was always going to be Planned Parenthood NYC. Every woman and their family and children deserve the right to access good health services. At its core, this bake sale is about community.
The PPNYC headquarters are nearby on Bleecker Street, and it represents Manhattan and all the surrounding boroughs. I remember when I moved to New York six years ago. I was working as a pastry cook at Marlow & Sons, making minimum wage — which at the time was $11.50 — and I didn't have health insurance. I had moved from Montreal. I had no money. I was shocked at how expensive rent was … But what was the one thing I knew that was available to me? It was Planned Parenthood. I grew up with the centers near me in San Diego, and even here, now, there's one in Queens that's within walking distance from my apartment in Greenpoint. It's been this constant presence in my life.
Have you gotten any pushback about your choice of supporting Planned Parenthood?
In terms of bringing awareness about Planned Parenthood, obviously the thing that is polarizing is abortions, and while they do that, they also provide so many services to so many people. It's about empowering people to monitor their own health and take care of their bodies and be safe and enjoy life. Providing safe and legal abortions is part of that.
So, yes. From the first bake sale, when we started to promote it on Instagram, people would comment, like, "I was going to come in for dinner on this day, but I'm not going to now." Or like, "You're a restaurant, I don't want to know your political beliefs!" And we were like, Wow, well, we're glad to know that this restaurant is not for you. And that's okay. I'd rather be absolutely transparent about our values as a restaurant.
How is the bake sale shaping up for this year?
It's become this tremendous production. This year, the bake sale will be outside in the plaza behind the restaurant, with tents and tables for each pastry chef. And, yes, there's a rain contingency plan. All of last year's crew will be there, and then some: Jess Shadbolt and Clare de Boer from King; Marie-Aude Rose from La Mercerie; Fany Gerson from La Newyorkina; Zoe Kanan from Simon & the Whale; Miro Uskokovic from Gramercy Tavern; Daniel Skurnick from Le Coucou; and Thomas Raquel from Le Bernardin.
The whole inside of the restaurant is going to be a hang-out zone, and this year we're also selling savory food. Chef de cuisine Zach Zeidman is doing a savory bite: a marinated squid and chickpea salad. Cervo's is doing a fried shrimp skewer in a lettuce wrap. L'industrie Pizzeria and Scarr's are doing a collab. Morgenstern's ice-cream cart is coming back. Chef Patch Troffer from Marlow & Sons is making his okonomiyaki. All of the food will be for sale just outside the restaurant for $5. Then we're selling drinks, for $5, inside. Atla is making a mezcal cocktail. NY Distilling will be there.
There's going to be a flower station, where people can buy corsages for $5. We're doing the gift bags again, for $150 each, and they are packed with more pastries, clothing, little gifts, drinks, so many amazing things. My idea is that people are going to go on with their day, and you're going to see throughout the city these little markers of who was there …
Like a trail of bread crumbs throughout the city.
Yes!
And we didn't want it to veer too much outside of the bake-sale format, or become too much like a street fair, but Simone Shubuck from the Wifey pop-up in Brooklyn and Andrew Kuo from Earl Boykins are partnering up to do little ten-minute, Central Park–style portraits, for $5.
I wanted this year to be kid-friendly. Planned Parenthood just published a coloring book for kids, so there's going to be a coloring table where kids can hang out. I want people to bring their babies and their dogs, and to stay and snack. The idea is that people will get one of everything, have a drink, and just hang out.
So how many participants will you have this year?
We have three times as many bakers and chefs as we had in the first year. We went from 18 to 27 in the second year, to 50 this year.
The first two years, I wanted it to be the expression of the New York City pastry community, but now I want people to feel encouraged to do it where they live, so I reached out to some of my pastry friends in other cities, because I love the idea of it kind of spreading across the country.
Sasha Piligian, the pastry chef from Sqirl in Los Angeles is coming; Camille Cogswell from Zahav in Philly; Briana Holt, the head baker at Tandem in Maine; Rebekah Turshen from City House in Nashville; plus, the Montreal Cake Club. Part of it growing has been recruiting talent from outside of New York, so people who have never been to L.A. can have a Sqirl morning bun, or people who haven't been to Zahav can try Camille's stuff.
Also a new thing this year was figuring out how to invite brilliant bakers and pastry chefs who don't necessarily have a restaurant or bakery, and whose relationship with their fan base is through sharing their recipes, like Alison Roman, for example. I was scared at first to ask them to participate because I know they don't have a team or a huge commercial kitchen … But actually we're finding out that these women are the most organized of all the participants. They're doing research and development a month out whereas some of the chefs, I just know, are going to be figuring out what they're making the week of.
How often can you have something that Claire Saffitz, Erin McDowell, or Dorie Greenspan made — or even interact with them? That's what, to me, makes this a can't-miss event.
What have you learned in the three years?
We've learned so much since year one. I am so, so grateful for our team here, and being able to delegate to Kelsey Shaw, our general manager; Maureen Rogers, who's director of special events; and Ariel Nir, who's a wiz with graphic design and social media. Working with this team of capable, amazing women makes me feel so much more confident.
We sold out almost immediately the first year, when I asked chefs to bring 50 pieces. And we sold out within hours the second year, when they brought 100. So hopefully 200 is enough! To make room for more chefs, we had to admit that we'd literally grown out of our space. So we moved it outside. We had to figure out how to get permits to do that, how to get approval from the city. It was a process.
What happens when you grow? Is there a plan?
As we're growing, we have to take a step back. I remember the first year, being shocked that we raised $8,000 with pastries. I could not believe it. And now I'm like: Show me that $40,000!
It's funny how your perspective shifts as you get more ambitious and gain more experience and support. And even though we were happy last year having raised almost $23,000, this year, you know what? That's not good enough. I want to double it. Why wouldn't you be ambitious with what your goals are? Why wouldn't you want it to be as impactful as it can be?
I'm not saying that the bake sale is going to get bigger every year. It will have a limit. I hope that it can become this sincere tradition for Altro. Traditions are really important to me. Creating traditions, creating rituals — I love that.
Did you ever see yourself turning into a community organizer?
I had no experience with fundraising or event planning at all three years ago. There was so much that we made up as we went along. A takeaway from these years of doing it has been learning how to reach out and ask for advice. Erin Patinkin from Ovenly — who lives down the street from me — worked in fundraising before starting her own bakery, so I asked her a lot of questions. I was really inspired by the Cherry Bombe Jubilee, so I reached out to Kerry Diamond, and asked how she recruited the Bombe Squad of volunteers. Last year, I also met with Planned Parenthood to see how we could make this more of a two-way street, where it's less about what we're doing, and more how we can do this thing together. It's about collaborating with, and pulling wisdom from, this group of women who know more than me.
This is so much about what personal growth is, too, for me, but on a bigger level. As I get more experience in developing my pastry programs and hiring my teams, as my experience grows, my expectations for myself are constantly shifting and changing. I'm constantly checking my values and holding myself accountable to push myself forward.
Traditionally a bake sale is held to support a community. For me I think, What does it mean for me to create a community? There are several communities here, but there's a bigger community here, where Altro can be a center, I think. Sometimes New York can feel really overwhelming. It can feel like we're each just one of millions and millions, but there are pockets of community. I hope we can become one and inspire other bakers and people in other cities to organize bake sales in support of great things, too.
This interview has been edited and condensed for clarity.
This post has been updated to correct the name of Sqirl's pastry chef.