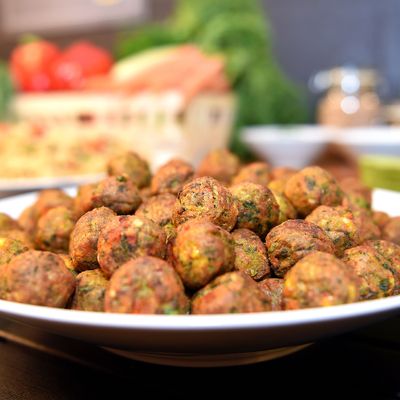 Ikea's veggie meatballs (pictured above) rolled out in 2015.
Photo: Emmanuel Dunand/AFP/Getty Images
With the exception of Costco, Ikea is just about the only major retailer where shoppers arrive ready to eat. So, it makes sense that the Swedish retailer, taking note of the rising popularity of vegan and plant-based options, would begin offering a vegan version of its most famous product: Swedish meatballs.
Bloomberg reports that after initial plans to begin testing the vegan meatballs early next year, Ikea's director of food services decided to fast-track the new product and begin testing it in stores this fall. From there, the meatballs will go global in 2020.
To make sure the meatballs are ready on time, the company has eight employees exclusively working on the new product, which could be wheat-, soy-, peas-, or oat-based. Whatever they settle on, the new product will reportedly imitate meat because Ikea already has the veggie-meatball game covered.