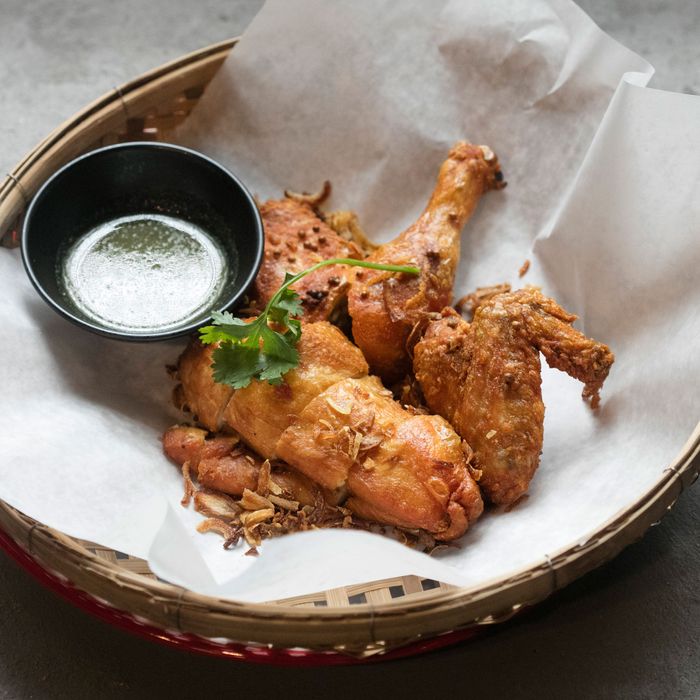 Wayla's Thai-style fried chicken.
Photo: Melissa Hom
Every month in New York, there are a bewildering number of new dishes to eat, drinks to imbibe, and food-themed events to attend. Often, the hardest part is just figuring out what's really worth your limited time. So Grub Street kicks off each month with a curated selection of dishes, drinks, and events that should absolutely be on your agenda. Make your plans now.
1. Drink fancy cocktails and eat Thai grilled chicken on the Lower East Side.
Curry and cocktails could be one tagline for Wayla, a new Thai restaurant from Northern Tiger's Erika Chou, the Bangkok-born chef Tom Naumsuwan (who worked at Elmhurst's Spicy Shallot), and former Aviary bartender Anthony Baker. The Lower East Side restaurant has a fancy den-like feel as well as an outdoor space that, with its rugs and wicker chairs, looks like your friend's back patio. There are street snacks like the pork meatballs wrapped in crispy noodles known as moo sarong ($7), mains including Isan-style grilled chicken called gai yang ($26), and a rotating daily curry ($18). Baker is the beverage director, and his cocktails borrow heavily from the Thai pantry. A simple vodka–and–club soda gets spruced up with ka-galangal, makrut lime, and goji for the Sabai Sabai ($13), while Thai chile and tamarind are mixed with tequila for the Land of Smiles ($15). There's a trio of interesting non-alcoholic drinks, too, including a Gingerale ($9) with cold-pressed ginger, goji, lemon, and club soda.
2. Then go get shaved ice for dessert.
Nearby on Lower East Side, the shaved-ice specialist Bonsai Kakigōri now has a home to call its own in the neighborhood. Kakigōri ($5-$11) will of course be the star, with five classic flavors (including strawberries and cream and matcha mountain) and five seasonal flavors (such as LES black and white cookie) available at any time. The menu will extend beyond dessert with a handful of toasts and sandwiches, including a classic honey, peanut butter, and banana ($7) and a katsu sandwich ($10) served on squishy Japanese milk bread.
3. Go to a New York bake sale featuring some of the city's best restaurants and benefiting Planned Parenthood.
From 11 a.m. to 3 p.m. on May 19, Café Altro Paradiso will host its third annual bake sale for Planned Parenthood NYC. The event has grown significantly in the three years since it started to the point where it's now spilled out of the restaurant. The roster of participants is a who's who of New York restaurants, including Atla, Cervo's, Contra and Wildair, Frenchette, Le Bernardin, Olmsted, Ops Pizza, and Superiority Burger. There are also out-of-towners like Sqirl and companies like Yola Mezcal. It'll be good eating for a good cause.
4. Buy your tickets for the Harlem EatUp! Festival's great dinners.
For its fifth year, Marcus Samuelsson and Herb Karlitz's Harlem EatUp! will return from May 13 through May 19. Along with the main festival (free admission), there will, as always, be a number of ticketed events. On May 14, the James Beard Award–nominated chef Kwame Onuwachi, whose memoir Notes From a Young Black Chef is rightfully causing a stir, will cook (tickets are $115) at Karl Franz Williams's Solomon & Kuff. The next night, James Beard Award–winning chef and cookbook author JJ Johnson and Marc Vetri will cook at Johnson's soon-to-open FieldTrip, or you can head to Melba's for a dinner (tickets are $100) cooked by Melba Wilson and Jerome Grant of the National Museum of African American History & Culture's Sweet Home Café. The James Beard Award winner Mashama Bailey will also be in town for the marquee Luminary Dinner (tickets are $250) at Ginny's Supper Club. There's a lot more going on, so check out all the events here.
5. Spend your Saturday evening at the Queens Night Market.
The "New Yorkiest" of New York's food fairs returns May 4. Queens Night Market is back, now with free admission but still with most of the food for $5 or less. Open from 5 p.m. to midnight every Saturday, the market will introduce new vendors including American Pharaohz, for Egyptian hawawshi; Wembie, for Moldovan cheese donuts; and Tania's Kitchen, for Haitian diri ak djon djon and pikliz. Plenty of favorites will return, including the excellent Burmese Bites and Jibarito Shack. For a full list of vendors and performers, check out the Market's website.
6. Eat noodles cooked by Andy Ricker, then hear him talk about his new book with Francis Lam.
Pok Pok Ny may be now more, but you can still enjoy Andy Ricker's cooking here in New York — for a couple days this month, anyway. To celebrate his new book with JJ Goode, POK POK Noodles, the chef will drop into the original Momofuku Noodle Bar for lunch on May 21. He'll cook dishes from his book including the Chiang Mai restaurant Mama Fah Thani's mama naam, an instant ramen soup with pork stock, tamarind, toasted chile powder, and other ingredients. The very next night, Ricker and Goode will pop by Greenpoint's Archestratus Books + Foods (tickets are $40) for what's being billed as a noodle-arancini happy hour. They'll talk about the book with wrtier Francis Lam, answer questions, and sign books, and you'll get a copy of POK POK Noodles to go with your book-inspired arancini.
7. Listen to Saveur's editor and Whetstone's publisher talk antipasti.
This event is what Michael Scott would call a "win, win, win." On May 8, the Strand will host Saveur editor-in-chief and James Beard Award–winning cookbook author Stacy Adimando in conversation with Whetstone magazine's co-founder, Stephen Satterfield, about all things antipasti. The event is for Adimando's new book, Piatti, a guide to the Italian culinary tradition featuring 75 recipes for dishes like prosciutto and pecorino biscuits. (If you can't make it to the Strand, Adimando will also talk Piatti with Refinery29 co-founder and global editor-in-chief Christene Barberich at the 92nd Street Y — tickets are $29 — on May 16.)
8. Head to the 92nd Street Y to hear from the authors of Indian-ish and The Italian Table, or attend a chocolate festival on Mother's Day.
If you're an avid home cook, or even if you're just trying to become one, you'll want to mark your calendar for this event at the 92nd Street Y. On May 8, friend of and contributor to Grub Street Priya Krishna will head uptown for a conversation with the great cookbook author Julia Turshen. They'll be talking about — what else? — Krishna's new cookbook, Indian-ish (tickets are $29), which is, you heard it here, a bona-fide hit. (It's risen as high as No. 43 on Amazon's best-seller list for all books.) The Y will also hold its annual Chocolate Fest (tickets are $35) on May 12, which (here's a pro tip) could be a great Mother's Day gift. Then on May 13 (tickets are $29), New York Times writer and cookbook author Melissa Clark will speak with Elizabeth Minchilli about her newest book, The Italian Table.
9. Or if you're looking forward to vegetables this summer, head to Cobble Hill for another cookbook event.
Here's one more cookbook event that'll get you prepared for the season of vegetables that is summer. On May 2 from 6 to 8 p.m., Cobble Hill's lizzyoung bookseller will host the Michigan chef Abra Berens, author of Ruffage, in conversation with Suzy Chase of the podcast Cookery by the Book. There will be wine, too, as well as a book signing.
10. Take the kids to a cooking-themed experiential store.
The "family experience" store CAMP is a toy store for the 21st century, which means: interactive and Instagrammable. On May 10, the operators will reveal their new theme, Cooking CAMP, which is all about (you guessed it) the world of food. The 10,000-square-foot store will take you through the production of food, from farms to factories to restaurants and home kitchens. Along with the store proper, there will be a theater for performances and workshops for kids ages 2 to 12. And afterward, you'll be able to take them to the store's location of Milk Bar, called Milk for CAMP.
11. Head up to the Broken Shaker for its new brunch.
Brunch in the sky. Starting May 4, the Freehand's rooftop bar Broken Shaker will start opening on Saturdays and Sundays at 11 a.m. Dinner's frita burger ($16) is on the menu, as are new dishes like a French toast Maduro Foster ($17), an avocado tostada with cotija ($14), and a hot chicken sandwich ($16). The cocktails ($16) include riffs on a.m. standards like a Verde Bloody Mary with smoked tomatillo, and a spiked-coffee service for the table.
12. Eat tacos with Cambodian-style pork belly or queso fundido on Cinco de Mayo.
For Cinco de Mayo, sandwich chainlet Num Pang has collaborated with Los Tacos No. 1 for an event called Cinco de Num. At Num Pung's location in Nomad from May 5 to May 7, the taqueria's tortillas will be offered with fillings like pork belly and coconut shrimp. (All tacos are $3.95.) Drinks ($7.95) like Micheladas and frozen watermelon sangria will be available, too. Over in Brooklyn, Alta Calidad will offer $10 queso fundido and margaritas during both brunch and dinner. Or you could hop over to El Atoradero at Parklife, where there will be a DJ from 3 to 7 p.m. along with a few specials. Expect three kinds of tacos placeros ($6 for one, $10 for two), including chile relleno de queso; cemitas with milanesa de pollo ($10); and mole poblano ($10).
13. Go drink beer at a Queens bar's reopened outdoor area.
Pray for good weather next week, because Nowadays will reopen its backyard on May 9. This year, there will be eight beers from Evil Twin Brewing on tap as well as natural wines, and new food including chicken-leg-confit sandwiches. The weekends will take you back to the beach (or park, as it may be), as both the stretchy, Middle Eastern–style ice-cream shop Republic of Booza and Casino Italian hot dog will set up shop. And especially for those days you get out of work on the early side, there will now be a happy hour from 4 to 8 p.m.
14. Check out a to-go outlet for the East Village's Japanese teahouse and sweets restaurant.
Speaking of sweets: Today, the East Village's Japanese teahouse Cha-An expands with the to-go shop Cha-An Bonbon. They'll be selling all of the original's signature items, including its hojicha anmitsu ($6), the sweet dumpling called dango ($4-$11), and Hojicha soft-serve, right on time for summer, plain ($3) or as a parfait ($6) with toppings like kuromitsu syrup and monaka crumble.