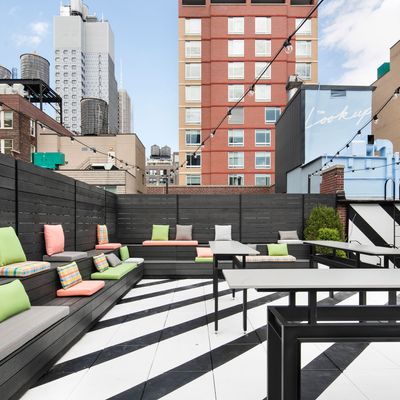 The Lookup at the new Kixby Hotel features cocktails from a superstar bartender.
Photo: Melissa Hom
It wouldn't be almost-summer without a whole spate of new rooftops, backyards, and outdoor areas for wiling away the long days all summer long. Unsurprisingly, hotels from Times Square to Brooklyn are coming in strong with city views and fancy cocktails to imbibe. Then there's the more laid-back backyards at new restaurants where you'll want to hang out every weekend through Labor Day. Here's Grub Street's guide to all the new rooftops and backyards perfect for outdoor drinking.
The Lookup at the Kixby Hotel
45 West 35th St., nr. Sixth Ave.; 212-947-2500
Next Wednesday, the team behind Black Tap (the Instagram milkshake place) and design mavens The Rockwell Group will open this rooftop bar in the new Kixby Hotel f.k.a. The Hotel Metro. They tapped hotshot bartender Pamela Wiznitzer, who set up the bar program at J.J. Johnson's restaurant Henry and Gibson & Luce, to create a cocktail menu featuring drinks that start at $16.
Gran Torino
131 Berry St. at N. 7th St.; 347-987-4333
The untimely passing of "absolute best" dance club Output left a huge hole in Williamsburg's nightclub scene, but a new contender has stepped in: Gran Torino recently put down roots just down the street from the struggling Bedford Avenue L and brought with it a large garden that functions as a co-working space during the day and partying hangout by night. The menu is inspired by "European and Continental street food," so expect bratwurst, arancini, and Neapolitan-style pizza alongside German beers and cucumber margs.
Mothership Meat Company
27-20 40th Ave., at 28th St.; no phone
When not flying to Seattle to beg Amazon to reconsider coming to New York, barbecue master Josh Bowen has been working overtime to open this new barbecue joint inspired by Austin-style cooking, which Bowen studied for a decade before heading north. Think brisket, ribs, and also frog legs because why not? The space features a massive beer garden with seating for 200 people, so consider this the place to go for all your summertime group hangs.
Wayla
100 Forsyth St., nr. Grand St.; 212-206-2500
Spice-forward Thai food from a Bangkok-born chef? Check. Eye-catching cocktails from a master bartender? Check. Stylish backyard straight out of an Anthropologie catalog? Check, check, check. Lower East Side newcomer Wayla has all of the above so don't be surprised once it starts invading your Instagram feed.
Empellón Al Pastor at Pod 39
145 East 39th St.; nr. Third Ave.; 212-865-5800
In addition to having an Empellón outpost from Alex Stupak, the Pod 39 hotel also has a rooftop bar run by the Empellón team featuring margaritas, beer, and tiki cocktails. The food, meanwhile, is refreshingly casual, revolving around hotdogs, guacamole, shrimp cocktails, grilled cheese, and one-pound lobster rolls albeit with some Mexican flare.
Maison Yaki
626 Vanderbilt Ave., at Prospect Pl.; 718-552-2609
Greg Baxtrom's new French-Japanese restaurant is already a runaway hit and a lot of that has to do with the super-affordable food and drinks. But don't sleep on another standout feature: The backyard featuring a few four tops surrounded by wicker chairs and a pétanque court. (Basically, bocce for French people.) So, head over with a crew of your most competitive friends and settle in for the afternoon.
Backyard and Summerly at The Hoxton
97 Wythe Ave. at N. 10th St.; 718-215-7100
The Williamsburg location of this new chain of boutique hotels opened right at the end of summer last year, so this will be the first summer where people can fully enjoy its two (!) outdoor spaces. First there's Backyard, a terrace bar just above street level featuring cushy lounge chairs, a ping-pong table, and food to-go. Then on the roof, there's Summerly, a seafood-centric rooftop bar with panoramic views, a raw bar, and a bar bar. Food at both spots come from the team behind Greenpoint's brunch destination Five Leaves so don't be surprised if all the seats fill up by 1 p.m.
Dear Irving On Hudson at Aliz Hotel
310 W. 40th St., nr. 8th Ave.; no phone
When this bar at the Aliz Hotel opened in January it was hardly rooftop season. Now that (inconsistently) warmer days are here, you'll want to check out Dear Irving's standout cocktail list, which starts at $18, as well as its four balconies on the bar's two floors. It's a great place for a nightcap after checking out all the impressive new restaurants in Times Square.
Clinton Hall at the Pod Brooklyn Hotel
247 Metropolitan Ave., nr. N. 3rd St.; no phone
On May 17, the new Pod Hotel in Brooklyn is opening a rooftop beer garden that'll be run by the folks from Clinton Hall. That means communal seating for up to 125 people, lots of craft beer, straightforward bar food, and group games (read: What Do You Meme?, giant Jenga towers, Cards Against Humanity). The whole operation will be powered with more than 100 solar panels so you can day drink and feel like you're saving the environment at the same time.
The Terrace and Outdoor Gardens at Edition Times Square
701 Seventh Ave., at W. 47th St.; 212-261-5400
Part of chef John Fraser's new role as an empire-builder is running four restaurants at the Edition hotel in Times Square. The most rooftop-y among them is the The Terrace, a restaurant and outdoor garden space on the hotel's ninth floor where the food is inspired by French brasseries and American steakhouses. Expect a vibe that's more special occasion than casual.
The Water Tower and The Rooftop + Pool at The Williamsburg Hotel
96 Wythe Ave., at N. 10th St.; 718-362-8100
The Water Tower isn't just a tongue-in-cheek name for a hotel bar, it's located inside an actual glass-walled water tower and has quickly become one of the city's more exclusive nightclubs since opening in November. (Guests can enjoy a $150 cocktail with a flick of their credit card.) Below the tower is The Roof, a bar and pool that's open to the public, with reservations starting at $65.
Magazine
130 Franklin St., at Milton St.; no phone
Another day, another quirky Greenpoint bar with a backyard. This time, it's Magazine, which opened last month and is already attracting locals with its affordable drinks (some of which are frozen) and sparse, neighborhood-y backyard. Thursday through Saturday stop by late if you want to get some dancing done, too.
Last Light at Sister City
225 Bowery, nr. Rivington St.; 646-343-4500
Between the Standard East Village and the Bowery Hotel, it's not like the Bowery needed another highly curated hotel, and yet … The latest addition to the scene is Sister City, a 200-room offshoot of the Ace Hotel with an 11th-floor deck featuring small plates, natural wine, and cocktails with names like High Beam and Firecracker. (Beverage director Josh Hanover counts the Wythe Hotel and ABC Kitchen among his previous employers.) Stop by before 6 p.m. and you'll be able to indulge in a happy hour dubbed First Light.
10 Corso Como
200 Front St., nr. Fulton St.; 212-265-9500
Italians invented the term "al fresco," so it only makes sense that Milan import 10 Corso Como would have some great outdoor dining. Do a bit of shopping and then enjoy some of the city's finest struncatura on the shop's terrace, which is hidden from the streets of the South Street Seaport by a collection of well-positioned bushes.