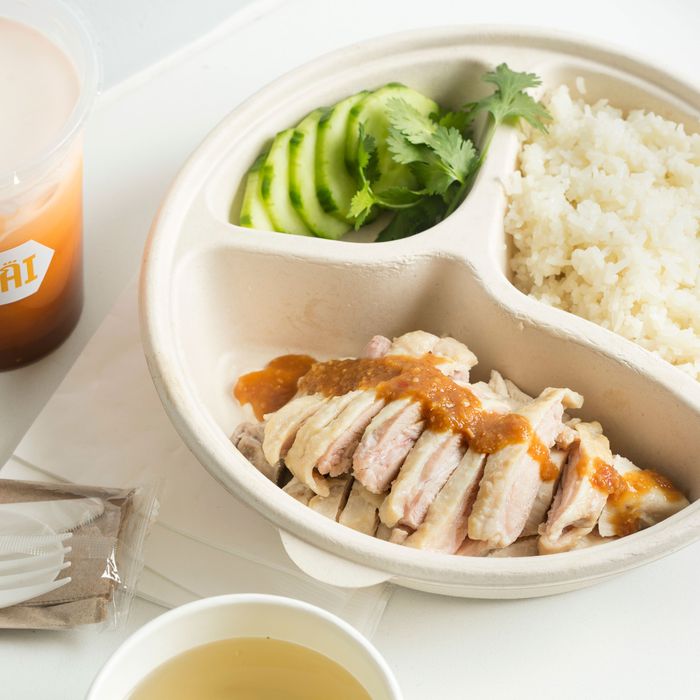 Khao man gai!
Photo: Melissa Hom
The pull of Hainan chicken rice is strong. A seemingly simple dish of poached poultry, it's considered a national dish of Singapore (alongside chili crab) and an object of obsession in several Southeast Asian countries including Thailand, where it's called khao man gai. It's also the source of a good old-fashioned international culinary dispute between Singapore and Malaysia, which both claim ownership in a chicken conflict going back decades, as well as international envy. The cookbook author Yotam Ottolenghi once wrote that he admires how the few flavors involved in the dish "create so immense and compelling an impact." The writer Kevin Pang, who grew up on it in Hong Kong, has remarked that it has "achieved last-meal cult status."
While the dish has roots in the wenchang chicken of Hainan, it was created by Chinese immigrants in Southeast Asia. Fanatics call it the ne plus ultra of chicken, and this dish is an exercise in chicken — not fried chicken, not vinegary chicken, just pure chicken. (It's like a composer layering a single note on itself, if that note were really good chicken.) Of course, there's no one way to make the dish, but generally speaking, there's supple chicken poached gently in a broth with seasonings (think shallots, ginger, and pandan leaves) that are aromatic and not aggressive. In the case of khao man gai, however, the chicken can be either be steamed or poached. There's rice fried in chicken fat and cooked in a broth made from the poaching liquids, and more of that broth is served for sipping. Then there are the condiments, which vary but can include a chili sauce or ones made with ginger, scallion, and dark, sweet soy sauce. "The sauce is what makes it," says Moonlynn Tsai, who owns Chinatown's much-loved Kopitiam with chef Kyo Pang.
Hainan chicken rice is all over Southeast Asia, where you'll find vendors who have served nothing else over the years. Here in New York, it has mostly appeared as one of many dishes on regular restaurant menus like those at the Malaysian spots Nyona and West New Malaysia. (Laut also serves a Hainanese-roast-chicken rice.) But over the past few years, a handful of the city's exciting new Thai restaurants have opened with khao man gai on the menu — and some serve nothing else. First there was Elmhurst's Eim Khao Mun Kai and Long Island City's now closed Khao Man Gai NY; then Eat's Khao Man Gai and the food truck Mr. Khao Man Gai opened last year. Now, one of the two chef brothers behind downtown's popular Fish Cheeks, Chaat Suansilphong, will help expand the definition of chicken and rice in Midtown with the takeout spot Gai Chicken & Rice. (He's opened it with partners Ace Watanasuparp and Chatchai Huadwattana.)
At Gai Chicken & Rice, Suansilphong serves three variations: There's steamed khao man gai with a ginger-chili sauce and daikon-radish soup, available in white or dark meat, and fried chicken that's either crispy (gai todd) with sweet chili sauce or spicy (gai zabb) with dried-chili-based jaew sauce. Along with a few drinks, that's the whole menu.
"The fried chicken over rice was my favorite food as a child to eat, and I didn't see it here," says Suansilphong. "Chicken rice is everywhere in Thailand. We grew up eating this. I think because it's so simple, it's something you can eat every day, and you don't get tired of it."
Gai Chicken & Rice isn't the only good news for Hainan-chicken-rice fans in New York. Along with the aforementioned specialists like Eim Khao Mun, four of New York's most popular, well-regarded Southeast Asian restaurants to open in the past few years also serve the dish. You'll find khao man gai at Uncle Boon's Sister — the takeout alternative to the perpetually busy and buzzy Uncle Boon's — where it's served with a ginger-soybean sauce and a side of restorative broth. It's served at the Singaporean restaurant Yummy Tummy Asian Bistro in Queens and at Bep Ga (look for com ga), where the rice is bright yellow and the kitchen has a heavy hand with the herbs.
More recently, it was added to the menu at Kopitiam, where the rice is served Malaysian style, rolled up into balls that add sticky rice, chicken broth, and chicken fat. The chicken is as yellow as an egg yolk, served over more of that broth made inky and salty with dark soy sauce, and crowned with a fistful of cilantro. The meal comes with two condiments, a fierce chili sauce and an electrifying one made with cilantro and ginger that you may find yourself unable to eat chicken without going forward. For good reason, they'd thought about adding the dish to the menu since opening, and they're still fiddling with it. "I was posting on Instagram and you didn't even need to say what the dish was," says Tsai.
On a recent day, plates of Hainan chicken flew out of the kitchen, and two young friends excitedly noted one table's portion. The dish was meant to be a weekend special until mid-June, but it's already being served in limited quantities on a daily basis. (On Thursday and Friday, the place can sell out of it by 7 or 7:30 p.m.)
"I'm so mind-boggled by how good it is, by how simple it is," Tsai says. "I think that's a good showcase of Southeast Asian cooking in general. It can look very simple, but it's just the use of the ingredients. However minute they are, it just brings them out."
Gai Chicken & Rice, 158 East 45th St., nr. Third Ave.; 917-675-6642