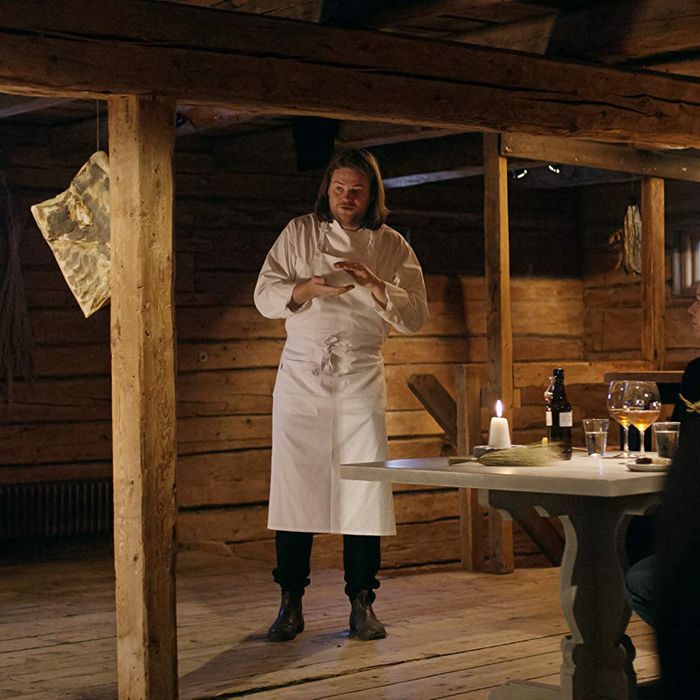 Magnus Nilsson in
Chef's Table
.
Photo: Netflix
Globe-trotting gourmands, take note. Sweden's famous Fäviken will close, and if you haven't eaten there you never will, unless you already have a coveted reservation for this year. The chef Magnus Nilsson announced the news in an interview with the Los Angeles Times, saying that he waited to do so until after the restaurant was booked for the rest of the year. As he explains it, he did this because "you don't want people to be all crazy" and turn Fäviken's final go-round into a Goodbye Tour '19.
The restaurant's closing certainly comes out of nowhere, following 11 prestigious years that saw it land on the controversial "World's 50 Best Restaurants" list (climbing as high as No. 19 in 2014) and famously appearing on the first season of Chef's Table. Nilsson was also one of the subjects of the PBS show The Mind of a Chef, and has written a trio of cookbooks. There was no shortage of demand for diners, as the restaurant's last reservations were reportedly booked within hours of going live.
In the interview with the Times, Nilsson admitted that closing Fäviken is "not a wise decision." But he says that he no longer feels the drive required to run this sort of restaurant, which has been compared to Noma for the chef's obsessive devotion to local ingredients and ambitious idea of Swedish cuisine. As he tells the paper, he's ready to move on and "to do other things." The restaurant could continue without Nilsson, but co-owner Patrik Brummer tells the Times they won't operate a restaurant without Nilsson. (Fäviken the restaurant is located at Fäviken Egendom, a 134-year-old estate on 20,000 acres.)
What's next for Sweden's most famous chef–slash–black grouse hunter? He's going to tend to a 44-acre apple orchard he and his wife bought last year, plant trees, and learn from fellow gardeners.