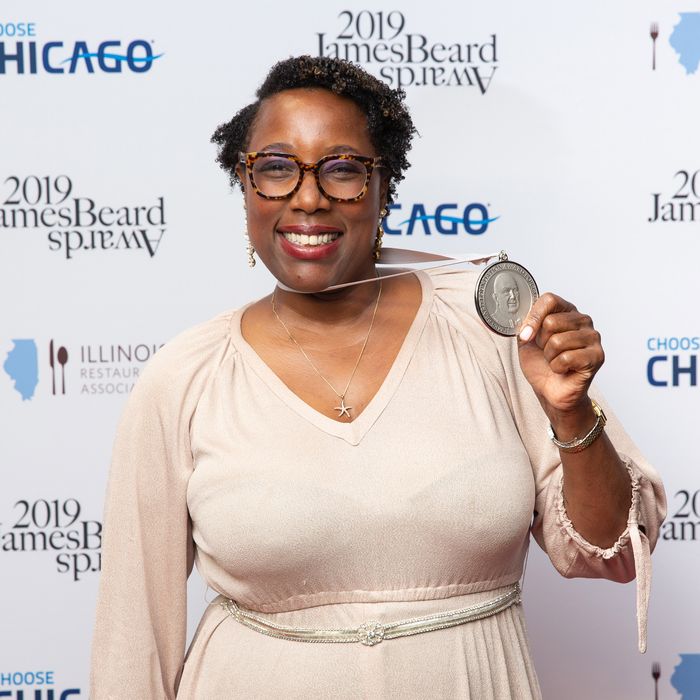 Savannah, Georgia–based chef Mashama Bailey took home the award for Best Chef: Southeast.
Photo: Eugene Galdones/JBF
Last year's James Beard Awards were, to say the least, surprising. Across both the media and chef/restaurant awards, women and people of color cleaned up. The development sparked a number of articles about how refreshing it was to see these people recognized and drove the James Beard Foundation to announce sweeping changes to guarantee diversity in future awards ceremonies.
Last night, the awards delivered on the promise of inclusivity with eight women taking home awards: Ashley Christensen (Outstanding Chef), Rita Sodi and Jody Williams (Best Chef: New York City), Kelly Fields (Outstanding Pastry Chef), Mashama Bailey (Best Chef: Southeast), Beverly Kim (Best Chef: Great Lakes), Ann Kim (Best Chef: Midwest), and Charleen Badman (Best Chef: Southwest).
Meanwhile, men with minority heritage picked up five additional awards: Riad Nasr (Best New Restaurant for Frenchette), Kwame Onwuachi (Rising Star Chef of the Year), Tom Cunanan (Best Chef: Mid-Atlantic), Vishwesh Bhatt (Best Chef: South), and Brady Williams (Best Chef: Northwest).
All together, 13 of the night's 21 "Oscars of Food," or about 62 percent, went to minorities and women. For the sake of comparison, last year that number was 12, and it marks a major shift from 2017's ceremony, when only six awards went to women and people of color.
At last night's ceremony, after Onwuachi took the stage to accept his award, he summed up the sea change that's happening like this: "I understand that I have a job to do and we all do: We can put out great food and give great service or we can advocate for something to give the next generation and to include everyone into the conversation of cooking."