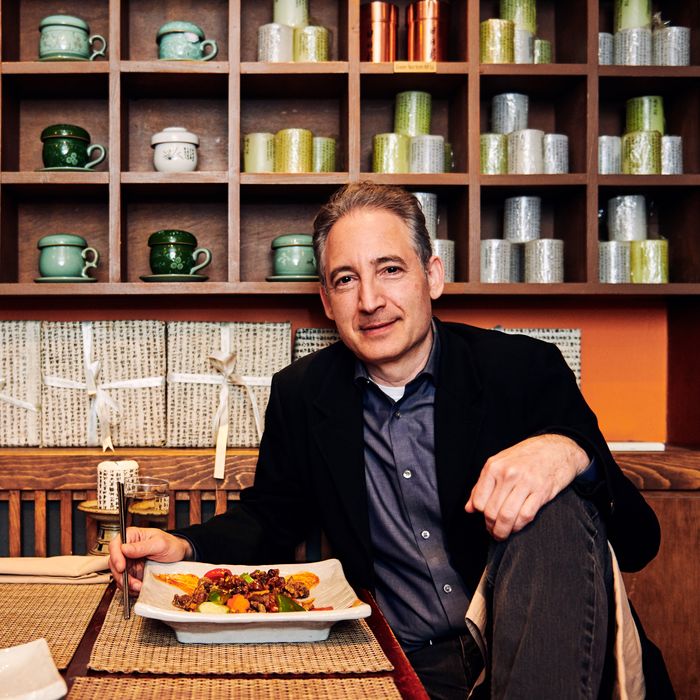 Brian Greene at Hangawi, which he calls his favorite restaurant "maybe anywhere."
Photo: Christian Rodriguez
Columbia professor, physicist, and best-selling author Brian Greene spends most of his time thinking about Big Topics: string theory, why our world consists of three dimensions, and which brand of oat milk is best. When Greene's not figuring out just what the hell is going on with this universe, you're liable to find him in the kitchen: He's been cooking since he was 9, when he became a vegetarian. "It wasn't hard to piece together meals, and I would start to cook for the family," he recalls. These days, while preparing for the 12th annual World Science Festival, he's cooking pasta or baingan bharta for his family and hitting restaurants like Hangawi (his favorite) and Nix. Read all about it in this week's Grub Street Diet.
Friday, May 17
Breakfast was quick: a sesame bagel with tofu cream cheese at Absolute Bagels, just about the best bagel you will find anywhere on the planet. And one large Earl Grey tea from Starbucks with soy milk. Then on to the World Science Festival offices to do the voice-over on a promo piece for my upcoming PBS special and live Jazz at Lincoln Center performance of Light Falls, celebrating — of all things — the 100th anniversary of the astronomical observations that confirmed Einstein's General Theory of Relativity.
I am vegan. I went vegetarian at 9 years old, after my mother cooked spare ribs. Till then, meat to me was just one other food that came wrapped in cellophane from the supermarket. I had no idea that meat came from an animal. The spare ribs changed that. I told my parents I was not going to eat meat anymore and then went to the fridge to make a salami sandwich. My parents let me know that salami is meat, thinking I would give up on being a vegetarian. Instead, I put the salami down and never ate meat again. Well, almost never. There was one time.
Later today, I had to meet a couple of students at my office at Columbia, so I grabbed a vegan caprese sandwich (tofu instead of mozzarella cheese) at Joe's Coffee with another Earl Grey tea — loose tea makes all the difference — topped off with oat milk. Joe's usually also has a very nice peanut-date bite-size snack, but they were out of them today, a small but lingering disappointment.
Dinner made up for it. My wife, Tracy, and I headed to Hangawi, my favorite restaurant in New York, maybe anywhere, really. We had the vegetarian dumplings (steamed, although I like the fried better — trying to be good), the vermicelli delight (a delightful blend of sweet-potato noodles and vegetables), the combination pancakes (leek, kimchi-mushroom, and kabocha pumpkin with mung beans), which were flavorful and light, and —best dish of all — crispy mushroom in sweet-and-sour sauce, which is to die for. It has a wonderful blending of flavors, the sweetness and sour, with the very delicately fried coating that gives it a kind of nutty flavor with the mushroom.
Saturday, May 18
The day began with McCann's steel-cut oats cooked with half water and half Planet Oat vanilla oat milk, with a mashed banana added to the mix. Oatly versus Planet Oat is a very deep question, one we debate at our household not too infrequently. The Oatly one has a little bit more of an oily feel to it, so it's richer but also heavier. The other one is lighter and froths really well. I have both in the fridge.
I topped it off with raisins and cashews and some frothy steamed oat milk and had a couple of cups of Argo Tea's Earl Grey topped with some of the steamed oat milk too. (Somewhere in the back of my mind, I find myself wondering if the vanilla in the oat milk is vegan. My kids tell me some food outfits use a cheap substitute for real vanilla made from castoreum — yeah, I had to look it up too — it's a fluid squeezed out of a beaver's hindquarters. Lovely. If the vanilla is not vegan, I don't want to know.)
Then it was on to the Peloton for 20 minutes (with my favorite instructor, Ally Love, assuring me that I am a "boss"), a quick shower, and then off to work out visualizations for the World Science Festival public program exploring the nature of time.
As befits the subject, the preparations took longer than I had hoped, so I got a quick lunch at a nearby Indian place, Chapati House, of spicy chickpeas and spinach over rice. They topped it with fresh ginger, banana peppers, and spicy mango, and I got extra cilantro (I'm not one of those for whom cilantro tastes like soap). Although I grew up in New York, I had my first Indian meal when I was a graduate student at Oxford. And that intro to Indian cuisine was awful — horrible restaurant — which for years led me to think Indian food was not for me. Thankfully, I gave it another try a few years later and had a far better experience; for decades now, Indian dishes have been one of my staples, both for eating out and for cooking at home.
Speaking of which, this was an "eat at home" night. I do all the cooking. I'm nowhere near a chef, but there's an incredible artistry to putting flavors together and figuring out what combinations are going to work. It's all about patterns and putting things together in a way that is different. When I met my wife, she used the interior of her oven as a bookcase and thought that to cook pasta you boil water, drop in the pasta, turn off the flame, and wait … and did she wait. The night's menu was rice bowls with gently fried tofu and sautéed oyster mushrooms over arugula and a bed of wonderful Ball Club Chippewa wild rice (courtesy of my friend and connoisseur of many culinary delicacies Bob Shaye). The dressing was a homemade "peanut" sauce of blended cashews, ginger, soy sauce, rice-wine vinegar, and a touch of lime.
In the "old" days, it was not so easy to be vegetarian or vegan. I had to cook from a young age. My parents did not accommodate my being a vegetarian. They weren't against it, but nor did they know what to do with it.
In college, the standard vegetarian meal was three pieces of American cheese that had been sitting on a plate for so long that it tasted like the refrigerator. So I got into the habit of bringing food with me to various events and functions to avoid the hassle of trying to find something suitable. Sometimes this has yielded an unconventional route to sustenance.
Sunday, May 19
My wife was away, so for brunch I took my kids to our old haunt the Organic Grill. When they were littler, I took them there every Sunday, but now the trip from Morningside Heights to the Lower East Side is something we only rarely do. But it was worth it. I had the tofu omelette with tomatoes, vegan cheese, and "dark greens" with a side of Yukon potatoes.
This is about the best vegan omelette you will get anywhere. My son, Alec, had the flaxseed waffles, and I could see he would far rather have had an order from the Wafels & Dinges trucks all around town. But he muscled through and only left half. My daughter, Sophia, and I tasted the waffle, and actually it was wonderful. So the two of us finished it off and then further indulged in a piece of vegan caramel-chocolate cheesecake. At first, Sophia was not particularly enthusiastic about the cheesecake — being more used to the intensely sweet non-vegan varieties — which I anticipated meant that I'd have to eat it myself. But she warmed to the dessert, so we split it. Equitably.
For dinner, my kids and I opted for something Tracy would never stand for, but, heck, she wasn't there. We took the car and headed to Veggie Heaven in Teaneck, New Jersey. Not exactly glam, but the food is great. We had spring rolls, avocado rolls, vegetarian dry-fried shrimp, vegetable lo mein, golden crispy tofu, tofu and broccoli in brown sauce, and eggplant in garlic sauce. And, yes, we did have a little left over.
Monday, May 20
Breakfast was a smoothie with frozen bananas, almond butter, Califia Farms almond milk, chocolate-flavor Vega Protein & Greens, and NutraChamps Super Greens. After walking the dogs, I headed up to our studio space for a full day of Light Falls rehearsals. Lunch was brought in, and I had two (well, three) pieces of Whole Foods vegan pizza. The quality of these pizzas varies enormously from one Whole Foods to another, with the best — by far — being the Whole Foods on West 97th and Columbus. Their vegan pizza was a rich blend of red sauce, sautéed spinach, sun-dried tomatoes, arugula, and a nice mix of spices.
For dinner, I picked up my wife at Penn Station, and we headed down to Nix. We shared the red-pepper-with-walnuts and spiced-eggplant dips, which are both extraordinarily flavorful, followed by the spicy tofu intermingled with chanterelle mushrooms and peppers. The spice was intense — well, too intense for Tracy — so she left me with the tofu dishes and ordered the burrata. That and a couple of glasses of Cabernet (Tracy does the drinking for both of us), and we were all set.
Well, until dessert. We opted for the roasted pineapple with a kind of vegan whipped-cream sauce and macadamia nuts — spectacular. They have a great way of putting together unexpected things. You think of a creamy marshmallow sauce over pineapple and it sounds kind of gooey and gross, but you eat it and it's just great.
Tuesday, May 21
I got up late — watched one too many episodes of Billions the night before — so breakfast was quick: raisin toast with some vegan cashew cream cheese I found in the back of the fridge. After a few bites, I wondered if the cream cheese had gone a little off, but whatever. Two fast cups of Argo Tea's Earl Grey Crème with Planet Oat vanilla oat milk, and I was on my way.
I headed downtown to William Morris to drop off a copy of the manuscript for my new book, and then, since I had an hour before rehearsal, I walked over to the Pennsy to grab lunch at the Cinnamon Snail.
I first found out about the Cinnamon Snail a long time ago, when their offerings came from a food truck. The food was so good that for Thanksgiving dinner, something like seven or eight years ago, I ordered it all from the truck, thinking it would be a simple way to take a break from cooking the traditional big vegan meal. When I went to pick up the meal for 14 at the truck, which was parked on Thanksgiving Day on Fifth Avenue in the 20s, I think, the line to pick up Thanksgiving meals stretched down the block, took a westward turn, and went halfway further down that block, too. I wasn't so clever after all. Or many of us were clever. Whatever. I couldn't bear the enormous line, so I drove further downtown to the old Vegetarian Paradise 2 on West 4th, ordered a full Chinese meal for 14, waited, and packed it into the car. As we drove back uptown, I got a call from Cinnamon Snail saying I was the last order that had yet to be picked up. So on the way up, I stopped at the Cinnamon Snail truck, the line now gone, and picked up that Thanksgiving meal, too. Double meal, double thanks.
Anyway, I headed over there and got the lentil-artichoke burger on a pretzel bun with cucumbers, French-mustard dressing, baby arugula, and a spread of white-bean purée. Besides the quinoa burger at Blossom, now discontinued, this is the best vegan burger in the city. I also indulged in a peanut-butter blondie.
Dinner was … modest. Amy's frozen pizza with vegan cheese. Kind of a sad way to end the food log, so I sautéed some oyster mushrooms and garlic and sprinkled it on top with some arugula, too. Not a bad finish at all.