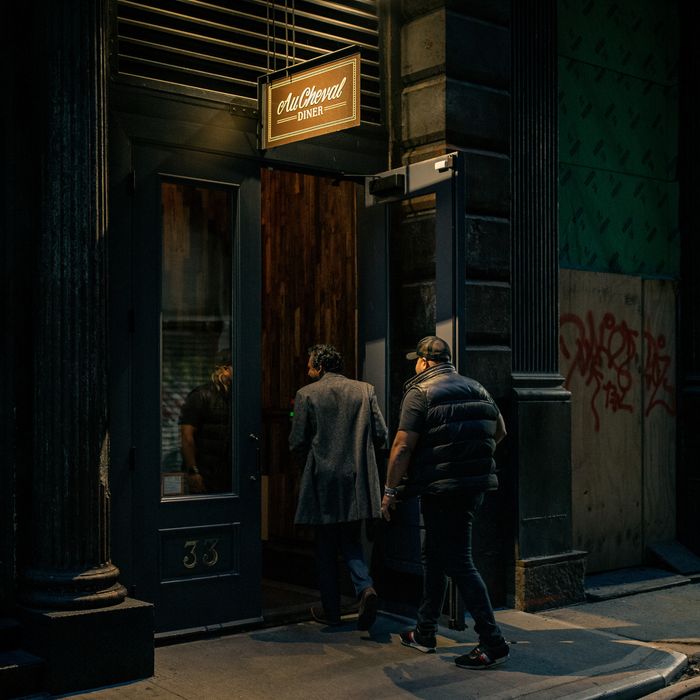 Au Cheval lands in Tribeca.
Photo: Scott Heins
I made my one visit to Chicago's famous bar and burger destination, Au Cheval, a few years back in the most Chicago kind of way — near midnight on a rainy evening after a Cubs game. When we were finally seated, it was at the bar, near the pass, surrounded by crowds of revelers calling for servings of roasted marrow bones, platters of Montreal-style eggs and potato hash poured with duck-heart gravy, and the famous house double cheeseburger, which was stuck, like at a Viking banquet, with a great gleaming steak knife. Being in a bit of a Viking lather ourselves, we ordered all of those things, along with other hearty nose-to-tail specialties, and as we devoured them one by one (yes, the burger lived up to its formidable reputation), we got the feeling one gets at certain restaurants that manage to tap into the spirit of a certain moment — that we were experiencing a kind of culinary happening in real time.
But fashions change, of course, and time marches on. These days, a lighter, more inclusive, less, umm, aggressive brand of cooking seems to be all the rage in enlightened dining circles around the USA. Many of the most sophisticated burger connoisseurs I know spend more time swapping veggie-burger recipes than discussing the intricacies of the old-fashioned double-decker beef model. More than a few of the boisterous, high-profile kitchen-slave revolutionaries who helped create and define the kind of macho meat-heavy culture that the original Au Cheval was designed to embody have been replaced on the national culinary stage by a more diverse, eclectic, internationalist group of young chefs and cooks with their own tastes and agendas in mind.
All of which may be why the new, eagerly awaited New York outlet of Au Cheval, which opened a couple months back in a great boxy space down in Tribeca, feels less like a culinary happening than the arrival of a storied franchise, like some formerly trendy, hipster version of Applebee's, say, or the first-ever Chick-fil-A to open in midtown. Unlike the original, intimate Chicago operation (the name refers to a French kitchen term for "with a fried egg on top"), or the gilded little beef parlor 4 Charles Prime Rib, which Au Cheval's parent hospitality group Hogsalt opened in the Village a couple years back, this new venture has clearly been designed with volume in mind. There are various crowd-control ramps and standing areas at the front of the long brick-walled dining room, along with a grim limbo-land bar area downstairs where customers are encouraged to power down various happy-hour-style concoctions (we opted for the frozen-coconut Painkillers) while waiting for tables to clear.
That wait was reputed to be three hours or even more when the joint first opened, but after the initial frantic bull rush, the crowds seem to have tapered off a little. On my first visit, our little dining party — which admittedly contained a recognizable VIP or two — spent a mercifully short time sipping frozen drinks from tiny plastic glasses down in this dispiriting limbo zone before being ushered to the Viking-size banquet hall above. All of the tables we passed on the long way to our moon-shaped booth seemed to contain crowds of people framing Instagram posts of the signature house burger stuck with the familiar steak knife, and after a cursory look at the one-page menu, which seemed smaller and less various than the one I remembered from my Chicago visit, we couldn't resist the zombie impulse to order our Au Cheval burger, too.
How does this great burger icon stand up to the populist franchise treatment? I'm on record as saying that the burger at 4 Charles Prime Rib might actually be worth a three-hour wait, but the shiny brioche bun had an edge of staleness to it here, and after a bite of my messily constructed hors d'oeuvre portion of fried egg, bacon, and overcooked, oversalted beef (yes, we portioned it out with our Viking knife), I pushed it aside. Ditto the cartoonishly large fried-bologna sandwich, which was much more fun to photograph than it was to attempt to eat, and an Applebee's-quality mash-up experiment called General Jane's Honey Fried Chicken, which combined rock-hard chunks of General Tso's–style bone-in chicken with a sticky sweet sauce overwhelmed by the bitter taste of a thousand old orange peels.
In fairness, the Hogsalt group isn't after originality here — it's after profits — and not everyone experienced the same sense of jaded ennui as your dutiful, overfed critic. "This thing's killer," one young innocent declared, on a different visit, after his first-ever taste of the burger, and one or two dishes (the opulent Montreal-style scrambled eggs with foie gras, the hash browns with duck-heart gravy, the mailbox-size mille-feuille pastry for dessert) manage to conjure up a sense of the old two-fisted grandeur this kind of cooking used to inspire. But those moments are few and far between, and as the platters of what someone described as "really heavy brown food" clattered relentlessly down on the table, even the grizzled old carnivores found themselves pining for a decent piece of fish (there's a bedraggled broiled salmon option on the menu) or a shred of green spring vegetables.
Au Cheval | 65 (out of 100)* | Not Terrible
33 Cortlandt Alley, nr. Walker St.; 917-710-6039; auchevaldiner.com
Open: Lunch and dinner daily.
Prices: $10 to $50.
Ideal Meal: Foie gras with scrambled eggs and/or potato hash with duck-heart gravy, mille-feuille with plenty of chocolate sauce.
Note: The restaurant now takes reservations, although if you plan to walk in, the best hours are during lunch and in the afternoon, before the crowds arrive.
Scratchpad: The combination of the kind of uneven, sometimes slapdash execution you often see in franchise restaurants and a loud, occasionally chaotic vibe adds up to a "not terrible" 65.
*The rating scale of 0 to 100 reflects our editors' appraisals of all the tangible and intangible factors that make a restaurant or bar great — or terrible — regardless of price. See The Thousand Best for 999 more great places to eat and drink.