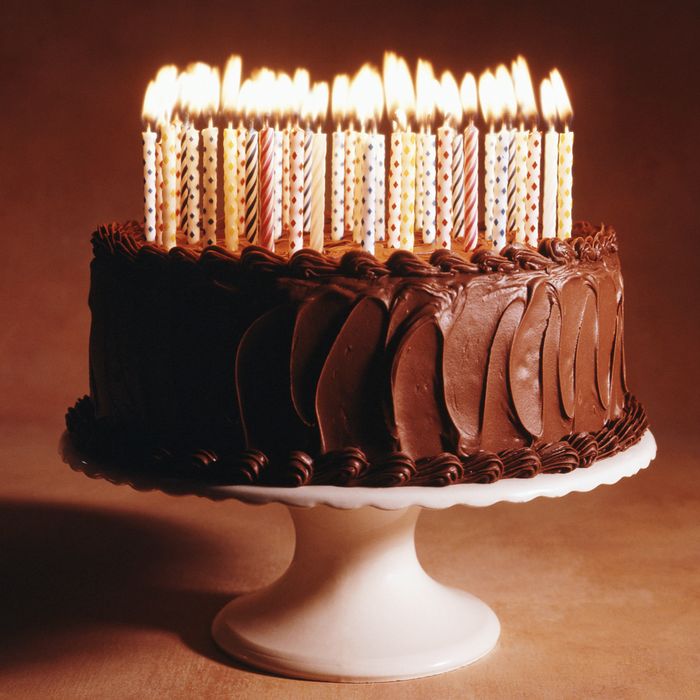 Photo: Louis B. Wallach Inc/Getty /Getty Images
The struggle to figure out what to do for one's birthday is enough to send even the savviest of New Yorkers into an existential tailspin more stress-inducing than the actual reality of getting older. Here, a handy list of less-obvious options. 
Belly Dancers and an Egyptian Feast
$60 per person; 30 people
Reserve the biggest tent (i.e., table) at Casa La Femme for 8 p.m. to allow time for pitchers of sparkling-wine-and-guava cocktails (for an extra $90) and mezes (choose from a preset menu of hummus, crabmeat kafta, moussaka, tagines, and the like). At 9:15, a bevy of belly dancers starts making the rounds. (140 Charles St.)
An Open Bar at a Greasy Spoon Diner
$65 per person; 60 people 
If you ask Square Diner to stay open late (fashion types do this a lot; the wood paneling and red twinkly lights photograph well), the Tribeca institution will host a private four-hour party with an open bar and unlimited BLTs, waffles, and eggs. (33 Leonard St.; email Ted Karounos at squarediner@gmail.com)
An Upscale Cobble Hill Fisherie All to Yourself
From $3,000; 38 people 
For seafood tapas and coastal wines, book the bar and high-top tables at Saint Julivert, Alex Raij and Eder Montero's "fisherie" (more robust than a raw bar but still focused on small plates). Start with an aperitivo hour and finish with the house dessert: flourless chocolate cake with fennel funfetti. (264 Clinton St.)
A Party Bus to a Queens Casino
"For a friend's 30th, she had everyone meet at our shop, Coming Soon NY, and then we got on this party bus called La Chiva Loca — it's a school bus that's been turned into a party bus and decorated with colored LED lights and ropes you can hang on to. (The bus fits 50 people and charges $50 per head for three hours.) They put chests of ice inside, and I actually think we were drinking Red Bull–and–vodka. The bus took us to Resorts World Casino New York City (by Aqueduct in Queens), and we ran around on the old carpeting and danced to cheesy music. It seemed like too much work to go get the money and the chips to gamble." —Fabiana Faria
Italian Ice and Bocce Ball in Corona
$13 per half-gallon of ice
Take a late-afternoon trip to the Lemon Ice King of Corona, which has been serving Italian ice for over 70 years and sells it by the 2½ gallon for parties. As dusk sets in, walk your paper cups to Moore Park (a.k.a. "Spaghetti Park") and watch the bocce players argue over whose ball is closer to the pallino — they'll be there all night. (52-02 108th St.)
Last-Minute Live Music in Midtown
The best thrown-together after-work midtown birthday party you could have is at Wakamba Lounge (543 Eighth Ave.) near my sample room in the Garment District. It's a Latin-Spanish bar with live music — or sometimes just really loud music — and waitresses in skimpy pirate outfits giving generous pours. Just get a group and order margaritas at the bar." —Batsheva Hay
Korean Tasting Menu in a Penthouse
$2,000; 36 people
White-tablecloth Korean restaurant Gaonnuri offers 39th-floor penthouse views from its stark private dining rooms. Choose between steak and bibimbap or a preset tasting menu. (1250 Broadway)
A Quiet Evening Around the Fire at Majorelle
Canapés start at $19; 10 people
Reserve the double sofas and two stuffed armchairs that surround the marble-top tables in front of the fireplace at Charles Masson's baroque French restaurant. Order pissaladière and charcuterie canapés and Champagne while taking in the over-the-top setting, designed by Michael S. Smith, who decorated the Obama White House. (Our own design editor, Wendy Goodman, did this for her mother's 98th birthday.) (28 E. 63rd St.)
A Costume Party in a Plant Shop
From $150 an hour; 100 people
Greenpoint's tropical-plant-and-Florida-vintage shop Feng Sway rents itself out after-hours; along with drinks and music, the owners provide a costume station for dress up and, inevitably, great party pictures. (86 Dobbin St.; contact@fengsway.com)
Trampolining Plus Unlimited Dr Pepper
$495; 11 people
With the Jump Start package, the birthday person jumps for free at the Fly High indoor trampoline park in Staten Island; the other ten jumpers are paying for one hour on the trampolines plus 40 minutes in a private room, where three pizzas, unlimited sodas, and cake (you have to bring your own) await post-bouncing. (501 Industry Rd.)
Highbrow Karaoke In Hudson Yards
$3,000 food-and-beverage minimum for weekends; 14 people
The private dining-and-karaoke room in Kawi, the new Momofuku restaurant helmed by chef Eunjo Park, comes with an Alex Proba wall mural, a lazy Susan in the wall that connects to the main bar, and a floor-to-ceiling infinity mirror with customizable colored lights (20 Hudson Yards, No. 501; reserve with Sabrina Roste, sroste@momofuku.com. )
Or BYOB Karaoke in a Couple's Williamsburg Apartment
From $175 an hour; up to 30 people
Husband and wife Roberto Williams and Zaida Soler Williams's commercially zoned townhouse doubles as Lion's Roar Karaoke Lounge. Zaida greets you at the door; Roberto DJs your requests (and will even perform a Billy Joel song to get things going). Just don't knock over the life-size Batman and Robin figures in the kitchen. (187 Meserole St.; 718-417-6955)
Dance Party in a Little Ukraine Back Room
$100 an hour with a cash bar ($200 an hour without the bar); 150 people standing or 100 people sitting
Take over the wood-paneled back room in the Ukrainian East Village Restaurant, which looks like a 1950s Elks Lodge — not factoring in the downtown streetwear-clad 20-somethings and their Obolon-fueled dance parties. (140 Second Ave.)
Clam Pizza and Roller Skating in Staten Island
$15 for admission and $5 rental skates
To make the private van (try NYC Limousine for a 24-passenger minibus) to Tottenville's Roller Jam worth it, go first for clam pizza at Reggiano's before heading to "Adult Night," which kicks off at 9 p.m. every Saturday. (236 Richmond Valley Rd.)
Special Chicken and Karaoke at Congee Village
"I was just at Congee Village (100 Allen St.) for Danny Bowien's birthday: They have these insanely fabulous private rooms with big round tables and massive lazy Susans that spin around. Sandy Liang, the clothing designer, is a friend of Danny's and her dad owns Congee Village, so she knew what to order. Danny said the Congee Village Special Chicken would be the best chicken I'd ever have. He was right." —Kim Hastreiter
A Mountainside Roller Coaster in Connecticut
$47 individual day passes
Rent a van to shuttle friends the two hours to Lake Compounce, an amusement park in Bristol that first opened in 1846 and attracts shorter lines than Six Flags. Make sure to ride the wooden Boulder Dash roller coaster built into the side of a mountain. (185 Enterprise Dr.)
Bollywood Dancing & Lunchtime Curry
"My friend once told around 30 of us to show up at Bollywood Axion Inc. (520 Eighth Ave.) at 11 a.m. on a Saturday. We proceeded to learn a Bollywood dance sequence, to the song 'Om Shanti Om,' by Sukhwinder Singh. Within 45 minutes, they can get an unruly bunch of misfits fully choreographed. And they videotape the whole thing. After that, get lunch at Tamarind Tribeca (99 Hudson St.) — it's exquisite, the best Indian restaurant in the city. They'll do a seated luncheon with place cards and a ten-course feast including all different kinds of curries." —Kevin Kwan
Crespelle at a Venetian Palazzo on 46th Street
"Barbetta (321 W. 46th St.) is a true New York treasure. For my 40th birthday, I booked the whole place and had about 60 people there. I did it there because, well, the food is very good, and because I had the whole room, they let me bring my dog Harry with me. But also: The building is a New York City landmark, from the 19th century, with magnificent woodwork that was brought from somewhere in Italy and fitted into the house. It's like a 1960s stage set of a palazzo in Venice. The Italian crêpes — crespelle — are very good. When it's nice out, book a table on the extremely beautiful outdoor courtyard with a fountain and tons of wisteria and gardenia plants." —Isaac Mizrahi
Rooftop Pizza on the Brooklyn Waterfront
From $30 per person, up to 300 people 
Fornino's Brooklyn Bridge Park location has two reservable outdoor spaces, both with striking views of lower Manhattan: a ground-floor outdoor terrace and a rooftop. There's no fee to hold the outdoor terrace, just a preset, prepaid dinner menu of antipasti and three pizza selections. (Brooklyn Bridge Park Pier 6; events@fornino.com)
A K-Spa Day in New Jersey
$75 weekend admission
Hop on a free bus from 42nd Street and head to SoJo Spa Club in Edgewater for a day of Korean body scrubs and volcanic-sand bathing before taking in the views from the outdoor hinoki bath. (660 River Rd.)
A Tennis Tournament in Fort Greene Park
$30 for two hourlong permits 
Send a saintly friend to put a name down on the sign-up sheet (courts open at 8 a.m.), then have the rest of the gang meet at the reserved time. Lay out some blankets next to the courts, and pick up pies from Speedy Romeo. Be sure to get your permits at least two weeks in advance. (136-144 Dekalb Ave.)
A Midtown (Indoor) Pool Party
$3,000 for a full buyout plus food and beverage; 150 people
The most weatherproof plan: a private party at the neon-lit pool (with an adjacent pool bar) inside the Room Mate Grace hotel, which looks like a James Turrell–designed sauna. Smaller groups of 20 or more can buy pool packages ($120 per person) that secure three hours of space to lounge and one hour of open bar. The hotel also lets you BYO DJ, food, and décor. (125 W. 45th St.; grace@room-matehotels.com)
Foie Gras in a Roman and Williams–Designed Dining Room
$4,800 minimum for dinner; 25 people
A private dining room in La Mercerie bears all the hallmarks of a Roman and Williams space: dark, velvety colors; shelves of ceramics. Preset menus may include anything from skate meunière to foie gras torchon. (53 Howard St.)
A No-Singing-Allowed Pasta Dinner
"If you hate singing 'Happy Birthday,' go to Gaia Italian Café (251 E. Houston St.): It's like eating at your terrifying Italian aunt's house. One time I was there, she told another table to be quiet. You have to jump through elaborate hoops to land a reservation (read the guidelines on the website), but it's incredible food, and you can have a multicourse meal for about $30 a person. It's BYOB, so I'll usually stop by my local wineshop, Wine Therapy, on the way and grab an easy $12 bottle. For dessert, Gaia gives you a massive slice of tiramisu." —Susan Alexandra
Pasta and Wine in a Cozy Columbia Waterfront District Garden
$6,500 for buyout on friday or saturday ($65 per person for smaller parties); 40 people seated outside
In addition to bocce ball, an evening in Popina's bucolic, string-lit side garden comes with a plug-and-play mix of food and drink options: beverage packages, passed hors d'oeuvre, and coursed meals of dishes like arancini and pappardelle. (127 Columbia St.; james@popinanyc.com)
A Private Back Room in Red Hook
From $275 per person; 80 people
Last year, Andrew Tarlow opened The Castle, an event space by the water with terra-cotta-tile floors and brick walls. Custom menus feature dishes like tomato-peach-ricotta salad. (177 Dwight St.; hello@marlowevents.com)
A Dim Sum-Bowling-Tacos Marathon in Sunset Park
$70 per lane for two hours
Start at Pacificana, a cavernous Cantonese dim sum hall, for a lunch of pork shumai dumplings and taro. Head to nearby Melody Lanes (461 37th St.), a classic bowling alley that serves curly fries and blue margaritas. After bowling and pitchers of Stella, go eat again, this time at Tacos el Bronco, for the beloved $2 cecina and lengua tacos.
Backyard Burritos and Horchata
$13 for a burrito and agua fresca; 30 people
The communal wooden tables on the shaded backyard patio of Fast & Fresh Burrito Deli in Boerum Hill can be reserved; secure the whole area for a communal feast of tortas, burritos, and chilaquiles. (84 Hoyt St.)
Bottle Service and Chicken Fingers at a Long Island City Strip Club
"I always do birthdays at strip clubs. In New York, strip clubs don't last long, but Show Palace (42-50 21st St.) is one you can count on. The girls are gorgeous, and it's all types of bodies. If you've ever been to a black strip club, you know: There's a food culture. I love the chicken fingers here. Show Palace is in an industrial part of Queens, so it has high ceilings and plenty of room. If you want to just smoke a hookah, you can. Or if you want to spend $10,000, you can do that. Bring a lot of ones—I usually go with $400 in singles and give them to my friends to give to the girls, because they work hard. And stay late: The real rush is around 5 a.m., when the other bars close." —Venus X
Baths and Blinis in Brighton Beach
"I've done this for about ten years now: A few of us will visit the Mermaid Spa (3703 Mermaid Ave.) in Sea Gate for a few hours of soaking and steaming and smoked fish, and the rest of the group meets us afterward at our preferred Brighton Beach supper club, National (273 Brighton Beach Ave.). You can get nearly unlimited food, as much vodka as you can drink, and a floor show of almost shocking variety. Once I competed in a 'Queen of the Evening' pageant and lost." —Sadie Stein
Bread-Baking in a Rockaway Hotel
From $190 per person; 12 people
"Start a day at The Castle, a Tuscan-style villa turned boutique hotel, with a bread-baking class from Sarah Owens, owner of BK17 Bakery. Drift into cocktail hour with bar service that uses Rockaway-specific flora, then sit down to a menu crafted exactly to your tastes. (Beach 117th St. and Newport Ave.; info@thecastlerockaway.com)
Or Natural Wine on the Rockaway Boardwalk
$12 glasses of wine; 10 people
Low Tide Bar's 32 picnic tables are first-come-first-serve, so you have guaranteed seats to order cups of natural wine (supplied by Critical Mass Selections) and fish from La Cevicheria. For a snazzier night, keep an eye on Low Tide Bar's guest-chef dinner series (from about $20) — previously it's featured chefs like Edie Ugot, formerly of the Spotted Pig. (97th St. and the boardwalk; lowtidebar@gmail.com)
An Upper East Side Luncheonette Takeover
$300 an hour plus food; 40 to 50 people
Pack your friends into the teal vinyl-covered booths amid the 1940s décor of the Lexington Candy Shop and order burgers à la carte. BYOB, and ask about a sheet cake — the owners will happily procure one. (1226 Lexington Ave.)
A Sunset Schooner Ride to the Statue of Liberty
From $2,500; 2 to 130 people
Classic Harbor Line is no booze cruise: Its rentable boats include wooden schooners with full white sails and 1920s-inspired yachts with teak decks and glass observatories. Book a private tour around Manhattan, starting in Chelsea, cruising by the Statue of Liberty, with Champagne toasts and customizable snacks along the way. (212-627-1825)
King's Cut Rib Chop at a 19th-Century Steakhouse
From $126 per person; up to 85 people
Keens (which has been around since 1885) is considered one of the last (and certainly the least Disneyfied) of the old-fashioned Manhattan steakhouses, and the "King's Cut" rib chop is the thing to order. There are four private dining rooms to choose from — the Lillie Langtry Room, named after the actress (and the restaurant's first female customer), seats 25; for a more extravagant night, the Lambs Room is the largest and fits 85. All rooms come with the same encyclopedic list of Scotches and the option to buy a special Keens birthday pipe. (72 W. 36th St.)
Your Very Own Film Screening
$400 an hour; 72 or 187 people  
Anthology Film Archives will let you host a private screening (of anything: art-house films, Avengers, home videos — your choice) in one of two theaters. Play your favorite movie and bring in a thematic food menu to match — après-film, Anthology will let you linger and eat in the lobby. (32 Second Ave.; rentals@anthologyfilmarchives.org)
Have People Over to the Apartment and Hire a …
Tie-Dye Teacher
$120 per person; from 8 to 60 people
With just a few folding tables and drop cloths, Kalen Kaminski can teach groups the art of shibori and classic '70s (and 2019, for that matter) psychedelic tie-dye. You bring the garments, Kaminski and her assistant bring the dye. (kalen@youreupstate.com)
Spanish-Guitar Duo
"There's an incredible Spanish-guitar duo, Jay & Lee ($700 for two hours; rumbaflamenca.com), who have a Rodrigo y Gabriela feel. They played at my 30th birthday: Just layer carpets (rent them from rentpatina.com), serve Mediterranean dishes like platters of whole fish, and scatter flowers and moss on the table. And have lots of pot." —Bettina Prentice
Pit-Bull Puppy
$525 for two hours; 5 to 20 people
FitPit, dedicated to changing "the way pit bulls are perceived," will bring a handful of adoptable pups (these parties actually help socialize the little guys for adoption) to your home. Also in tow: a handler, a pen, and, upon request, an Instagrammable "kissing booth" backdrop. Cleanup is included. (fitpitny.com)
Coffin
"For my 70th, I rented a coffin (from Eclectic/Encore Props Inc. in Long Island City for $375). I asked two friends who look like a rabbi and a priest to do a service as I lay dead in a coffin. For 45 minutes, everyone came up kissing me, poking my eyes, roasting me. Then 'I'm Coming Out' played, I jumped up, and the tango party began." —Barbara Corcoran