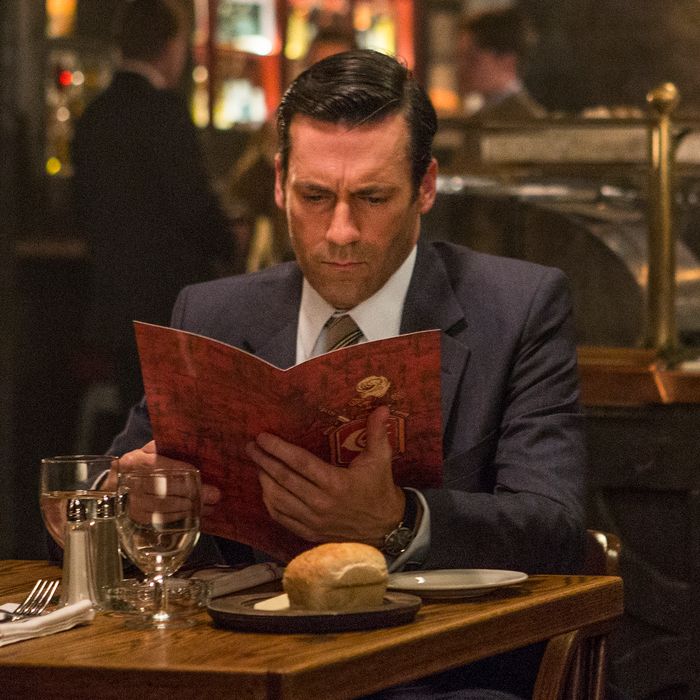 A decade ago, I was a naïve food blogger when I received an email with the subject line, "Come Dine with Cat Cora at NYC Blogger Event." It was from an account director at the Ogilvy PR firm, who offered to reimburse my cab fare home from the event. She described the event as a "combination of a cooking class and cocktail party." Instead, it was an awkward product launch where Cora was plating up some canapes made with an alternative fat product that I honestly can no longer remember.
The brand hadn't been mentioned in the original email, but the entire operation didn't strike me as too surprising: Whether handsomely paid, or quid-pro-quo, partnerships between marketers and restaurants or their chefs are entirely commonplace, and the relationship is constantly evolving. Sometimes, the sponsorship is overt, and public — remember when Emeril Lagasse was the spokesperson for cinnamon toothpaste? — and other times the pitches become a highly targeted, furtive rendezvous, like the alt-fat press event I was suckered into. Chef Daniel Humm, of Eleven Madison Park, once created an entire faux-restaurant "experience" for the luxury kitchen appliance brand Gaggenau, and a new restaurant from Danny Meyer's award-winning Union Square Hospitality Group is, itself, one giant Lexus ad. Humm and other chefs also host VIP industry parties at their restaurants featuring prominent sponsorship from alcohol companies. (Bars, meanwhile, have been comfortable with this kind of arrangement since the first beer sign was hung in a tavern window.)
This month, Danny Bowien's Mission Chinese Food revealed the latest evolution of this relationship, a sponsorship deal that has apparently shocked the food establishment: a special, month-long program — called the "Great Buy! Menu" — featuring products from Arizona, the maker of popular 99-cent iced-tea tallboys and other high fructose-sweetened bodega staples. You could call it the Bushwick version of the Jack Daniel's® Ribs at TGI Friday's, and the in-menu product placement has struck some in the industry as going too far: "The chefs of independently owned restaurants … tend to be extremely protective of their menus," Pete Wells writes in the New York Times. "The notion of bringing an endorsed product into their dining rooms has seemed to cross a line." For example, Bobby Flay — the celebrity chef who once went on a Tweetstorm on behalf of Fage yogurt, and starred in many online shows for Unilever supporting Hellman's mayonnaise — tells Wells that his restaurants, and their menus, are "sacred," never to be touched by the hand of corporate influence.
Though Shep Gordon, a longtime talent manager for celebrity chefs such as Lagasse, tells Wells that he thinks it's "a great idea to monetize the menu experience," something that chain restaurants figured out long ago. (Would a Happy Meal be quite as happy if it didn't come with a promotional toy?) The thing is, as Gordon or anyone who covers any aspect of pop culture can tell you, cachet equals cash, and the higher a restaurant's profile, the more likely a chef is to make money on the side. Add the potential for social-media influence — huge followings are simple to monetize in the era of the #ad — and it's easier than ever for chefs to take on all sorts of promotional deals. We may not always agree with a chef's choice of endorsements — many didn't like Alex Guarneschelli, chef-owner of Butter, promoting I Can't Believe It's Not Butter — but as long as they don't appear on a restaurant menu, they seem to get a pass.
Wells posits that Bowien, in putting advertising into his restaurant, has sold "access" to his customers' "heads." How is that different, really, from chefs who sell access to their Instagram followers' eyes? Isn't Bowien, at least, being entirely transparent about the deal that's taking place? If a customer doesn't like the idea, she or he can eat somewhere else. At a time when so many beloved restaurants succumb to ever-rising costs in New York, it's worth considering: are public displays of brand affection ultimately worth it if it means a restaurant can stay in business without also raising prices to untenable levels?
Increasingly, that's the reality of the restaurant business, in one form or another. Not every place may practice some form of brand partnership, but restaurants have typically made deals with all sorts of producers, highlighting anything in their restaurants, from food products to hardware such as Baccarat crystal stemware. (And if we're going to get on the case of shilling brand names that are questionable, we might consider industry terms that have come into vogue, such as Certified Angus Beef®, a trademark that is not controlled by the USDA and may have little meaning for the end product. Incidentally, this brand's name does appear on several of Bobby Flay's menus — and restaurants all around.)
I sincerely doubt that anyone would have even noticed or cared if Bowien had partnered with a traditional luxury brand such as Moet & Chandon, or the Nestlé-owned San Pellegrino water, which, it's worth noting, sponsors the annual World's 50 Best Restaurants list and which is also conspicuously served at many of the high-end restaurants that appear on that same list. (The water brand also "helped" the Rising Star Chef nominees get ready for this year's James Beard Foundation awards.) But Arizona is a value-propositioned brand, and Bowien rose to prominence by selling a style of food that has traditionally been sold at a lower price point than European-style fine dining in the U.S. — it seems to me that there is a clear double standard at play here, where some forms of in-restaurant marketing are acceptable, while Bowien's strikes some people as unsavory. Wells also criticizes the sugary product Bowien chose to partner with, pointing out the elevated levels of Type-2 diabetes — an epidemic that high-sugar diets are largely to blame for —in Bushwick. But I don't recall anyone criticizing Christina Tosi for making cookies and infusing milk with frosty, sugary children's cereal at Milk Bar, nor should we suggest that her or Bowien's creations are contributing to the disease any more than the local bodega. (Or how about Dr. Pepper barbecue sauce from Hill Country Barbecue?)
According to Wells's article, Bowien's stated goal was to leverage Arizona's marketing power to reach more potential customers for his own businesses. Bowien himself couldn't be reached for this story, because he is on vacation in South Korea. Is this a quick cash grab from an opportunistic businessman? Or an honest, transparent attempt to subsidize costs in one of the world's most expensive cities? Ultimately, these questions may not even matter because if Bowien's idea proves successful, other restaurateurs will obviously scramble to make marketing pacts of their own. After all, in New York, nothing is more valuable than real estate — even if it's on a menu.