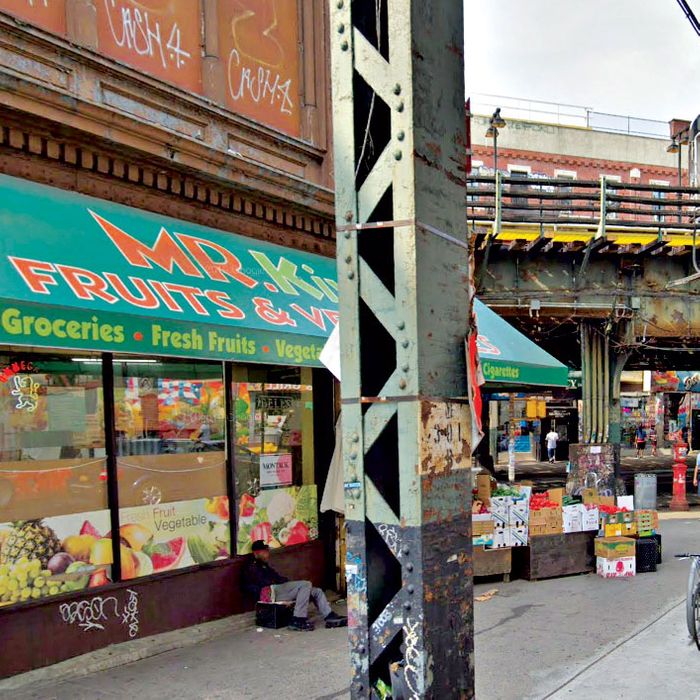 Photo: Courtesy of vendor
To most, this commercial strip of Broadway is the bustling hub under the J train where Bed-Stuy meets Bushwick. But older generations remember this historically black and Latino enclave as the site, most famously, of fires and rioting during the 1977 blackout. There'd been mumblings about "Stuyshwick" on local blogs for a while: A growing stream of young people started moving in about a decade ago, when North Brooklyn rents started to soar. And although the idea of a new New York neighborhood is somewhat absurd, the area (really more of a border between two neighborhoods) feels very different now. In the past few years, a wave of nightclubs, Neapolitan pizzerias, and newfangled arcades have popped up alongside the family-run groceries and flower shops. And early next month, a 4,500-square-foot co-working space with a millwork area and a meditation room will open.
1. Cafe Erzulie, 894 Broadway
This Haitian café, with matcha lattes and live performances, rents the storefront to florist Flowers by Leslie.
2. Concrete, 906 Broadway
Opened last June, this airy corner "Sicilian-style" spot sells chickpea fritters and swordfish caponata.
3. Flowers by Leslie, 894 Broadway
"I opened in 2000. It was terrible. I got robbed I don't know how many times. Then, like eight years ago, everything changed. Bars came in. Mostly just bars. When my lease ended two years ago, my landlord doubled my rent; I decided to move. Cafe Erzulie came in and had an idea to combine the flower shop with their café. Now I pay less rent, I've got a different set of customers, and I have no space, but I don't need it." —Rodrigo Reyes, owner
4. OStudio, 366 Stockton St.
An early-June addition: This co-working space will have a café for events, a meditation room, eight booths, six desks, and a lower level for carpentry and millwork.
5. Las Mexicanitas Grocery & Deli, 915 Broadway
This family-run grocery, which opened in 2008, sells chicharrones and pantry items. Its original customers are still coming; the only thing that's changed is the rent.
6. Enrique's Unisex Salon & Barbershop, 927 Broadway
The massive salon — with its rainbow-themed décor — has been here since 2002.
7. Mr. Kiwi's, 957 Broadway
Opened in 2006, this was the first location of many "Mr." delis in Brooklyn.
8. Jones Beach, 4 Stuyvesant Ave.
A coffee shop–bar that opened last fall — by the owners of vegetarian-pizza place Norbert's.
9. Bunton's World Famous, 1005 Broadway
The lounge with a backyard, owned by a former manager of Max Fish, opened in February.
10. Bodeguita, 6 Suydam St.
White-tiled and candlelit, this Cuban bar with live music was founded by the owners of nearby La Lupe cantina and Leaf.
11. Marco's, 1071 Broadway
Around 9 or 10 p.m., this dive gets a bit more dance-y when a DJ usually perches at the bar, playing hip-hop from a laptop.
12. East Village Shoe Repair, 1073 Broadway
The longtime St. Marks cobblers lost their lease, moved here in 2014, and are still making side-project shoes for fashion-world people.
13. Santa Panza, 1079 Broadway
Brick-oven pizzeria with a selection of negronis. Two of the owners are alums of Saraghina who chose this location because it's midway between that spot and Union Pizza Works.
14. OG Flea Market, 1083 Broadway
A thrift store with various '90s stuff: Gap jackets, cassettes, self-help books.
15. Lone Wolf, 1089 Broadway
Opened in 2010, then closed for a spell between 2016 and 2017, this exceptionally dark bar has a pool table.
16. St. Elias, 899 Broadway
"We opened last month, a soft opening. This location is perfect for us; we're a small operation looking for cheaper rent. Every time I came over here, I had trouble finding what I was looking for — it's just the same ten generic brands of beer and shots. We've got a lot of high-end beer, bourbon, single malt. I don't know if the neighborhood is going to like it or not, but I thought it was missing." —Joe Najem, owner
17. The Living Gallery, 1094 Broadway
An art space, founded in 2012, that hosts a $10 "drink-and-draw" hang every Wednesday night.
18. Lion's Den, 1113 Broadway
This new-and-used shop sells everything from antique dressers to kung fu VHS tapes and has been on Broadway since 2009.
19. Flowers for All Occasions, 1114 Dekalb Ave.
A coffee shop, soju-cocktail bar, and gallery/performance space with homey wooden décor from the Secret Project Robot founders.
20. Wonderville, 1186 Broadway
A non-retro arcade, which took over the former Secret Project Robot space in April, has games by local developers — no Pac-Man or Space Invaders here.
*This article appears in the May 27, 2019, issue of New York Magazine. Subscribe Now!