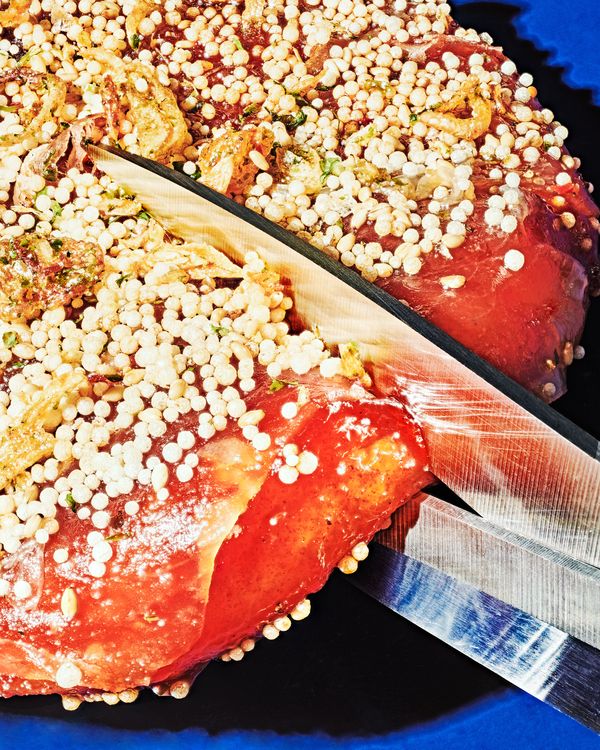 At Kawi, cut your own roasted rice cake with chile jam, country ham, and furikake.
Photo: Keirnan Monaghan; Theo Vamvounakis
Who knows where Emily Post or Martha Stewart would stand on the subject of scissors in a place setting. But their advice on the topic might be helpful right now. Great whacking scissors not unlike the supersharp specimens you'd see on some old-school bespoke tailor's workbench are turning up where you wouldn't expect them: on the table next to the forks and knives at an increasing number of restaurants around town.
Which is not to say that scissors at supper are anything new, especially in Korean cuisine. Whether you're feasting on barbecue in Murray Hill, Queens, or slurping noodles on 32nd Street in Manhattan, it might be harder to find a Korean restaurant that doesn't use them than one that does. When David Chang and chef Eunjo Park were planning their new Korean-inspired restaurant at Hudson Yards, they not only decided to name it Kawi — derived from gawi, the Korean word for "scissors" — but to integrate the instrument into tableside service.
"We tested out so many different scissors before arriving at the pair we have," says Park, who eventually settled on stainless-steel sewing scissors with a silver-plated offset handle. "We wanted them to be functional, first and foremost, but also feel weighty in your hand while still being light enough to be manageable. We also wanted them to be beautiful and match the feel of the room." Order the fat fingers of deep-fried cod or the Wagyu ragù and your server will unleash a pair and cut your serving into manageable portions. Ask for the coiled rice cake, though, and after a few inaugural snips, it's DIY. "I really liked the idea of an interactive element that would break through the barriers of fine dining and insert a playful aspect," says Park, who developed a deep appreciation for the multifunctional tool during a year cooking in Korea.
One needn't travel that far. In New York, little snippets of tableside theater can be found at Carbone, where a scissor-wielding captain makes quick work of a bowl of fresh mozzarella, and at fish temple Milos, where fresh herbs are clipped like confetti into a bowl of Greek olive oil. (They might have picked up the idea from Domenico DeMarco, who's been snipping fresh basil onto his pies at Di Fara pizzeria out in Midwood for years.)
It's the pizza realm, in fact, where scissors have been making the most impact. Unlike in Rome, where pizzaioli have long scissored their planks of pizza al taglio to customers' specifications, New Yorkers get the distinct kindergarten-crafts pleasure of snipping up their own pies, a custom that Franny's instituted in 2013. After trying without great success to persuade diners to cut their unsliced pizza with fork and knife, the owners finally gave in when they expanded to larger quarters, proffering easier-to-use shears instead. "We got smarter," says co-founder Francine Stephens. "Hospitality is about giving people what they want." It's also about maintaining standards, which is why Al Di Meglio invested in some jaunty Williams-Sonoma scissors when he opened Barano in Williamsburg in 2016. He'd observed that serving pizza unsliced was the best way to preserve its integrity and crispness and that letting customers have at it with giant pizza shears didn't muck up the toppings the way a knife and fork did.
That philosophy is shared across the river in the East Village at Matt Hyland's new Violet, a shrine to the relatively rare subgenre of grilled pizza. With their oblique shape and underlying mesh cooling rack, Hyland's pies don't take well to preslicing or fork and knife, making scissors the ideal utensil. Of course, not every Violet customer shares that opinion. A party-pooping minority send their pizzas back to the kitchen, arguing that — like washing dishes — cutting foodstuffs with scissors is just the type of exhausting work they hope to avoid by dining out. "But," says Hyland, "the overwhelming majority love it and think it's fun."
Maybe too much fun, as Barano's Di Meglio has discovered. "People steal them," he says. "There's nothing I can do. I started out with ten dozen at about $22 a pair, and now I'm down to about three dozen."
*A version of this article appears in the April 29, 2019, issue of New York Magazine. Subscribe Now!