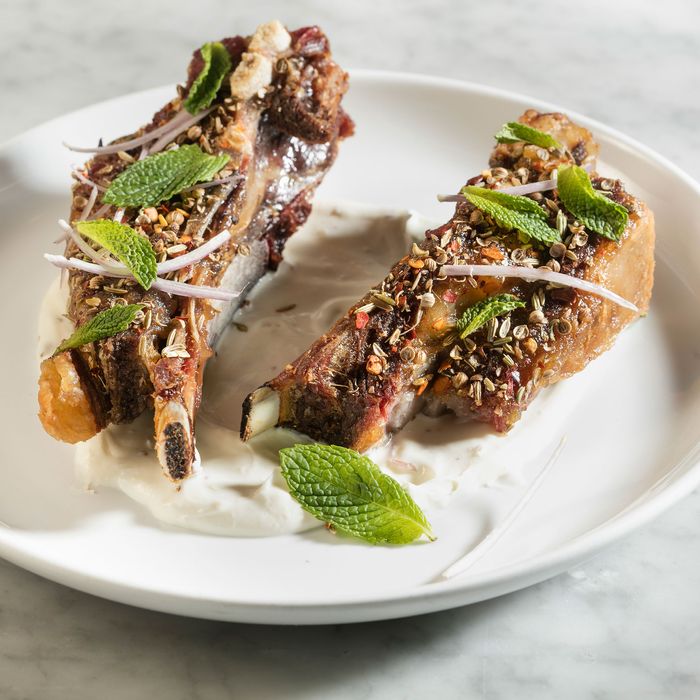 Cherry Point's lamb ribs.
Photo: Melissa Hom
Ribs are a staple of backyard barbecue cuisine, as much as burgers and bean salad. When you think about eating them, it's probably somewhere more down-home: while grilling in a backyard, of course; at a proper Southern barbecue; or roasted and slathered in a sticky-sweet sauce at a Chinese-American restaurant. Or maybe you last ate them stewed in adobo, or braised with chili paste in Korea. Ribs are everywhere, because, duh, everybody loves ribs. And why wouldn't they? They're delightfully carnal, handheld meat-delivery devices.
"People love pork ribs, I think, in any form. So it just sells itself," chef Jenny Kwak says of the braised ribs she serves at Haenyeo. "We grew up eating it all our childhood, my mom used to make these big pots of it every week and we would eat it after school."
These are not, it's worth noting, the giant short ribs that popped up on menus around town a few years — those are a trophy meat. What Grub is talking about instead are bone-sucking ribs, the sort you can nibble on the ends of, and which tend to be either crispy or slathered in sauce. They also aren't the kind of ribs you've regularly found in New York's fancier restaurants, but recently, it seems more and more restaurants are serving what you might call gourmet riblets. It's what you might call the rib tide. Here's where to find 'em in New York:
Mexican Coke Ribs
Where: Alta Calidad
How Much: $14
Lamb ribs have been a fixture on the menu at this Prospect Heights restaurant, where they're marinated in Mexican Coke and served with apple and sliced radish.
Baby Back Ribs
Where: Bernie's
How Much: $24
Bernie's is nothing if not enthusiastically retro, and the baby back ribs are, accordingly, an unadulterated version of the classic. The generous, potluck-sized portion, the crispy blackened edges, and the sauce pooling off onto the plate all work to rather effectively transport you to your friend's grill out in the suburbs.
Pork Ribs Vindaloo
Where: Bombay Bread Bar
How Much: $27
When I ate these ribs for first time (back when this restaurant was called Paowalla), I couldn't think about how they delightfully tasted like a souped up, Indian-American version of backyard barbecue. The chef Floyd Cardoz may have changed the name of this restaurant, but luckily he didn't mess with his ribs. They're garlicky and vinegary, familiar enough but also surprising in the way that'll excite even the most jaded of grillers.
Glazed Lamb Ribs
Where: Cherry Point
How Much: $18
"I wanted to do an English version of what a traditional American barbecue dish would be like," says the English-born chef Ed Szymanski of his lamb ribs. Served two to an order over a goat's milk yogurt with mint and shallot, they take three days to make. First cured for a day (in salt, pink salt, coriander, fennel seed, chili, and lemon zest), they're then roasted for six to eight hours and, finally, deep-fried briefly before getting glazed with green yuzu-kosho, seasonal jam, and reduced, marmite-like "bread stock." It's complicated, yes, but the flavors aren't jumbled, there's a ton of meat that's nicely gamey and moist, and the skin has a crackling crispness to it made all the better by a glaze that fires on all cylinders. "It's a fun dish. People get to eat it with their hands. You can eat it with a knife and fork — but, ideally, I'd like everyone to eat everything with their hands," he adds.
Spare Ribs, Chinese Takeout-style
Where: Empellón Al Pastor (East Village)
How Much: $9
A taqueria with a heavy metal soundtrack sounds like an odd place to get your char siu spare rib fix, Grub will give you that. But, look, these ribs taste really good with tequila. Alex Stupak introduced the dish to his menu last week, and your order nabs you a trio of properly candy-red, burnished ribs made with honey, dry sherry, five spice, garlic, ginger, soy sauce, hoisin, and, to keep things authentic, red food coloring. They're properly sweet and sauced (the three wet napkins are a bit of a warning), and the meat slides right off the bone. And should you be in midtown, you can find baby back ribs carnitas at the other Al Pastor.
Tender Braised Pork Ribs
Where: Haenyeo
How Much: $15
So, full disclosure: These Korean-style braised ribs aren't new. They're the dish that helped get her family's pioneering restaurant Dok Suni noticed, when it was reviewed back in 1993 by New York. "We blew up because of that," she says, counting Quentin Tarantino as as a fan. "And he's from Tennessee, so I guess it works." They glisten with the fermented chili paste they're braised in, and are some of the most tender around town. They're not so tender as to just fall apart when you pick them up, but they're not far from that point.
Shanghai Ribs
Where: Hao Noodle and Tea
How Much: $12
Served at both locations of New York's top Chinese restaurant, these dainty ribs are sweet and sour little nubbins.
Sweet Pickle Ribs
Where: Indian Accent
How Much: $22 à la carte at the bar, $15 during lunch, or as part of several prix-fixe options
You could also call these ribs with mango two ways: the meat glistens with a mouth-puckering mango sauce, and they're garnished with dried mango and onion seeds.
Stewed or Fried Lamb Ribs
Where: Jiang Diner
How Much: $26
There's a lot to like about this small Northern Chinese restaurant that opened recently on a side street, but here's Grub's advice: Order the very well fried lamb ribs, which come with a sides of ground cumin and fermented chili paste, plus a large or a small of big tray chicken. When the crunchy, gamey ribs arrive, sprinkle them with some cumin and dunk them into the rich, comforting sauce from your big tray chicken. Innovation is delicious. (Alternately, you can get your ribs stewed.)
Sweet & Sour Ribs
Where: Kāwi
How Much: $15, lunch and dinner
Yes, the roasted rice cakes, with the gilded scissors and crown of sesame seeds, is the Dish. To. Get. But you'd be remiss not to get the sweet and sour ribs, which taste appropriately like a Momofuku-fied version of the Chinese-American style.
Grilled Short Ribs With Spam Fried Rice
Where: Teo
How Much: $12
Okay, yes, it's short rib. But there are several pieces of rib served on the bone, and Grub is not one to be rigid when it comes to ribs. Those pieces are fun to gnaw on, the sesame-sprinkled meat all has a good bite to it and a bit of char from the grill, and the flavor is spicy and kalbi-adjacent. Plus, this is served over a bowl of peppery fried rice with neatly cubed spam.
Pork Ribs
Where: Vini e Fritti
How Much: $12
An elegantly lit wine bar with a marble bar is not the sort of place you expect to find deep-fried ribs tossed in an outrageous mix of Calabrian chilies, honey, vinegar, and colatura. But you'll probably struggle to find a better high-low, "I'm feeling fancy-ish" combination that a glass of $24 Champagne (if you can spring for it) and sticky pork ribs given a spike of heat from Calabrian chilies.
Baby Back Pork Ribs
Where: Wayan
How Much: $24
For a different sort of baby rick rib, you might want to find yourself at this Indonesian restaurant — provided you can actually get in. (Tables have not been easy to come by, Grub and friends alike have find out.) Given a soy-tamarind glaze, they're garnished with sesame seeds.