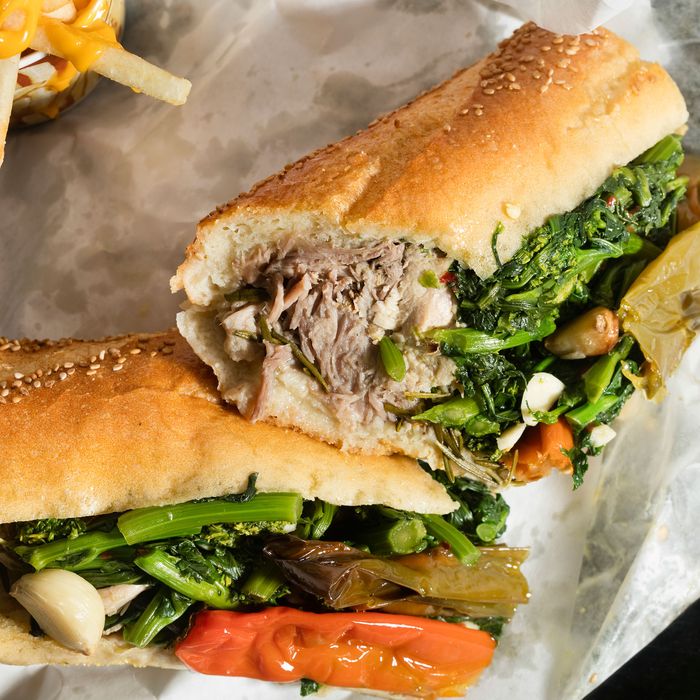 Fedoroff's roast pork sandwich.
Photo: Melissa Hom
There is no arguing that Philadelphia's most famous sandwich — although it remains uncertain how many people actually like it — is the cheesesteak. (The cheesesteak's greatness remains one of America's most hotly contested issues, along with the electoral college.) But it's become a common refrain among sandwich-hounds that the true king of sandwiches in Philadelphia is the roast pork, that Italian-American combination of succulent meat, bitter broccoli rabe, sharp provolone, and ample use of pork drippings.
"I feel like the roast pork is the thing people from Philly are really proud of now. It's like, any asshole can make a cheesesteak," says Vulture writer Nate Jones, who spent his formative years munching on broccoli rabe in the Delaware Valley. Jones adds, "I like them when they get really soggy."
He is far from alone in letting his allegiance be known. Philly magazine called the sandwich "Philly's best-kept secret," while Food & Wine declared it the city's best sandwich — as did Bon Appétit. The chef Eli Kulp told the food website Tasting Table the roast pork "is the true sandwich of Philly." John's Roast Pork, an institution in the city, was named a James Beard Foundation America's Classic in 2006; in 2014, it was reported that a man asked his family to bury him with one of John's roast pork sandwiches. In other words, the secret is very much out. It's surprising, really, that the roast pork sandwich hasn't at least figured into a storyline on It's Always Sunny in Philadelphia.
So, to recap: roast pork is the pride of Philly, and New York is a sandwich town. But until recently it's been difficult to find one of the Philadelphia-style roast pork variety here. (It was served at Kulp's Philadelphia import High Street on Hudson, but no longer.) That may soon be changing, however. New York's sandwich crew has been given some hope.
The change began in 2016 with Fedoroff's, a narrow Williamsburg shop where the very messy roast pork sandwich is given prime billing. Since then a few more versions have popped up, including, most recently, one straight from Philadelphia. This month, the Philadelphia chain Tony Luke's opened the first of seven planned locations in and around New York City. Cheesesteaks may be given the star treatment, but the roast pork sandwiches take a lot of the attention away. In fact, New York critic Adam Platt could think of little else but the pork when Grub tasked him with assessing Luke's cheesesteak. And neither can Grub, which is why we've gone about cataloguing a handful of the roast pork sandwiches available around town for you.
Fedoroff's
How Much: $13
This Brooklyn spot promises "South Philly Italian sandwiches," and delivers with a roast pork that, on one recent occasion, was seemingly dunked in pork drippings. Suffice to say, the side of pork jus wasn't exactly necessary. Messy doesn't quite capture it — be careful about what clothes you wear. The meat is shredded, with crispy pieces hiding as little surprises, and there's ample, crunchy broccoli rabe and provolone that takes a backseat. Grub wouldn't advise you to eat the whole thing at once, though you may just want to let it sit around a little anyway: the bread does well soaking up all that meat juice.
Tony Luke's
How Much: $12
Order it Italian, and you'll be bestowed pork that's properly sliced, soft, and perfumed with garlic. The bread is a real highlight, and this is simply a well-oiled … meat delivery system. As Platt, who wolfed his half down, puts it, "Like any great sandwich, it gets better as you eat it. It gets down to these nice little nubbins and greens. Some cheese. Very Italian-deli in all the right ways."
Shorty's
How Much: $14
The people behind Shorty's want you to know just how Philly they are (there's a whole page on their website on "Authenticity") and their sandwich is by the book. The greens and meat mingle together with fully melted cheese.
Carmenta's
How Much: $13
The bread is Italian (it's from Parisi), the pork is roasted, the greens are broccoli rabe, the cheese is provolone — and yet, co-owner Paul Cacici says it ain't Philly. What gives? "That was a super classic combination at old-school spots in [Boston's] North End," says the Massachusetts native of this holy trinity. "I've heard since that it's a Philly thing; when we put it on [the menu], we got some customers who would come in and say, 'We had this all the time in Philly.'" Cacci does acknowledge his sandwiches' Philadelphia connection, with distinguishing traits like their juiciness and sides of jus. At Carmenta's, the pork shoulder is seasoned with orange zest, garlic confit, and fennel seed; roasted until caramelized; and braised with red wine and tomato sauce. It's shredded, but not too much, while the provolone is added in slices, the broccoli rabe in pieces, and the peppers sliced. The conclusion here? That the roast pork sandwich is universal.
Calyer
How Much: $11.75
The version served at this new Clinton Hill spot is better described as Philly-adjacent: it's served on ciabatta with — gasp — banana peppers. But, look, there's still a healthy amount of sliced pork shoulder, which gets roasted for eight hours, reheated in jus, and paired with the usual greens and cheese. It helps that it's a bit daintier than most, in case a craving strikes when you're not feeling ravenous.