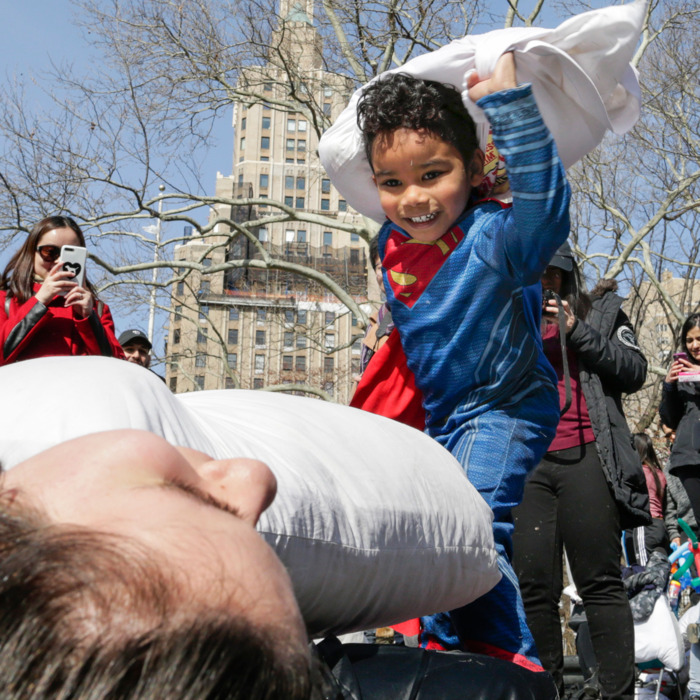 Cover your face on Pillowfight Day.
Events to check out this weekend, April 4 to 7.
1. Eat for a cause …
You're gonna stuff your face this weekend anyway, might as well do some good while you're at it. Tonight at the Dumbo Loft at 155 Water Street, Citymeals on Wheels hosts Don't … Eat … 'Til Brooklyn, a night of goodies from Morgan's BBQ and Pig Beach, Jacques Torres, the Sea Grill, The Doughnut Plant and more, plus curated cocktails. Tickets are $85 and proceeds will help fulfill Citymeals on Wheels' mission to provide meals and companionship for homebound elderly New Yorkers.
2. Then dance it off at an underground rave.
Tonight and tomorrow MATTE Projects, the creative agency behind Rihanna's NYFW Fenty event and Virgil Abloh's Moet Hennessy launch, fuses music, design and art for their annual BLACK rave experience, with eye-catching pieces, immersive installations, and musicians including Guy Gerber and The Blaze. It all goes down at Avant Gardner in East Williamsburg, tonight from 8 p.m to 2 a.m. and tomorrow from 9 p.m. to 4:30 a.m. Start napping now.
3. Explore the legacy of Stonewall.
This year is the 50th Anniversary of the Stonewall Uprising with big festivities planned for June, but you can get a jump-start on the tributes, first at the excellent exhibit Love & Resistance: Stonewall 50 at the New York Public Library, illustrating the activist history of the LGBTQ movement after Stonewall through the photographs of Kay Tobin Lahusen and Diana Davies. Then, see the spaces where it happened at the recently launched Urban Adventures' LGBTQ history and pub tour in Greenwich Village. Step back in time in the city's first drag bar, drink at the oldest gay bar where the Mattachine Society staged their "sip-in," visit the church that held the first HIV support group, sing at a piano bar frequented by Broadway stars, and much more, including some very big, very gay ice cream. Tours are daily, with glitter encouraged.
4. Believe in magic.
When Steve Cohen launched Chamber Magic two decades ago, there wasn't yet a high-end hotel magic show in existence. Today Cohen's Victorian-style parlor show, in the salon at the Lotte New York Palace, has drawn in a celebrity crowd with the likes of Warren Buffett and Stephen Sondheim, and inspired countless of other similar experiences, prompting Mayor de Blasio to proclaim October 6th "Chamber Magic Day." Cohen has been called the "Millionaire's magician," and you're instructed to attend his show in cocktail attire. Make a date of it but do it sooner than later: The audience is limited to 60 guests per performance. And early birds rejoice: this weekend Todd Robbins's Speakeasy Magick, The McKittrick's latest magical experience in The Club Car, expands from its late-night slot to 8 p.m. on Thursday, Friday and Saturday evenings. Robbins, a trained actor, celebrated sideshow artist, raconteur, and master of the macabre who's partnered with Teller (of Penn and Teller) on an Off-Broadway show called Play Dead, was also the first Junior Member of L.A.'s famous Magic Castle at the age of 16. He combines all these skills and more when he hosts this close-up magic show featuring a roster of New York's best and most envied magicians.
5. Skip up to the UES.
The Upper East Side beckons this weekend. Start off with the new location of BLT Prime, with their familiar steaks and seafood, plus a weekend brunch with items like eggs florentine in their signature fluffy popovers. Then head over to the Park Avenue Armory for The Lehman Trilogy, following a sold-out run at the National Theatre in London and directed by Sam Mendes, the play charts the rise and fall of Lehman Brothers financial institution, staged in a glass cube. Then If you've got the stamina cap it all off with a trip to the Guggenheim, where Hilma af Klint: Paintings for the Future will close on April 23.
6. Take in a picture show.
The Photography Show presented by AIPAD (the Association of International Photography Art Dealers), the longest-running and most prestigious exhibition dedicated to the photographic medium, takes over Pier 94 today through Sunday, with international fine-art photography galleries, book sellers, and talks on the present state and future of the medium. New this year is Project Spaces, or areas dedicated to a single idea, artist or theme. Then at the International Center for Photography, go in-depth with the exhibit "For Freedoms; Where Do We Go From Here?" which, through the works of the For Freedoms collective, looks at the role of art in American civic life. Show up tonight at 6:30 to also catch a special talk with Bangladeshi photographer, writer, human-rights activist, and Time magazine's 2018 Person of the Year, Shahidul Alam, in conjunction with ICP's 2019 Infinity Awards. Admission is free, but they do ask that you register in advance.
7. Get odd.
Have some aggression to get out? Feathers will fly this Saturday at the long-running Pillowfight Day, happening from 3 p.m. to 5 p.m. in Washington Square Park. And this Saturday and Sunday, the Oddities Flea Market returns to the Brooklyn Bazaar with $10 general admission and a VIP pre-sale sold through the Atlas Obscura website. Pick up some medical history ephemera, anatomical curiosities, taxidermy, and more. Hey, Mother's Day is coming up.
8. Study music appreciation.
This weekend is the opening of the highly anticipated Diller Scofidio and Renfro-designed performance-art venue The Shed, with a five-night concert series, Soundtrack of America, conceived by Oscar-winning filmmaker Steve McQueen celebrating the impact of African American music on contemporary culture. Performers include PJ Morton, Jon Batiste, and Natasha Diggs with Fantastic Negrito. Also on The Shed's roster this weekend: Ben Whishaw and Renée Fleming in Norma Jeane Baker of Troy, a dramatic work by Anne Carson, and immersive live performances from Reich Richter Pärt. One borough down, the Brooklyn Folk Festival aims to reflect the diversity in folk music with acts like the bluesy Jerron "Blind Boy" Paxton, kora player Yacouba Sissoko, and the Brotherhood of the Jug Band Blues. Plus a puppet show and a banjo-tossing competition (they'll provide the banjo). It all goes down Friday through Sunday at St. Ann's Church in Brooklyn Heights (the banjo toss is off-site). And on Friday at the Apollo Theatre is the high-energy stylings of Burna Boy, a Nigerian Afro-fusion singer and songwriter with a sound spanning reggae, jazz, dancehall and more, recently hitting the UK's Top Ten with "Location," his collaboration with Dave.
9. Have a laugh!
We don't know if Janeane Garofalo has Guests at Littlefield is going to be a regular thing, but we sure hope so. This Sunday, the comedian hosts a killer lineup, including Phoebe Robinson, Todd Barry, Josh Gondelman, and Shane Torres, with tickets at just $8 ($10 at the door). Then explore memory, alternate lives, and the specter of Borges in Nantucket Sleigh Ride, a play that is easier seen than summarized. Starring John Larroquette, this John Guare work is somewhat autobiographical, very surreal, and way funnier than you'd expect. Keep an eye out for a frozen Walt Disney.
10. Get some fresh air.
Oh, the weather is toying with us. Show it who's boss by hitting a rooftop: Beginning this weekend you can dine al fresco at CATCH Roof, open daily for lunch and dinner (weather permitting). This weekend also marks the opening of the Smorgasburg outdoor season, with locations at East River State Park, Prospect Park, and Brooklyn Flea, and beginning next weekend on the Oculus Plaza. And if you happen to be in L.A., there's one there too.