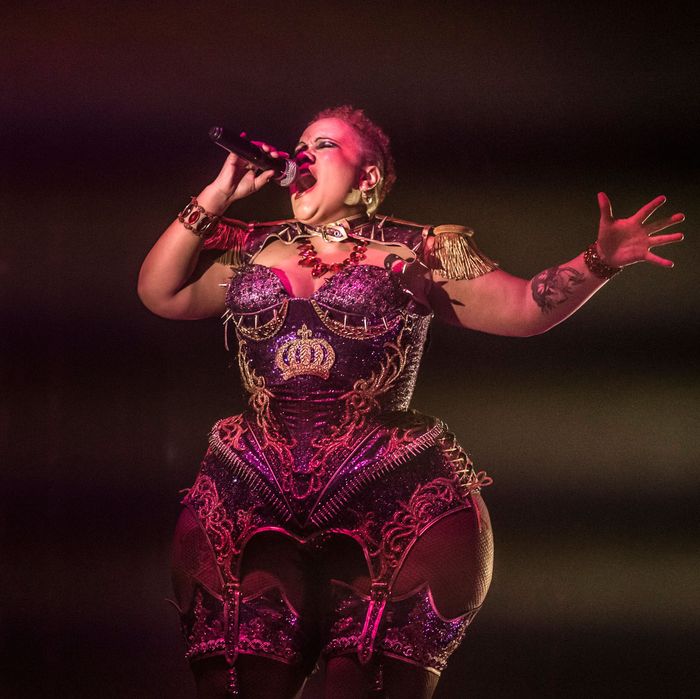 Go down the rabbit hole with Company XIV.
Photo: Mark Shelby Perry
Events to check out this weekend, April 11 to 14.
1. Salute the ladies.
Tonight the Schools of Public Engagement at the New School gather together leading journalists for "When We Lead: Women's Voices Reshaping Our Media," examining how the media landscape has been influenced by women, especially leading up to the 2020 election. Moderated by Mother Jones's Jamilah King, the panelists include Samhita Mukhopadhyay of Teen Vogue; Antonia Hylton of HBO's Vice News Tonight, Kat Aaron of Pineapple Street Media, and Imara Jones, creator and host of The Last Sip on Free Speech TV. Then next Monday though Saturday, stop by Delmonico's for the 151st Anniversary Ladies' Power Lunch Menu, celebrating the landmark date when the restaurant became the first U.S. spot to serve "unchaperoned" women with the country's first ladies-only lunch, organized by the Sorosis Club, America's first professional women's organization. Because ladies rule.
2. Reminisce.
Fresh off being honored at the Apollo Theatre's "Great Night in Harlem" benefit gala, 92-year-old, 20-time Grammy winner (including one for lifetime achievement) Tony Bennett will perform at Radio City Music Hall this Saturday. Perhaps it's time for a date night with your mother? And from Friday to Saturday the Greene Space celebrates ten years with a free 24-hour marathon of music, journalism, art, and performances. It includes a live broadcast of The Brian Lehrer Show with civil-rights activist DeRay Mckesson, actor Laurie Metcalf, and playwright Lucas Hnath; comedians Michelle Buteau and Jordan Carlos doing their show #Adulting live, with guests John Cameron Mitchell and comedian Sydnee Washington; a conversation with Suzan-Lori Parks, and much more. And if you're the type to collect records, it may not be your world the way it used to, but you'll always have Record Store Day. This Saturday stop by your favorite independent record store for exclusive releases from the B-52s, Dr. Dre, the Foo Fighters, U2, and the White Stripes, as well as a 2105 remastered version of David Bowie's Pin Ups, and much more. Plus free performances, like Mike Peters from the Alarm at Generation Records, and a full lineup at Rough Trade including Steve Gunn, TEEN, Cochemea from the Dap-Kings, and signings with Wayne Coyne and T Bone Burnett.
3. Have a theater date.
In case you haven't heard: The new, enjoyably dark Oklahoma! is now on Broadway. Directed by Daniel Fish, it comes from a sold-out run at St. Ann's Warehouse to the Circle in the Square Theatre. Even though there's a chance for a little sustenance during the show (that's all we'll say), you'll probably want to eat beforehand. The recently opened Sushi Lab in the lobby of the Sanctuary Hotel should do the trick, serving up affordable and delightful pieces like an "uni macaron" and a 10-course, $50 omakase with courses like scallop topped with truffled mushroom, seared salmon with tomato compote, sweet shrimp, and a chef's choice hand roll. There are only eight seats at the concierge desk-turned bar, so book early and often.
4. Pair whiskey or wine (or both) with meat .
It would be feasible to spend a majority of the weekend at food events at the Weylin. And if you're able, cheers to you. Start tonight, at the Whiskey Extravaganza, which begins with a master class on the future of American Rye with Allen Katz, founder of New York Distilling, then continues with a tasting of over 100 single malts, and premium whiskies from brands like High West, Glen Moray, and Talisker. Tickets are $95, or $195 if you're fancy. Then Friday and Saturday is Wine Riot with classes, games like the Wine Pronunciation Bee, and Couples Challenges, and tastings of over 100 new wines, with tickets at $65 and $95 for VIP. And on Sunday is the nose-to-tail culinary heritage breed competition Cochon555, with chefs like Seungjoon Choi of Hortus and Kimberly Plafke of Grand Army Bar vying to advance to the national Grand Cochon. Tickets to taste the action are $130 and $200 (the VIP ticket comes with oysters).
5. Talk it out. 
Take a trip tonight at the New York Public Library when Barry Lopez, author of Arctic Dreams, discusses his latest book, Horizon, examining humanity's need for exploration and what it tells us about ourselves. Then discuss the state of the world and where we go from here at Onassis Festival 2019: Democracy Is Coming, a festival of arts and ideas taking place through April 28 at the Public Theater and La MaMa, curated by Mark Russell of the Under the Radar Festival. Examine democracy's origins and current applications in a multidisciplinary program which this weekend includes writer and philosopher Simon Critchley discussing his book Tragedy, the Greeks, and Us with Paul Holdengräber (Saturday); a run of Socrates; and this Sunday's Day of Democracy, featuring talks with BuzzFeed's Ben Smith and Jacobin's Bhaskar Sunkara.
6. Participate in some sanctioned voyeurism.
Perhaps inspiration will hit this weekend at the Greenwich Village Historic District 50th Anniversary Celebration and Open House Weekend, a celebration of a neighborhood famous for its bohemian culture and significance in LGBTQ history, with free events including walking tours; a special tour of Edward Hopper's studio; a chance to explore Chumley's with the restaurant's archivist; tap performances; a visit to the Cherry Lane Theatre; tours of the Jefferson Market Garden, and much more, including an opening celebration in Washington Square Park with speakers, music, family events, and open houses to wander through. Check the website for the schedule as well as for a list of discounts available at places like Wilfie & Nell and Li-Lac Chocolates.
7. Go down the rabbit hole.
With Company XIV, Juilliard-trained founder and choreographer Austin McCormick turned his longtime love of baroque dance — which began when he was 8 years old! — into a bejeweled codpiece of a career. The company takes its moniker from the ostentatious Sun King himself, Louis XIV, and blends baroque, burlesque, and classical ballet with very gilded, very skimpy costumery, lending hedonistic edge to familiar stories. This season it's the decadent Queen of Hearts, inspired by Lewis Carroll's Alice's Adventures in Wonderland, which you can feast on at their theater on Troutman Street, through May 19.
8. Prepare for Easter.
Speaking of white rabbits, Easter's not quite here, but the eggs and candy are. At the Ukrainian Museum, see an exhibit about pysanky, or Ukranian decorated eggs, which signify the renewal of life. See demonstrations of the wax-resistant method of making pysanky and learn about regional distinctions in the design, this year highlighted by thematic glass paintings by Yaroslava Surmach Mills. If you're more of a chocolate egg fan, the Neuhaus Chocolate Easter collection is out, and adorable. Activity-wise, weekends through April 21, FAO Schwarz will keep the kiddos happy with Easter-themed manicures and hair styling, and arts and crafts where kids can decorate their own six-egg crates. And if you'd like to get creative yourself, this Friday at 10 a.m., the New York Cake Academy teaches a class on the Classic Sugar Egg Diorama. Learn how to make your own pressed sugar egg and decorate it with candies and icing. Don't forget to have some fun with your diorama scene: maybe one with rabbits from that classic Easter movie, Us?
9. Go to comedy camp.
Is that an? No, it's man-about-town Michael Musto, who gathers camp in a box for Times Squares, a very New York take on Hollywood Squares, at the Laurie Beechman Theatre. Each week he'll battle theater and Broadway personalities for a game that you probably shouldn't bring children to. Hosted by Tim Cusack, this Friday's guests are Ben Rimalower (Patti Issues) and Gonzalo Casals, executive director of the Leslie-Lohman Museum of Gay and Lesbian Art. And on Sunday at the Bell House is a live taping of the podcast Sibling Rivalry, with Bob the Drag Queen and Miz Cracker. $30 gets you in, $40 a meet-and-greet, and $50 makes you VIP, honey.
10. Go outdoors (or at least pretend to).
Dreaming of feeling the sun on your face? It's not quite summer, but this Friday the Brooklyn Bridge Park's outdoor roller skating rink reopens for the season with free admission during the 3–7 p.m. session. No skates, no problem: they're renting them out for $6. When you're done, why not drink? At the Renaissance Hotel in Midtown is the revamped Versa, an indoor-outdoor restaurant with a retractable roof and a patio with two bars that's a stone's throw from MSG, should you be headed there for Billy Joel on Friday. Starting Saturday, you can also drink on a boat, as Grand Banks opens up for imbibing (food to come later), and if it's (very) high up you want take in the blossoms at the Fleur Room, the 35th-floor lounge at the playful new Moxy hotel in Chelsea, with floor-to-ceiling windows that retract when it's tanning season. Speaking of flowers, if you've not yet hit the New York Botanical Garden's Singapore-themed orchid show, this is the weekend to do it.*
*This post has been updated to reflect the fact that Ronny Chieng was not at the orchid show.