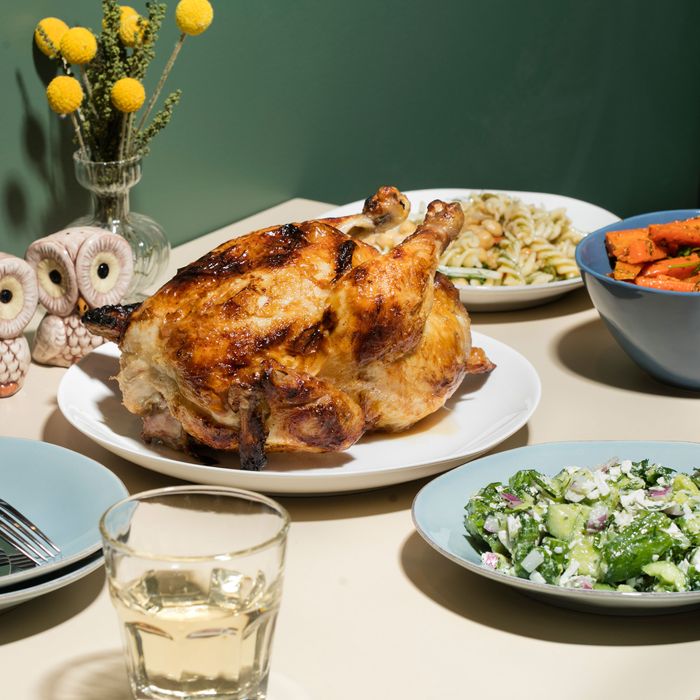 Rotisserie chicken with a selection of sides.
Photo: Melissa Hom
The restaurant world is full of buzzy phrases that get repeated again and again: "fast casual," "local and sustainable," "all-day café." One you don't hear so often is "prepared foods," but at Three Owls Market, which opens today in the West Village, the goal is to change that perception.
"I think that prepared foods have gotten a really bad rap, and there's no love being put into them in New York," says the market's founder, Suzanne Dumaine. "You're like, How boring. Why did I pay for this? and just feel guilty."
So Dumaine, who named the market after a story her father had told her when she was growing up, will offer a thoughtful selection of dry goods, drinks, and pantry items, as well as a rotating menu of seasonal dishes served deli-style in a neighborhood that's surprisingly short on quality food to go. "The West Village just has roots in it, and I didn't want to be a corporate lunchtime business," Dumaine says. "When I thought of this concept, it was my dream neighborhood."
The space itself, designed by the firm MP Shift, looks like what might happen if Goop opened a deli counter, and the menu boasts a similarly understated polish: Rotisserie chickens are available to go, and customers might find classic porchetta amid a rotating menu of breakfast and lunch sandwiches as well as homemade pastries and cheffed-up veggie sides (cacio e pepe snap peas, for example, or roasted carrots with fennel and olive oil).
"A good example of what we're doing is the grilled cheese with shallot jam that we put a little vermouth in," Dumaine says. "It's not weird or eccentric or gimmicky — it's genuinely delicious."
Dumaine's hope is that Three Owls Market will become the West Village version of the original Barefoot Contessa or the Silver Palate, one-stop shops that weren't just convenient but were neighborhood spots that took on lives of their own. "I'm so inspired by those places because they were run by women who were just making beautiful food that they really cared about," Dumaine says. "It's so different than a restaurant in that way, because people are taking it home and they're feeling excited, they're feeling inspired by it, and it has a point of view. I'm so proud of every single thing that we've put in here."