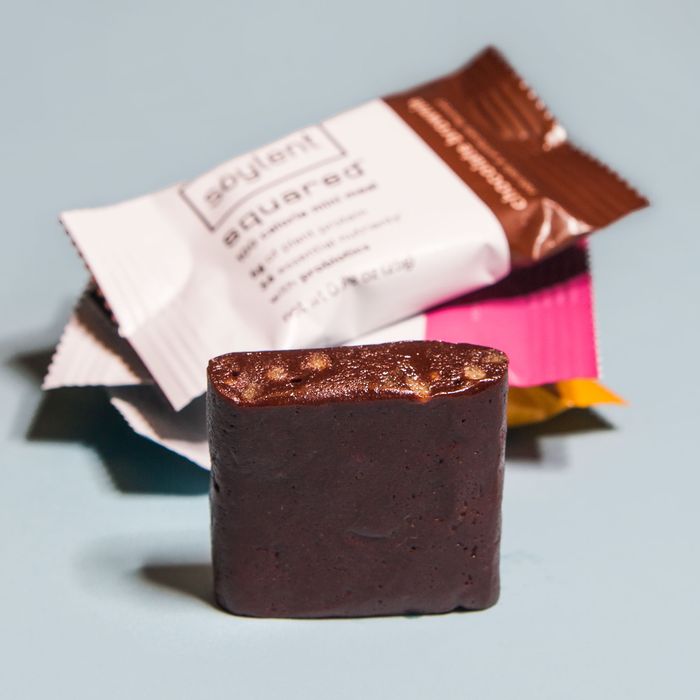 Better than a banana?
Photo: Konstantin Sergeyev
After years of peddling drinkable meal replacements, Soylent has unveiled its latest innovation: food. This month, the Silicon Valley stalwart introduced Soylent Squared, "100 calorie mini meal bars," available in Chocolate Brownie, Salted Caramel, and Citrus Berry flavors. The bars mark a noticeable departure from the company's traditional lineup of bottled and powder-based meal-replacement drinks, although eagle-eyed Soylent followers will note this is actually the company's second attempt at a non-drink product: Its first offering — the so-named Food Bar — was quickly discontinued in 2016 after some customers reported puking and "uncontrollable" diarrhea.
Even still, Grub Street is nothing if not service-oriented, which is why we called in a few Soylent Squared bars to see if the new product is any good, or can at least be eaten without making you sick. Grub put them in a blind taste test with a few other popular protein-bar brands to find out.
These bars are snacks, not meals.
Soylent touts its products as innovations that can replace meals on occasion, but even the company suggests eating three or four of the new Squared bars — which cost $1 each and are available online in packs of 30 —  if you want to actually skip lunch. That is to say: These things are small, so do not expect to feel sated. That, however, may not even be a problem. As one taster noted after trying a bar, "I can't imagine eating a full bar of any of these."
Skip the Citrus Berry flavor.
The Chocolate Brownie flavor smelled and tasted "authentically chocolatey," with one taster comparing it to "the low-fat brownies I'd get as a kid." Salted Caramel was also commended for its mild, butterscotch-like flavor and minimal aftertaste. "'Fresh' isn't the right word for a protein bar, but this doesn't taste too artificial," explained one reviewer. "I don't like either toffee or caramel, but I don't mind this flavor."
Alas, all of our tasters disliked the Citrus Berry flavor, which this taster would compare to lemon-scented glass cleaner. Others were slightly more charitable, only stating that it tasted "overwhelmingly artificial." It's also worth pointing out that the texture of Citrus Berry was somehow grainy, with one taster noting, "I almost felt like I could taste the little proteins coming out."
The bars are uncommonly smooth.
Food writer Michael Pollan famously wrote, "Don't eat anything your great-grandmother wouldn't recognize as food." It is safe to say this proverbial grandmother would have trouble with Soylent Squared. Each one of the company's Salted Caramel bars, for example, contains 5 grams of protein, 100 calories, and 43 separate ingredients, including ferrous fumarate, potassium chloride, and zinc oxide, which you may know as the stuff that was in the sunscreen that cool lifeguards used in the '80s. (A banana, for the sake of comparison, also contains around 100 calories, and requires one ingredient: banana.)
As you might expect, these bars look, and feel, like something designed in a lab. They are slick and shiny and somehow seem a little greasy to the touch without actually being greasy. (The future!) That said, the majority of our tasters approved of the smooth squares' "light crunch" and bite that doesn't "cling to your teeth like caramel." Overall, our tasters felt the bars were "decent enough and would do in a bind."