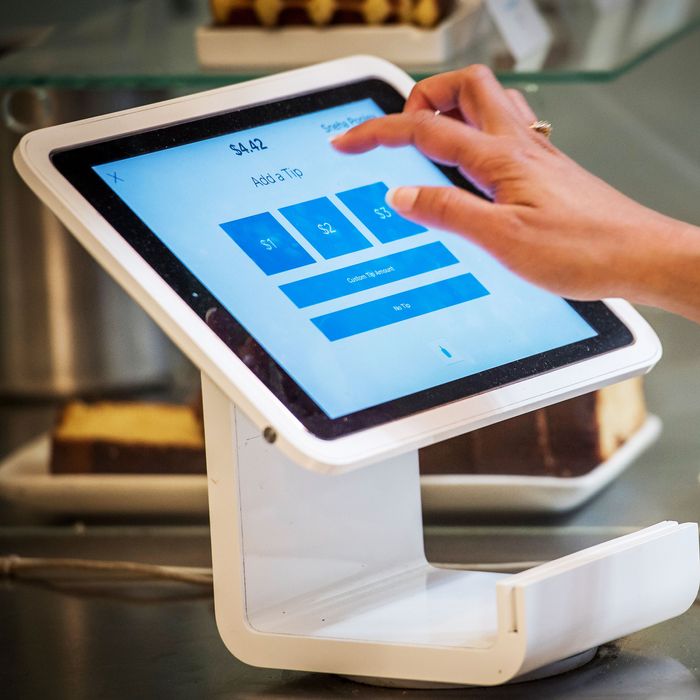 Cash-free businesses have been criticized for discrimination.
Photo: David Paul Morris/Bloomberg via Getty Images
As more businesses have gone cash free in recent years, the practice has been met with increasing derision and animosity. While entrepreneurs point to convenience and ease, the cashless businesses have been criticized, namely, for being racist, classist, and discriminatory toward those who don't have or want a bank account. Some people, simply, don't have the option of paying for a coffee with a credit card. Local and state governments have introduced legislation banning businesses from going cashless, including in Philadelphia, Washington, D.C., New Jersey, and New York City. Now, cashless restaurant owners may finally be realizing that, maybe, this whole thing doesn't reflect so well on them.
Yesterday, Sweetgreen announced it has lost its own war on cash. The salad chain's six Philadelphia locations will start accepting cash on July 1, and all 94 locations nationwide will by the end of the year. (It already accepts cash at its locations in Boston, where the law does not allow cashless business.) Earlier this month, the chain was the subject of a critical article in the Nation, which raised issues with the fact that it has used hip hop in its marketing while opening 95 percent of its shops in predominantly white neighborhoods.
Sweetgreen is one of the more prominent food businesses that doesn't accept cash, and its trendiness and popularity certainly means that this move has gotten attention. But there are plenty of other businesses that have gone cashless. Tender Greens announced it would go cashless last January, and New York cashless restaurants include the Great Northern Food Hall in Grand Central and Simò Pizza. Danny Meyer's Shake Shack experimented with going cashless, but ultimately abandoned its plan because of, reportedly, customer complaints. Instead, some locations have since been outfitted with both cashiers and cashless kiosks.
It's true that many people simply use their credit or debit cards for everyday transactions. But while the number of Americans without bank accounts is dropping, 6.5 percent of households didn't have one in 2017. That number rises to 16.9 percent for black households and 14 percent for Hispanic households. This is why, in an interview with Grub Street about his bill banning cashless business, New York city council member Ritchie J. Torres said, "on the surface, cashlessness seems benign, but when you reflect on it, the insidious racism that underlies a cashless business model becomes clear." (As of last month, Torres's bill was still being considered.) The discrimination might not be conscious, but that doesn't mean it isn't happening. And it doesn't make it any better.