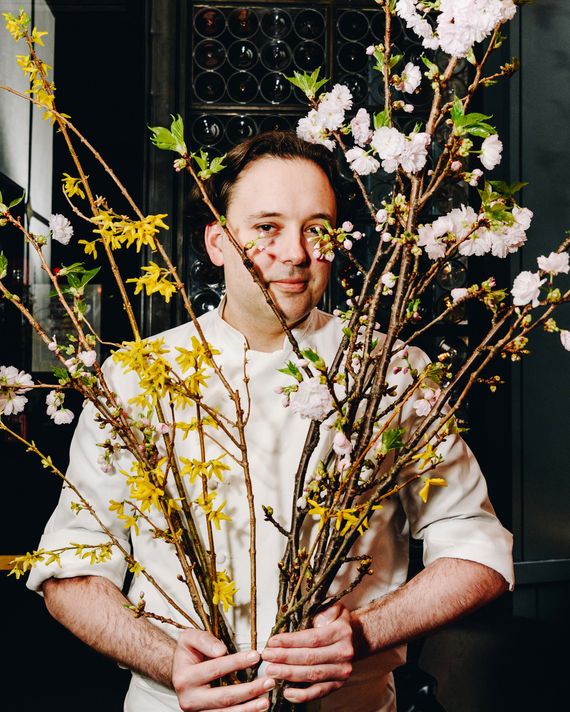 At the conclusion of A Matter of Taste, the 2011 documentary that vaulted chef Paul Liebrandt from a local phenomenon to one of the most celebrated chefs in America, the British expat makes an ominous vow: "I will not be happy until I achieve what I came to this country to achieve."
If the filmmakers shot a sequel now, the subtitle might be: What Happened? Though critics and fellow chefs agree that Liebrandt is one of the city's singular talents — a chef whose technical mastery is matched by his daring flavor combinations — he has spent the last couple of years as something of a pop-up master (his latest venture being a temporary residency at Chefs Club, where he's cooking until May 12), and it all makes you wonder: Can a chef who built his name on a single-minded, obsessive approach to creativity still find a place in the New York dining scene of 2019?
Liebrandt is a chef cast in the Michelin mold: a classically trained European with a flair for pushing the boundaries of luxury dining. In 2000, he garnered three stars from the New York Times for his work at Atlas, where then-critic William Grimes wrote that Liebrandt "forces open the taste spectrum … he's like a pianist who seems to have found a couple of dozen extra keys." (Grimes was particularly struck by a dish of glazed eel with watermelon and crystalized violets.) Liebrandt quit Atlas soon after, then popped up at the West Village bistro Papillon in 2002. When the owners, bending to financial pressure, needed Liebrandt to start cooking less oxtail consommé and more burgers, the chef rolled up his knives and strolled out.
At Gilt, in 2006, he served extravagant dishes like braised snails with Thai basil and chicken mousse. A few months after a two-star review in the New York Times and a three-star nod in New York, the owners of Gilt fired the chef by phone while he was on vacation.
Chef Wylie Dufresne can still vividly recall the highlights of a meal at Atlas. "I remember having an incredible piece of tuna with a sorbet of salt on top," he says. "Paul puts flavors on a plate that you may not think belong together, but if you're willing to try them, you're often rewarded — that," Dufresne adds, "is not only delicious; it's also really exciting."
"He's got this creative brilliance to him," says the chef Ari Weiswasser, who worked for Liebrandt in several different kitchens and now runs his own restaurant, Glen Ellen Star, in Sonoma County. "He makes you a better cook, a better chef; you're more aware of what you're actually doing."
Yet while chefs are often in awe of Liebrandt's dedication to his own creative vision, the work required to get there can try the patience of those who want their restaurants to actually make money. Consider "From the Garden," ostensibly Liebrandt's take on a green salad. An array of vegetables are prepared individually — some braised, others roasted, or cooked sous-vide — and combined with chutneys, chips, and dressings until they become an unparalleled vegetable bouquet. According to Weiswasser, assembling this particular garden required three cooks and took about three minutes — an eternity, in a bustling fine-dining kitchen — to properly plate.
It finally looked like Liebrandt had found a permanent home at Corton, which he opened with Drew Nieporent in 2008. That year was the beginning of America's Great Recession, but for much of Corton's first year, Nieporent says the restaurant's seats were filled, and the reviews were generally glowing. Then, "Paul did something that is very Paul," upping the degree of creativity and shifting Corton's focus to a tasting menu that Nieporent describes as having "dollhouse portions that came out every half hour."
Shifting to a tasting-menu format is often a way to cut costs, since it helps chefs more easily manage their ingredients. But for the majority of Corton's five-year run, Nieporent says the restaurant oozed money. "I think we lost $1,000 a day for four years," he estimates.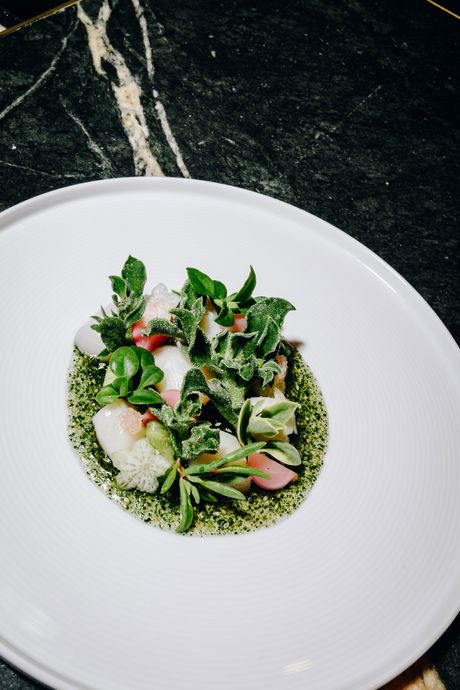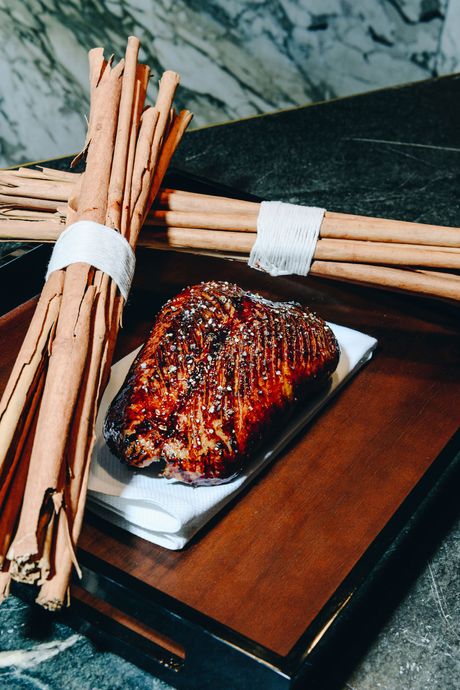 While both Nieporent and Liebrandt say, publicly, that they have nothing but respect for one another now, their relationship was long rumored to be acrimonious at best. It fell apart in 2013, when Liebrandt got involved at the Elm, a Brooklyn restaurant with a setting that turned out to be too casual for high-wire cooking, and closed in 2015. (Under new ownership, the space became a "retro-preppy fern bar" without Liebrandt's involvement, and also closed almost as soon as it opened.)
Dufresne, who also faced financial hardship at his own celebrated avant-garde restaurant, wd~50, says both he and Liebrandt "share a simpatico for pushing a rock up a hill and choosing to make lives hard on ourselves."
Anyone who's witnessed Liebrandt's self-effacing soliloquies in A Matter of Taste may imagine the chef, in between these celebrated restaurant stints, sitting alone at home, stewing over a bowl of squid-lemongrass velouté (you can find the recipe for that dish in his 2013 memoir, To the Bone). But the chef's father, a member of the British Special Forces who wanted his son to follow in his path, instilled an arduous work ethic in him. Liebrandt finds not working in a restaurant "maddening."
"I've been cooking since I was 15 in the top restaurants — it's a habit, an addiction to work," says Liebrandt, sitting behind the bar at Chefs Club. "I don't know anything else." At age 42, he looks less like the lithe, doe-eyed frontman for a Brit-pop band — as he does at the beginning of the documentary — and more like — as unkind Reddit commenters have remarked — an imposing Bond villain.
While Liebrandt hasn't cooked regularly in a restaurant for a few years, he consults on kitchen builds, menu creation, and restaurant design in cities like Bangkok and Moscow. In 2016, he teamed up with Morgenstern's ice-cream shop to create soft serve flavors such as Tour Pine'Our: sunchoke ice cream and strawberry hibiscus sorbet with toasted hazelnuts. In early 2018, he popped up for a brief spell at the French restaurant Racines in Tribeca as a chef-in-residence.
Musicians constantly whine about record labels, and directors slag off their movie studios, but few industries require a tighter marriage of creativity and commerce than that of high-end restaurants. Liebrandt says his years working as a restaurant consultant (his company is Crumpet) taught him how to rightsize ingredient and labor costs with the price of the final dishes.
At the Chefs Club, Liebrandt's menu does not startle the palate as much as it expands on modern French techniques with global ingredients. Asked if any of the dishes are inspired by his worldwide travel, he points to an uni tartlet topped with trout roe that's been smoked with cardamom. After a detailed explanation, he adds, almost apologetically: "It's a simple thing."
While Liebrandt says plenty of deals have been discussed, it's still bemusing that a chef as accomplished as he is is essentially a toque-for-hire. In 2017, Liebrandt told Eater that restaurant investors were risk-averse because of the then-recent presidential election and the shaky stock market. Any investor partnering on an upscale dining eatery with high food and labor costs is making a big bet, particularly in this town, where 80 percent of restaurants close in their first five years in business.
As far as Corton's situation is concerned, Liebrandt concedes, "In hindsight, we all see things that at the time we thought were right … We look back and think, 'Maybe I should have done things more this direction?' So, yes. I'm not perfect."
Reminded of the vow made at the end of the A Matter of Taste, and asked what he still wants to accomplish in New York, Liebrandt says there are a lot of things, but settles on one: to be accepted in New York's culinary scene, where he still feels like an outsider.
Certainly a new restaurant in New York would go a long way toward bringing that acceptance. A hospitality investor's safest approach for a new, upscale Paul Liebrandt restaurant would likely be an intimate chef's table similar to Brooklyn Fare. There, chef César Ramirez serves a seafood-focused tasting menu drawing on Japanese and French techniques to a small group of people and charges $400 a head for the food alone. (It's worth noting that in its own early going, Ramirez's restaurant costs were subsidized by, of all things, a grocery store, its sister business.)
Asked about Brooklyn Fare, Liebrandt says it's "fantastic." Could he see himself doing a similar project? "Absolutely. Let's be honest. That's kind of what I do anyway." Yet any questions about definite plans are defused with a smile, an eye roll, and vague assurances of ongoing talks.
Even then, an intimate counter would require constant attention and Liebrandt's own presence — it's not a model that would scale or be easily replicated in other cities. That doesn't seem to bother the chef.
Last July, Liebrandt says he went to see the Cure celebrate their 40th anniversary in London's Hyde Park. (Liebrandt is a huge music fan who DJed at illegal raves as a teenager.) In between songs at Hyde Park, Robert Smith reminisced about how the band started playing pub gigs, unsure of what would come next, never thinking it would last four decades or develop its own genre of goth rock.
"I just thought, That's the goal in life," Liebrandt says. "All of us to take that risk — sometimes it works and sometimes it doesn't. But it's very rewarding to hear that from a group that has been so influential to so many other bands. They're not," Liebrandt says, "the most commercially successful, but they are really successful in their own way."