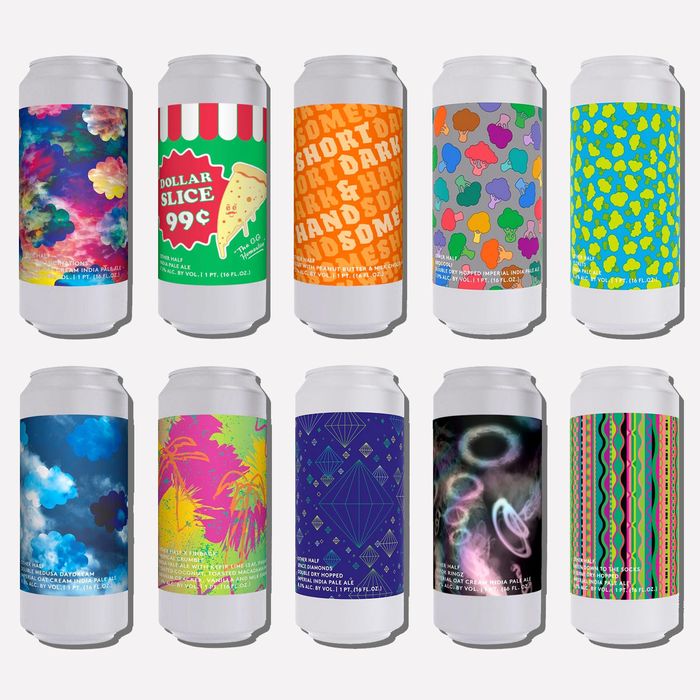 Photo-Illustration: Grub Street; Photos: Other Half Brewing
To understand why Other Half has, in just half a decade, become one of the biggest names in beer, it helps to understand one of their flagship beers, All Green Everything. It is, like many craft beers, aggressively hopped and incredibly strong, with as much alcohol as some wine. Oats and wheat in the recipe give it an opaque, almost milky appearance, while four separate varieties of hops — Amarillo, Citra, Mosaic, and Motueka, some of which are added later in the brewing process in a practice known as dry hopping —provide a tropical, mellow flavor that's a far cry from the pine flavor that dominates many popular IPAs. On the influential beer review site RateBeer.com, it has scored 99 out of 100 points. It is, in other words, a superpotent craft beer that pretty much anyone can enjoy.
"Having grown up on the West Coast, I wanted to make an IPA that stood out like theirs," says Other Half's head brewer and co-owner, Sam Richardson. "When we started, there were a lot of IPAs on the market, but they were kind of bland IPAs made for the masses without big, bold flavors. That was our main goal."
With All Green Everything, Other Half brought New York City its first great New England IPA. These are cloudy, juicy beers that are focused on capturing the perfume of hops without emphasizing their bitterness. It's a relatively new style — also known as hazy IPAs — that stands in stark contrast to so-called West Coast IPAs, in which clarity and bitterness are the main selling points. It is also — thanks to its high alcohol content and flavors that can remind people of tropical fruit — extremely popular.
"I saw that people were really interested in this style and we were kind of halfway there as it was with the IPAs we were making," Richardson explains. "I've never claimed to [have] invent[ed] the style, by any stretch of the imagination, but we were early with it and went all-in on it. I think that we kind of carved out our own style within that."
For many New York beer lovers, All Green Everything was their first taste of the style, and it was unlike anything else they'd had before. "Other Half jumped on New England–style IPAs at the right time and did a really great version of it," says Cory Bonfiglio, a co-founder of Williamsburg bar Beer Street. "Making great beer coupled with their aesthetic worked for them."
That aesthetic instantly set Other Half apart. Even when Other Half started, beer marketing was still dominated by scripted type and labels designed with a throwback look. Think, for example, of Anchor Steam or Sierra Nevada: sturdy beers that won't let you down. They're the dad rock of beer. Other Half burst out of that pattern by giving their beers names that could easily be confused for those of strains of weed — Space Dream, Magic Green Nuggets — and selling them in cans emblazoned with futuristic, Technicolor designs that were engineered for Instagram appeal.
Other Half's first year in existence, 2014, also marked the passage of the Craft New York Act, which allowed breweries, for the first time, to sell cans and bottles of beers directly to customers (instead of being forced to work with distributors, or sell their own beers only in unwieldy growlers). It meant that Other Half could, for example, begin canning extremely limited runs of special beers (sometimes in collaboration with other cult brewers), marketing them on social media, and watching as people scrambled to get their hands on these hop-fueled unicorn beers.
Less than three years after Other Half opened, the Times ran a story about the 11 hours that some people waited to get a taste of its beer — the kind of advertising that most breweries can only dream of — and demand only increased from there. (A few months after the Times story, Punch called Other Half "the official beer of Wall Street," and explored the lengths that well-heeled finance types would go to get their hands on cases of the beer.)
"New York is now a tourist destination for beer," says Joshua M. Bernstein, the beer expert who wrote the Times story. "For them there's no difference in waiting in line for Other Half beer and waiting in line to get a pastrami sandwich at Katz's."
Meanwhile, Richardson and his partners Matt Monahan and Andrew Burman were doing their best to keep up with demand. In 2017, they opened a new taproom to accommodate the thousands of people who stopped in each week. (The trio also purchased a large warehouse for distribution and storage at the end of the block.) In July 2018, Other Half paid $660,000 to purchase an 8,000-square-foot brewery in Rochester, New York, which they'll use for creating new beers as well as introducing Other Half to people upstate. This past February, the company also announced plans to build a new taproom in Williamsburg at the waterfront Domino site. The team hopes to have that site, which is still in very early planning stages, up and running by mid-summer 2020. Other Half has also hosted two separate, sold-out beer festivals: One dedicated to hops (of course), and another dedicated to niche beer styles that also featured some amateur wrestling on the side.
In 2015, a year after opening, Other Half produced roughly 5,000 barrels of beer. Today, the annual count is 14,000 — still very much that of a relatively small, cult brewery — but demand hasn't died. Indeed, the brewery is so consistently mobbed on weekends that customers end up drinking in the concrete-floored production area.
Plenty of other breweries have jumped on the New England IPA bandwagon, but Richardson, Monahan, and Burman made at least one shrewd business move to ensure that their products would continue to stand out. "Sam went above and beyond and made sure he got the hop contracts," Bernstein explains, pointing out that Richardson moved to secure a steady supply of the hops needed to make New England IPAs before the style exploded in popularity. "A New England IPA without the right hops is just like hazy booze water. When other people were left scrambling for the hops that were out there, Other Half had an ample supply."
Now, the challenge that faces the Other Half team is brewing beers and creating experiences that will grow their audience from beer lovers and hopheads to a more general audience. "That's sort of our goal," Monahan says, "to expose this brand to that tier of audience that isn't die-hard but is definitely going to be into what we're doing." The new Williamsburg space will be crucial: "A natural part of the evolution, the way that we're growing, is to do what we do for the people that know about us, but also be in a place where we can capture the foot traffic of people that are definitely into this and don't even know it yet."
The partners also know that the hop-fueled gravy train won't last forever, so they're using their new space in Rochester to explore the styles that might become the next New England IPAs. They've hired Eric Salazar, a Colorado brewer known for his work on wild ale and "sours," and are doubling down on these complicated, imprecise styles. Like hazy IPAs before them, they already have a following in the beer world, and might only need the right kind of push to break out.
"IPA still pays the bills," Monahan concedes, "but it provides us the ability to constantly innovate."