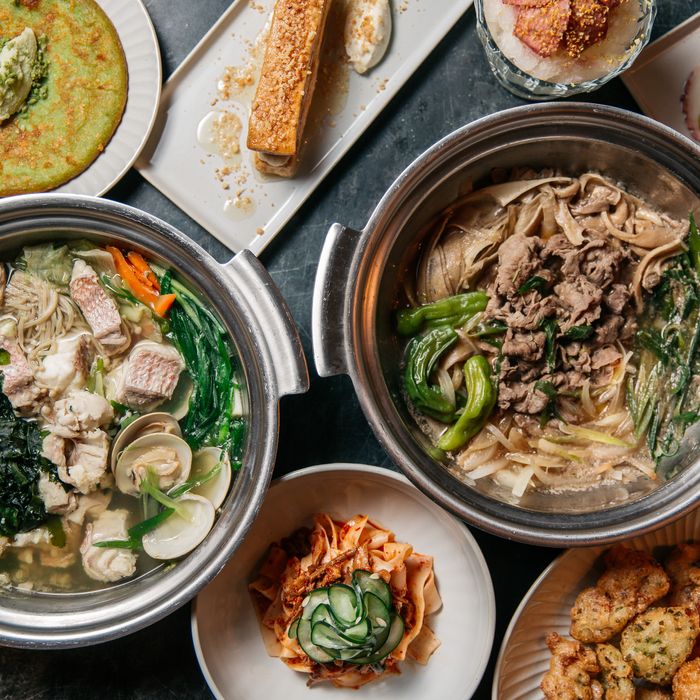 A menu sampling at O:N.
Photo: Scott Heins
What strange alchemy of ingredients goes into creating the kind of buzzy mainstream moment Korean cooking seems to be enjoying in New York (and therefore the world) these days? It helps to have a deep, time-tested culinary tradition, of course, and a charismatic, groundbreaking chef (a.k.a. David Chang) who can rework and translate this tradition for the masses in the way Jacques Pépin did during the great French boom of the '60s and '70s. It helps to have a vibrant generation of empowered cooks who share the stage at about the same time (Douglas Kim at Jeju Noodle Bar, Junghyun Park at Atomix and Atoboy, Hooni Kim at Danji, the veteran Jenny Kwak with her great new seafood joint, Haenyeo), and it helps to have inventive entrepreneurs, like the ones at Hand Hospitality (Atomix, Atoboy, the wildly popular Her Name Is Han), who are constantly adapting and refining their new projects to changing tastes on the ground.
Hand appears to be a hospitality group for the New Age — part brand and management consultant, part social incubator (it sponsors an artists' series called "Hungry"), and part creative business commune (its relationship with Chef Park at Atomix and Atoboy is described as a "collaboration"). Its latest venture is a quirkily named hot-pot establishment called O:N, which opened a couple of months ago on lower Madison Avenue. As at Atoboy, the long, windowless space has a slightly futuristic, next-wave quality, complete with boxy wooden modules to sit on and floors and walls covered in polished concrete. Instead of the usual gas barbecue, state-of-the-art induction burners have been built into each table, and as you wait for your hot-pot dinner to simmer, you can sip fusion cocktails touched with unexpected ingredients like smoked cloves and chai.
The chef here is Namhyung Woo, who formerly oversaw the kitchen at Her Name Is Han, and it was his original idea to create an updated version of the kind of traditional jeongol-style hot-pot restaurant that his father runs back in Korea. But the concept has evolved over time to include an impressive collection of pre-hot-pot appetizers, many of them executed with the kind of elevated fusion touch you'd find at Atoboy or Atomix around the corner. On our visit, these included thin wheels of octopus terrine dressed with lemon vinaigrette and a traditional buckwheat pancake colored green with edamame. The cool noodle dish we ordered was described as "Asian fettuccine" and topped with a spicy mash of brisket and mushrooms, and the delicate chunks of tempura-fried chicken that followed were made with bits of jalapeño in the batter and served with a dipping cup of mayonnaise.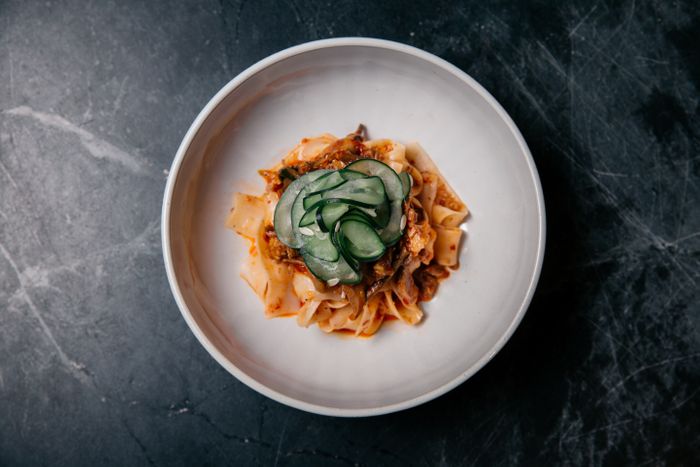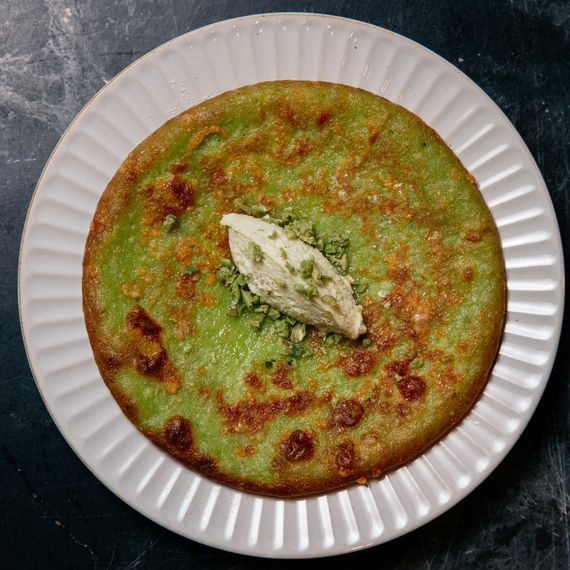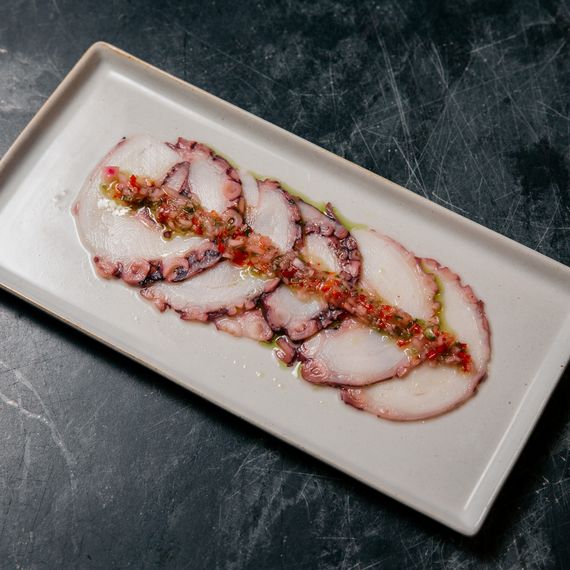 It's possible to make a bountiful dinner from these non-jeongol creations, especially if you call for a pot or two of the excellent rice, which comes in two styles (one folded with slices of mushroom, the other with shreds of artichoke). Like much of the food at O:N, it's cooked tableside in specially made ceramic pots by fleets of wait staff who carry small, beeping timers in their pockets. "Nobody does this anymore at home; we all use rice cookers," said our server, who was from Seoul, as she waited for the rice to cook for exactly 11 minutes and 30 seconds. When it was done, she spooned it out in bowls for us to eat with sticky, soy-laced patties of mashed short-rib galbi, among other things, and a single, highly refined Duroc pork chop, which the kitchen roasts on the bone, flavors with lemon and fish sauce, and plates with a pool of creamy oyster sauce.
Some dishes can be problematic for restaurant critics because of their bulk and variety, and hot pot (I counted nine elaborate jeongol options at O:N, each designed to feed a gaggle of hearty eaters) turns out to be one of these. I ordered three different pots on each of my visits and was gently scolded by my server every time ("I think it's too much!"). Each time, of course, my server turned out to be right. Before quietly putting down our spoons and chopsticks in surrender, however, my slightly stunned guests and I agreed that those hearty, beefcentric totems of the Korean canon (bulgogi, oxtails, short ribs) pack a more satisfying punch in sizzling barbecue form and that the best part of even the most successful jeongol combinations (red snapper with mushrooms, chicken with bacon and leeks) is the richly flavored broth that cooks slowly down during the course of the meal.
Hand Hospitality's ventures are designed with the tastes of what its website describes as young "Korean internationals" in mind, although this latest restaurant is the company's most ambitious yet, and it's clearly taken influences from all over. In addition to those fusion cocktails, you can wash down your hot pot with glasses of Riesling from France or chilled carafes of soju served with chasers of calamansi juice. In the time-honored Korean (and David Chang) tradition, the dessert choices are mercifully light (there are only two: a goblet of shaved ice with pears and a chestnut-mousse mille-feuille designed to resemble a traditional honey cookie called yakgwa), although you might want to do what I did on my last visit and save your cash for the long, digestive cab ride home.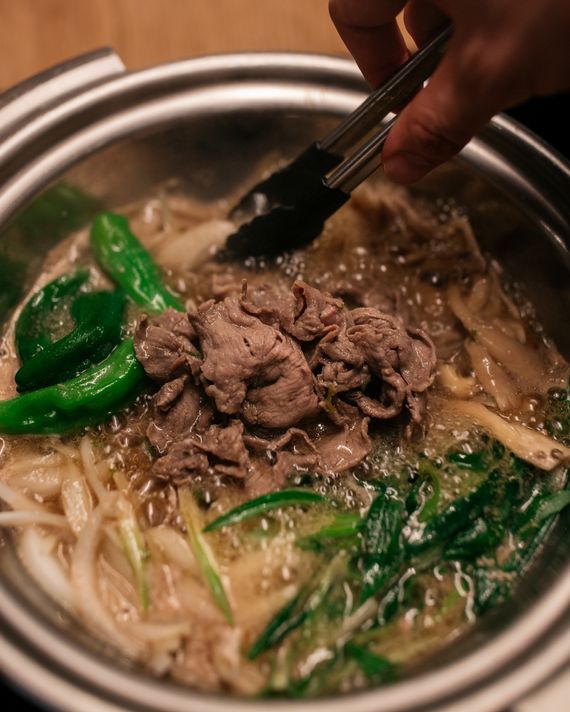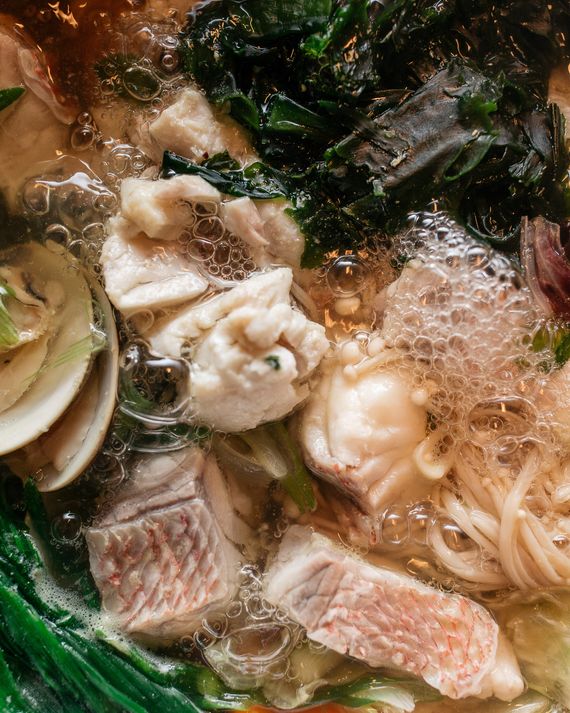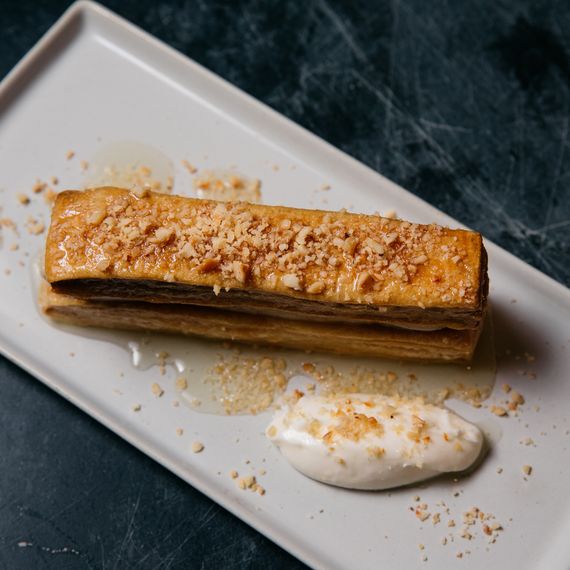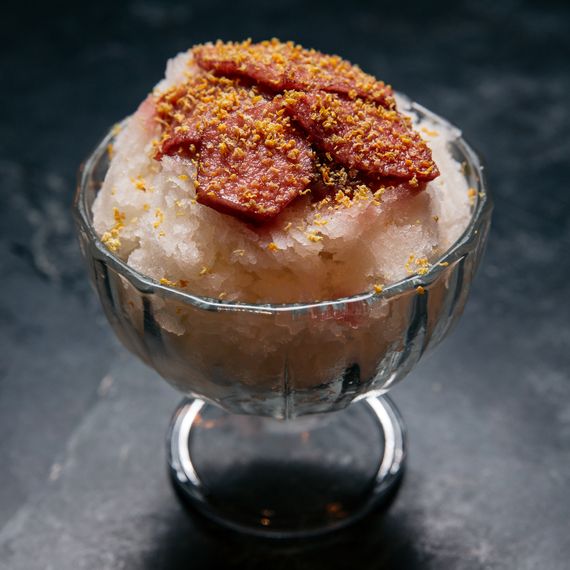 O:N | 81 (out of 100)* | Very Good
110 Madison Ave., nr. 30th St.; 917-261-4326; onnewyork.net
Open: Dinner nightly.
Prices: $10 to $69.
Ideal Meal: Edamame pancake and/or yukgaejang noodles, fried jalapeño chicken and/or pork chop, mushroom rice, red-snapper or chicken hot pot, shaved ice with pear.
Note: Pay attention to the elaborate, even slightly overdesigned menu, which is in itself an education in next-wave Korean dining.
Scratchpad: The options can be a little too dizzying, but choose wisely and the experience adds up to a solid 81.
*The rating scale of 0 to 100 reflects our editors' appraisals of all the tangible and intangible factors that make a restaurant or bar great — or terrible — regardless of price. See The Thousand Best for 999 more great places to eat and drink.
This article appears in the April 29, 2019, issue of New York Magazine. Subscribe Now!