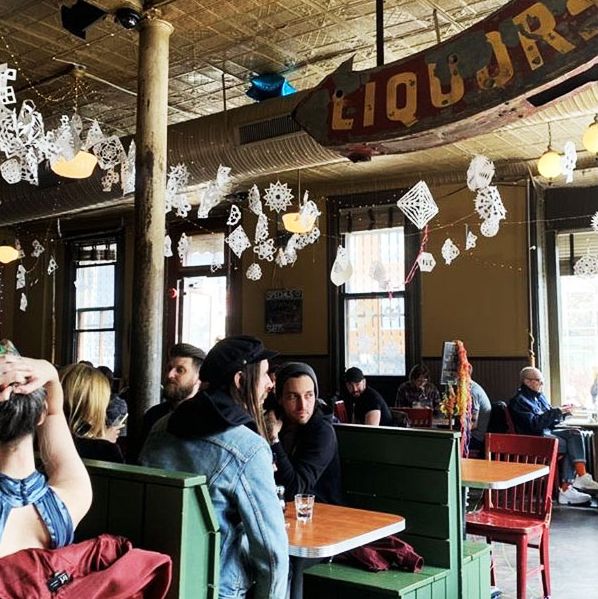 It's all over now.
Photo: Beto Vargas
I don't recall the first time I went to Enid's, as many people probably don't. There are a few hazy nights that come to mind, for sure. I didn't live in New York when Enid's opened in 1999 at the end of Manhattan Avenue on McCarren Park in Greenpoint. My partner tells me that when it opened, he and his dirtbag friends thought it was fancy, a "there goes the neighborhood" kind of place, which is more telling about that end of Greenpoint than it is about Enid's. There was nothing down there on Manhattan Ave. in 1999, nowhere to go to after dark, except the Turkey's Nest. Enid's felt different, a little like New Orleans, perched right there on a sleepy corner above the park. Before the developers and the condos came.
What I do recall is that Enid's was fun. It started as a bar, and then opened for brunch on the weekends. Dinner, then lunch followed suit. It was opened because the burgeoning community of artists, musicians, photographers and straight-up freaks in the area needed a place to hang out.. There were DJs — Jonathan Toubin, Grandpa Jeremy, Kat Daddy, Vacations, Sam Jayne, to name a few — and dance parties and long lines for the two bathrooms, because it was the early 2000s and cocaine is a fun drug until it isn't and sometimes you meet someone and have some quality time, ideally in the second, larger bathroom. For over a decade they hosted an apple-pie contest that was a goddamn scene, packed wall-to-wall of people with pie entries sometimes nearing 50. They donated the money to the local soup kitchen. When have you been to an apple pie contest outside of a country fair that's a scene? Brooklyn was just entering its artisanal pickle, pie, butchering, and candle-making phase in earnest. It was fierce competition to take home the trophy — in fact, the previous year's winner would come back as a judge the following year and crown the new winner.
The brunch was hearty and Southern-style, to take care of the ills from the previous night, because it used to be that was all you needed to feel better — some delicious, greasy food, and a little hair of the dog. That was when we lived in Brooklyn and could afford to. And Enid's was affordable. It still was, until the very end.
That corner on McCarren has changed a lot over the years. How we live has changed so much over the years, too. Enid's opened before we carried tiny computers around, before Instagram, before influencing was a job, when Brooklyn was where everyone would move. We don't go to the same places every night; we don't hang out. We go out like it's our job, like we need to impress people with where we've been. Everything's a fucking experience.
I mourn Enid's. I already miss having a normal place to go, to meet a friend for a drink and some food and for it to not cost each of us at least $50. I miss it as something casual, a place without consultants, a place that felt like it could be your living room, but thankfully was not, nor was it your friend's, so you wouldn't have to talk to her husband too. Before everything was bourgeoisie.
During this past weekend, Enid's last one in business, they thought they would close after Sunday brunch. Last call went on for hours. It was hard to leave, knowing that once you left, it would be gone. There's no going back. Just last month, Rosemary's Greenpoint Tavern closed — a shining beacon on Bedford Avenue for over 50 years. Go to the places you love that have been around for longer than three years, go to the place that served as your living room for a bit, the place you supported the most and that supported you. They probably need your support. You probably need theirs.