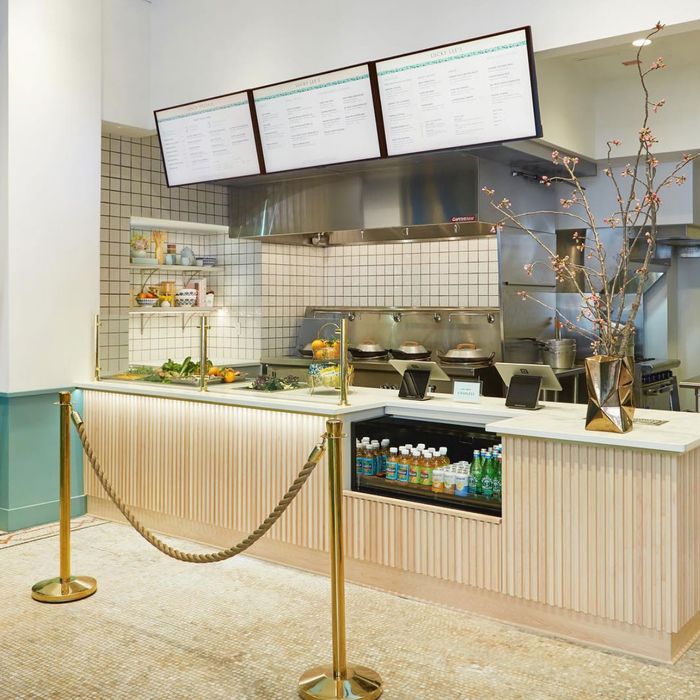 Lucky Lee's.
Photo: luckyleesnyc/Instagram
A new restaurant called Lucky Lee's is at the center of an online firestorm. Owner Arielle Haspel, a nutritionist, is marketing the restaurant as a, uh, healthy alternative to other Chinese restaurants. The controversy is rooted in what's seen as insensitive and racist language used in promoting the restaurant.
The branding goes heavy on "clean" food language, promising "less oil," gluten-free cooking, no refined sugars, and a "menu that will leave you feeling great." The restaurant seems to be positioning itself as an alternative to Chinese-owned Chinese restaurants that presumably … do not leave you feeling great? In one Lucky Lee's Instagram post — which Eater NY found has since been removed — the caption referenced lo mein "mak[ing] you feel bloated and icky the next day."
As some see it, Lucky Lee's branding seems to be suffused with stereotypes that Chinese cuisine is monolithically unhealthy and greasy, and of Chinese restaurants (and neighborhoods and people) as dirty. That's a perception that's tied up in the thoroughly documented history of racism toward Chinese-Americans and Chinese immigrants. It cannot be removed from the context of opening a restaurant like this, nor from writing about Chinese restaurants. (As when the Infatuation wrote of eating Chinese food in New York, "[Y]ou can get gross and roll around Chinatown or Flushing.") Just two years ago, a Canadian developer was set to release a game called Dirty Chinese Restaurant populated by racist stereotypes.
Lucky Lee's last two Instagram posts have been flooded with comments. Some users are defending the restaurant with comments like "get out with this racism nonsense," "any person can create a business that helps minorities," and "apparently nobody told you how American works." But many others are criticizing it, with one writing, "[Y]our insensitive racist use of Asian culture is disgusting," and calling for a protest. Another user asked the account to come eat in the Chinese neighborhood of Flushing, Queens. On Twitter, the pianist Sharon Fu wrote about her issues with the restaurant, including the name.
The controversy around Lucky Lee's follows closely behind others surrounding Chinese restaurants opened by the celebrity chefs Andrew Zimmern and Gordon Ramsay. Before opening his chain Lucky Cricket, Zimmern got blasted for saying he wanted to rescue the Midwest from crappy Chinese food, while Ramsay was criticized for not having an Asian chef at his "authentic" Lucky Cat. As the writer and occasional Grub contributor Cathy Erway noted on Twitter, "lucky has become code for something awful."