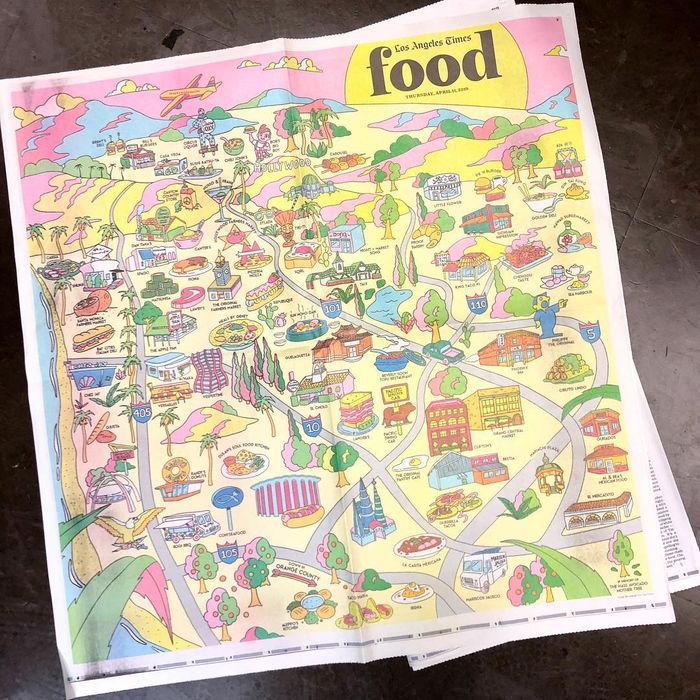 For one, the entire section has undergone a huge revamp.
Photo: Peter Meehan
When former Lucky Peach editor Peter Meehan joined the Los Angeles Times in October 2018, he did so as a contributing editor who would "guide editorial direction and expansion of The Times' food and dining coverage" in the wake of the sudden death of longtime food critic Jonathan Gold. But in February, the L.A. paper dropped the "contributing" part, deciding to make Meehan the official editor of the section. "By that point, I had started bossing people around so much," Meehan says. "I became invested enough in the process and the vision that it became something I wanted to do." Yesterday, the fruit of Meehan and his team's labors came to life in the form of the first stand-alone food section to appear in the L.A. Times since 2012. Grub caught up with Meehan as he boarded a flight back to New York, where his family still lives, to talk about his plans for the revitalized food section.
How did Jonathan Gold's passing play a role in your coming to the L.A. Times?
Well, he had been talking to me about coming to L.A. and editing the section for a while. But I never took it all that seriously. And then he got sick really fast this past summer and I think Jonathan was a big part of why [the paper's new owner,] Dr. Patrick Soon-Shiong bought the paper. I think he was one of the marquee people at the L.A. Times. And so suddenly they had these new owners who were ready to put a lot of money and support into food and they had lost the guy who could show them the way.
What was the run-up like before yesterday's launch?
They had also hired a bunch of new people since I joined. Before, food was only two and a half pages on Saturdays. I was like, we need more real estate. We need a stand-alone food section. There is a desire to reinvent and reinvigorate the L.A. Times and there was no pushback. They were just like, 'Okay. How soon do you want to do it?' And that's an incredible thing in any media environment, particularly this one. I'm very proud of the first section and what we made and what's in it, but I see it as the first step towards something new that we will be making and I think there's just a lot of processes and interdepartmental collaboration that [haven't] necessarily been part of the process at the L.A. Times, especially during that Tronc bad-ownership period. I think if we made a product that people want to see, they want to look at, they want to own, they want to hold, they want to subscribe to, it's going to require some formal invention alongside producing the best journalism we can.
You're currently splitting your time between L.A. and New York. How are you making that work?
It's nice to be in the same room, but it's also not imperative. And I think I'd see my family less if we all lived here because the commute is long. The way it works with New York is I can take my young children to school and still be online before anybody. My dinnertime is their lunch-break time. It's working out surprisingly well so far.
The folding of Lucky Peach caught many people off guard. What happened?
I think that Dave [Chang] and I just grew apart. We worked together for a long time and we made a lot of stuff together that had been fairly cool. And then at a certain point, I think he wanted one thing and I wanted another. I don't feel comfortable speaking to what he wanted, but what I wanted was what Lucky Peach was. I was happy with the direction and the growth and identity of Lucky Peach and he wasn't. And he owned more of the company than I did. We couldn't find a way for me to buy the company. He didn't want to sell the company to me. So, it closed. The staff stayed on for a couple issues even though everyone knew they were going to lose their jobs, so it was a long funerary death march of five months of making the last two issues. And the show that we had sold as The Lucky Peach Show became Ugly Delicious. I loved the team and I loved what we had built and I thought there were great things headed for the future, but (a) dying young and leaving a good-looking corpse is always fun, and (b) if that hadn't happened, I wouldn't have [had] the chance to do this. I fought as hard as I could to keep the magazine and the brand alive and that was, unfortunately, not possible.
Do you think you would have come over to the L.A. Times if it was still owned by Tronc (now Tribune Publishing)?
No, I don't think I would have. If Jonathan was still here, maybe.
With the new critics at the New York Times and the San Francisco Chronicle, and now your new team, California's food scene has never been given more coverage. Why do you think it's happening at this moment in time?
The idea that California is better now than it was five years ago, I think is false. But I think that the recognition might ultimately have to do with the recognition of Jonathan. Because Jonathan was writing better restaurant reviews than everybody for a long time. He wasn't God on high until the last few years, but I think that might have helped. In any case, L.A. has been an amazing eating city for a really long time. Maybe people are just now noticing on a national level.
That touches on a parody piece by Lucas Kwan Peterson that the L.A. Times ran on April Fools' Day entitled, "For cramped New York, an expanding dining scene." How did that piece come together?
Lucas brought it up in like November. Like, roasting an article about L.A. discovering bread when Nancy Silverton literally invented bread herself. She took a rib out and it was a baguette. And so we talked about it every few weeks and I think he was just sharpening the knife for a really long time because we knew it had to be perfect or it would fall flat. He's got a great sense for things and proposed that we run it on April 1. I feel like it was a good piece of commentary as well as a piece of satire. Overall, the idea of competition in media is very tired to me. But I also published an issue of Lucky Peach using Bon Appétit's font. I mean, obviously, it's fun to fuck around with stuff like that. I like funny beef, but no true beef.
It felt a little bit like, "Shots fired." The L.A. Times has outlined how you plan to push into video. You've built a new test kitchen. And there have been a lot of hires, especially of people who've previously written about and worked in New York City food. Is your hope to build something that can rival the New York Times' food section?
No. I mean, I'm friends with a bunch of people at the New York Times food section and I think their cooking app is light-years ahead of any digital product I have up my sleeve. I think that the success of their food section is great.
Having spent so much time in New York, has there been a learning curve in working on this food section dedicated to L.A.?
I mean, I lived here 20 years ago. I have family on the West Coast. We did a Los Angeles issue of Lucky Peach. And in the last seven years, I spent a lot of time in the trenches with Jonathan, who was a walking history lesson. With that said, I'm not writing about Los Angeles a lot. I'm editing a section, I'll be editing my writers. I have reporters and reviewers who are on the ground doing the thing. And I'm supporting and organizing their efforts more than I'm positioning myself as an authority on L.A. But I have made food media before and I'm there to hopefully make some telling and fun stories around food.
What can people who don't live in L.A. look forward to in this new section?
I think we're gonna get better at recipes; we're gonna have better photos of recipes. We're going to be an L.A. food section. We're going to talk about Southern California a lot, but I have [cookbook author] Anissa Helou on the run sheet writing stuff for us. I'm hoping to get [On Food and Cooking author] Harold McGee back into the mix. I want us to have a national reach and resonance. And I want to do a lot more on Mexico, considering the fact that Los Angeles is the second biggest city in Mexico, and that's meaningful. I'm hoping, much in the way that the New York Times' is not seen as a local food section, that in a year we can get to the point where we're writing stories that have national resonance as well as covering our region as well as or better than anybody else. I do honestly want to make it more fun as well and try to do things in the section that haven't been done before in the way that we used to do at Lucky Peach a bit. Just keep it interesting.
This interview has been edited and condensed for clarity.