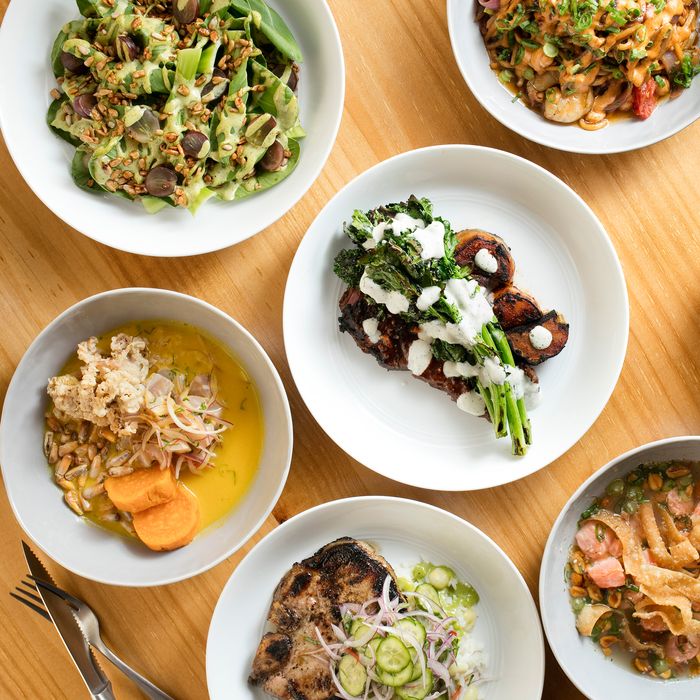 Dishes from Llamita's new dinner menu.
Photo: Melissa Hom
When Llama Inn chef Erik Ramirez opened his mostly takeout Peruvian-sandwich shop Llamita in the South Village last summer, there were a few things he forgot to take with him from the Williamsburg flagship — dinner hours and waiter service among them. But if you asked his many fans, the most obviously AWOL ingredient was ceviche, a dish for which Ramirez has become justly famed. That situation was recently rectified when the chef and his partner temporarily closed Llamita's doors to make some tweaks to the décor, the menu, and the original fast-casual concept.
This was all welcome news to the Underground Gourmet, who, while appreciating the modern need for speed and efficiency and the joy that comes from gobbling things from biodegradable bowls while staring blankly at smartphones, is not one to pass up a chance to linger over a good old-fashioned sit-down supper. When the restaurant reopened in March, it was with cushion-lined banquettes along the walls, tapestry-wrapped panels below the ceiling, and two ceviches on the dinner menu.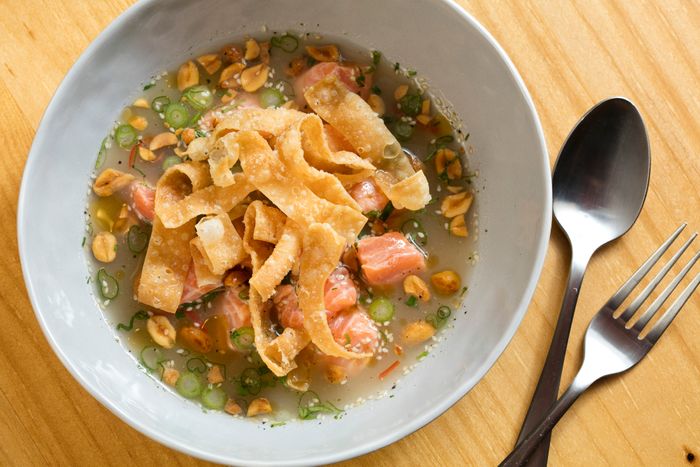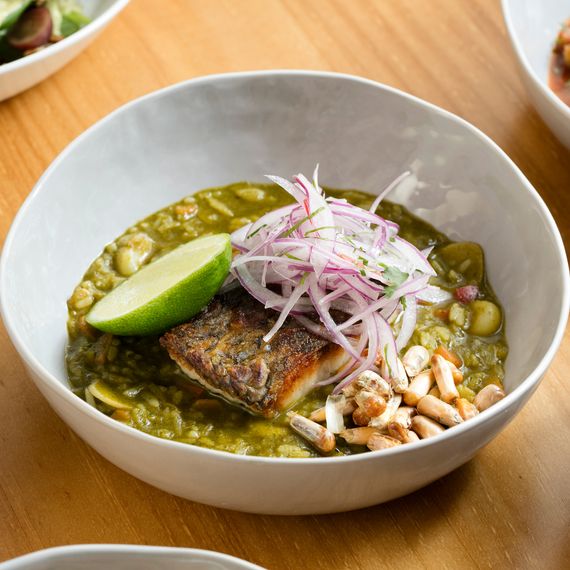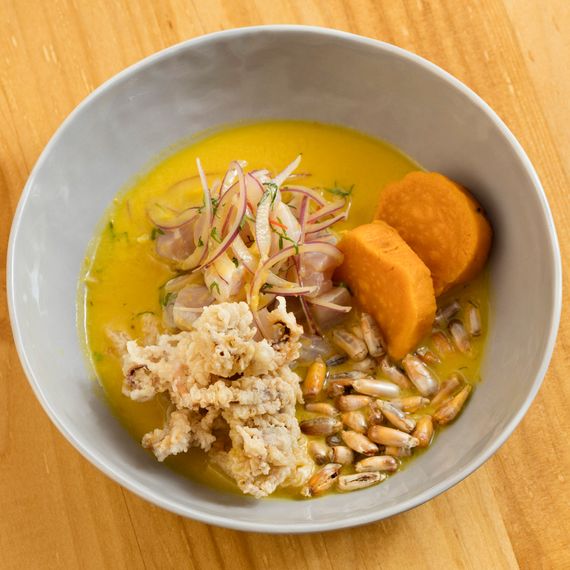 That's a good place to start, as Ramirez is indeed a master of the art of "cooking" raw fish in citrus juices. There is more to ceviche than that, of course: texture, for one, which he provides with peanuts and fried wonton skins in the Chinese-inspired "chifa-style" sea-trout ceviche, strewn with toasted sesame seeds and blasted with ginger, and with roasted corn nuts, sweet potato, and crispy squid in the striped-bass ceviche mixto. Chile heat, for another, which enlivens both. And then there is the concentrated tang of the leche de tigre, the superb marinating liquid, which is good enough to slurp from a spoon.
In an interesting development for this small-plates age, Llamita's other best new dishes are entrée size. We are speaking specifically about the hanger steak, which arrives beneath a bouquet of broccoli rabe and a creamy blue-cheese sauce, alongside roasted potatoes. It's meat and potatoes with funk and flair, each well-cooked element contributing to a greater whole. A charred pork chop marinated in a Peruvian cane-sugar syrup with fish sauce and garlic calls to mind its Vietnamese-style counterpart, its sweetness held in check by an invigorating salad of pickled cucumber and red onion. The scene-stealer on this plate, though, is the mound of innocuous-looking jasmine rice, almost indecently plumped with butter and piqued with aji verde.
A sort of square-meal homeyness pervades the dinner menu, especially in dishes like a tomato-braised chicken-and-potato stew sweetened with raisins and red pepper; it's more satisfying than the striped-bass aguadito, where a crisp-skinned fish fillet, though tasty, stands apart like a culinary recluse from its stewy cilantro-stained rice. Of the smaller plates, bok-choy leaves make an inventive (if less crunchy) substitute for romaine in that old favorite the Caesar riff, and yuca chips serve as sturdy vehicles for sofrito-sauced butter beans. There are two desserts — one rich and chocolaty, the other creamy and fruity, both worthwhile. And until the beer-and-wine license arrives, you'll have to make do with a refreshing mocktail or a glass of the Peruvian national beverage, chicha morada, a transporting blend of purple corn, pineapple, and spices.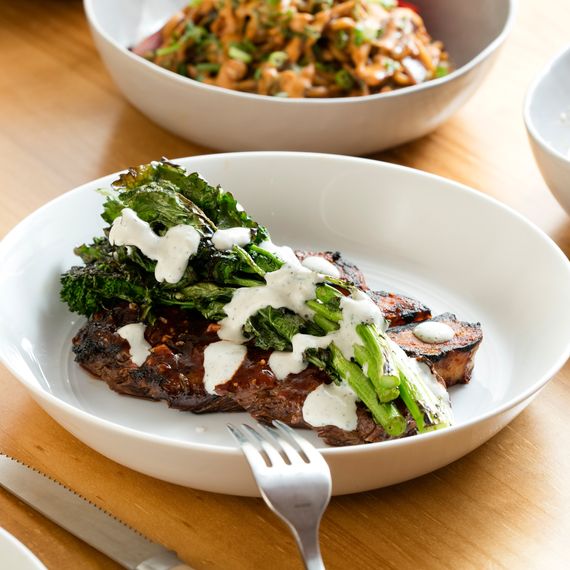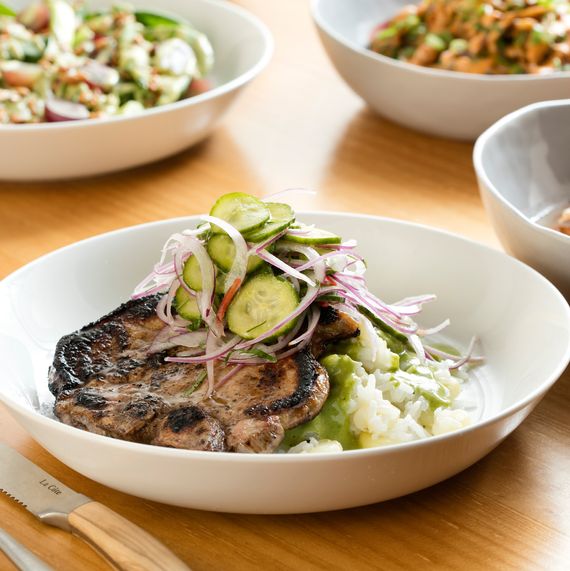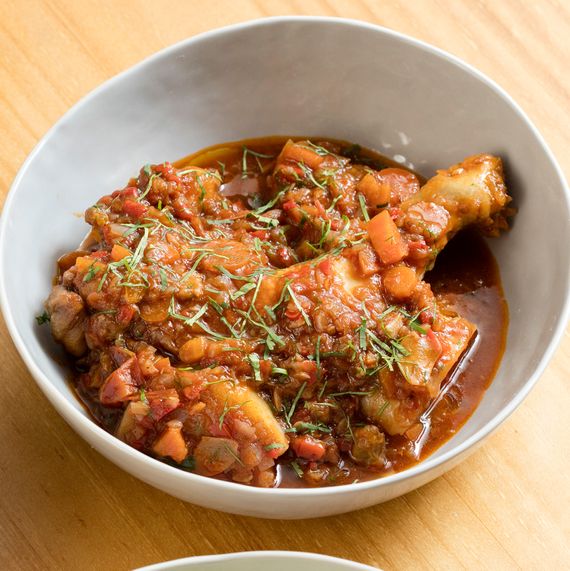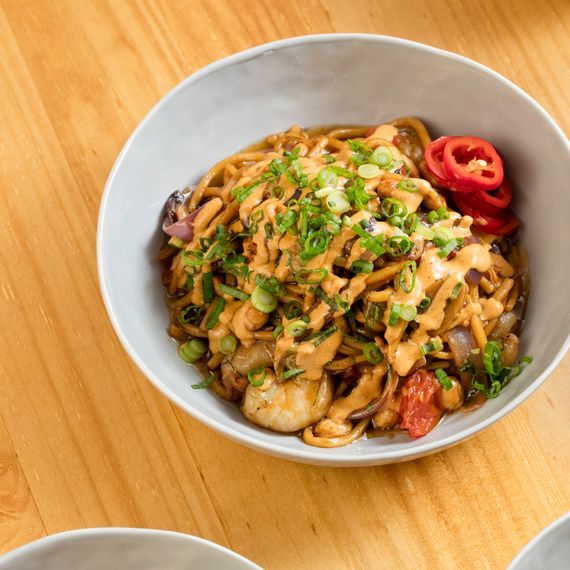 Llamita | 87 (out of 100)* | Very Good
80 Carmine St., nr. Varick St.; 646-590-2771; llamitanyc.com
Open: Lunch weekdays; brunch weekends; dinner daily.
Prices: Appetizers, $12 to $20; entrées, $18 to $26.
Ideal Meal: Sea-trout ceviche; hanger steak or chicken-and-potato stew; strawberries with pastry cream, olive oil, and Maras salt.
Note: Lunch is still counter service, with sandwiches and rotisserie chicken to stay or go; get the downright decadent oatmeal at weekend brunch.
Scratchpad: With its streamlined menu of subtly tweaked Peruvian classics and comfortable new setting, Llamita lives up to its potential as Llama Inn's baby bistro, and earns a very good 87 on our 100-point rating scale.
*The rating scale of 0 to 100 reflects our editors' appraisals of all the tangible and intangible factors that make a restaurant or bar great — or terrible — regardless of price. See The Thousand Best for 999 more great places to eat and drink.
*A version of this article appears in the April 15, 2019, issue of New York Magazine. Subscribe Now!