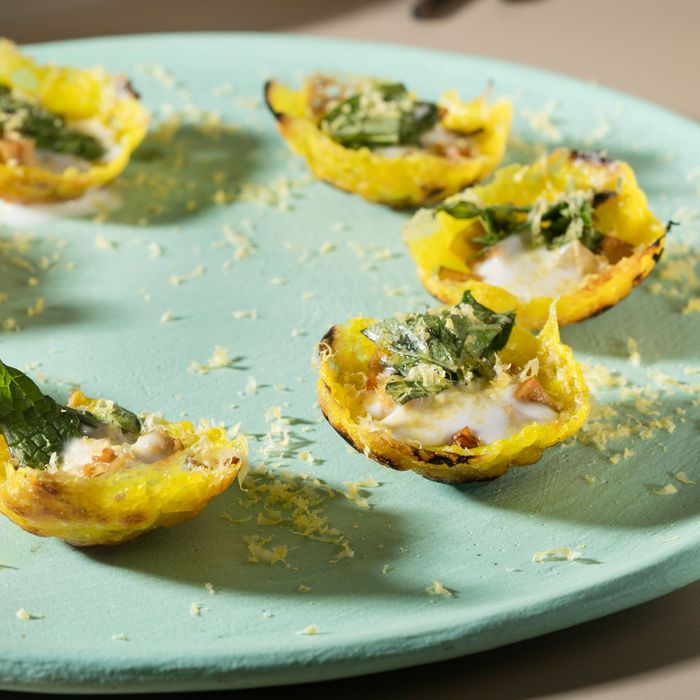 Van Da's bánh khọt with coconut custard and mushrooms.
Photo: Melissa Hom
If you spend enough time with food-obsessed New Yorkers, you will eventually hear someone lament that this is just not a city for good Vietnamese food. There are, of course, the Chinatown pho houses, and banh mi shops like Sunset Park's Ba Xuyen, but many people craving banh bot chien (a rice-cake omelette) and com hen (clam rice) have historically gone wanting. Yet over the past few years, some of the city's most exciting new restaurants have belonged to an ever-growing crop of distinctive, pedigreed banh xeo and shaking-beef specialists.
"They're highly stylized, if you like, in a way that is cool," says Hannah Wong, who worked at Gramercy Tavern and is now the chef at restaurateur Yen Ngo's Van Da in the East Village. "But the food has a similar ambition, like they're trying to introduce more elements of Vietnamese cuisine to New York in a way that I think links them all together."
Many watchers would say this started with Bunker, which opened as a ramshackle house of ca ri ga (or chicken curry) in Maspeth. The tiny restaurant caused a hubbub, and the owners eventually relocated to a larger location in industrial Bushwick, which they converted into a psychedelically colorful space with a stage for punk bands to play loudly while diners ate fish-fry banh mi. Following Bunker were the cramped but cheerfully pink Bep Ga, the recently closed Lucy's, and Bricolage, whose husband-and-wife chef team worked at San Francisco's famous the Slanted Door. Then in 2017, Hanoi House (at the time, under the troubled chef John Nguyen) and Madame Vo opened within weeks of each other in the East Village. New York's Adam Platt gave the former three stars in his review, and in the New York Times Ligaya Mishan called the two restaurants "a cause for rejoicing." Both shops emphasize different styles of beef pho, while the restaurants that have opened since then have mostly taken different and sometimes very specific focuses.
Here's why it's such a great time to eat Vietnamese food in New York:
Many new restaurants are ambitiously distinctive.
As more Vietnamese restaurants have opened, the chefs are finding more room to stand out in new ways. Take, for example, Di An Di, a Greenpoint spot that feels very much at home in New York while borrowing elements and dishes popular right now in Vietnam: "It was in a sense a fantasy that could transport you to Vietnam," says co-owner Kim Hoang of the restaurant's design. "Something New Yorkers wanted to see but also something we've seen in our travels."
The long, narrow space is tropically escapist, with its hanging plants and skylights that flood the room with light. It's a hip restaurant, and you'll find Di An Di at events like the Other Art Fair. Bunker has a similar cachet but in a punkish vein, and you could say it takes more liberties with the cooking (the heritage bacon in the banh xeo). Neither looks or feels like Bricolage, which bills itself as Vietnamese gastropub with exposed brick to match and serves turmeric-painted cha ca la vong in the form of a fish sandwich. This distinctiveness is most evident with the chefs and restaurateurs who are doubling down on one or a few things really well. Like An Nguyen Xuan at Bep Ga, who serves nothing but chicken: chicken pho, dry chicken pho, Vietnamese-style chicken and rice, and a chicken salad.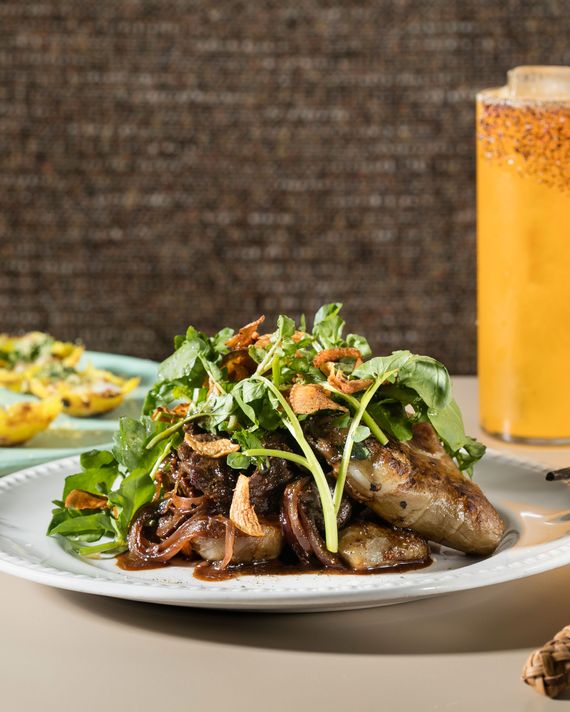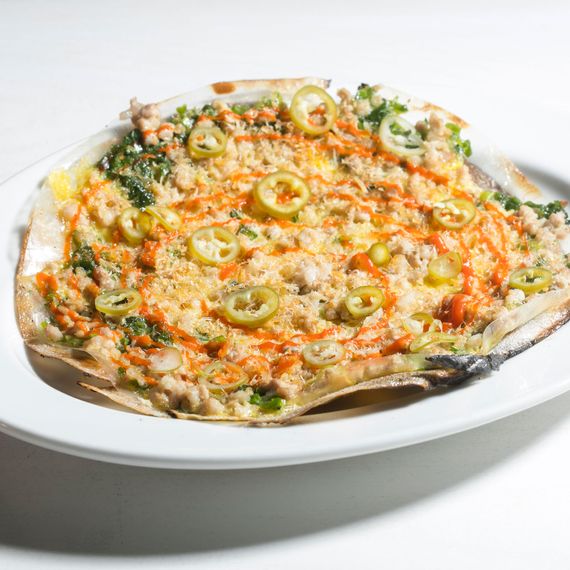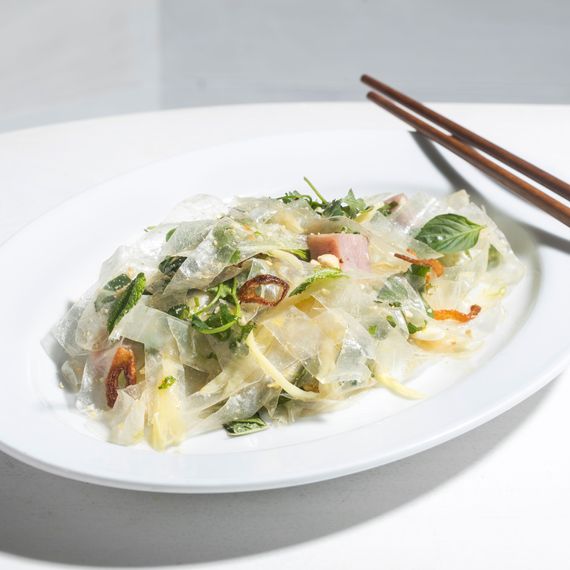 The chefs are intent on broadening the definition of "Vietnamese" food in New York.
"When you look at a certain menu and you have every restaurant offer the same ten dishes, for me it's like, Well, what would really set yourself apart?" says Helen Nguyen. For the past couple of years, she has run a roving pop-up called Saigon Social, bouncing seamlessly between styles: Korean-Vietnamese fusion, mash-ups like bo kho potpie, and super-traditional pho. It's a fluid approach she'll carry over to her first brick-and-mortar, opening later this year in the old Mission Cantina space. But before that, the Daniel alum serve her food on May 8 at Café Boulud as part of its "Voyages" dinner series.
Nguyen is not alone in consciously and vocally carving out her own space. When Ngo opened Van Da, she established a precedent to serve dishes that specifically haven't gotten a lot of traction in New York. The chef Jimmy Ly made similar comments when he and Yen Vo opened Madame Vo BBQ late last year. So did John Nguyen when talking about Sai Gon Dep, a midtown chicken-pho spot that opened last fall and to which he contributed recipes. And this very week, the owners of Hanoi House will likewise expand with Hanoi Soup Shop, where Daniel Le will serve soups like lamb neck in chili-lemongrass broth.
"I think there's a void in Vietnamese cuisine here," Ly told Grub at the time. At Madame Vo BBQ, he serves Vietnamese grilled meats cooked over fancy Japanese-style grills. The centerpiece of the menu is the tricked out bo bay mon, rethought with courses like dry-aged beef, and the space has a retro Vespa and walls painted with tropical plants for good measure. It's nothing like the nearby Van Da, which is a more elegant lounge spread over two floors. The menu there gets regional with sections for the cooking of Hue, Saigon, and Hanoi. Some dishes are more or less classic, like Hue's turmeric-laced rice cakes called banh khot (topped with mushrooms and coconut custard), while others, like the short-rib grilled cheese, are not — it's served not with tomato soup but with a chaser of pho broth.
"The menu represents me in a lot of ways — that I'm really traditional because I come from Hue, where my mom's from. But I'm also American," says Ngo, whose family resettled in Washington, D.C., as refugees. Adds Wong, "Maybe part of it, too, is the generation of people that came over, their children now are coming to New York and doing things, so there's more second-generation Vietnamese people here."
That's what Tuan Bui and Hoang, who came to New York from Houston and northern Virginia, respectively, want reflected in Di An Di. "I feel like what we grew up with, these hole-in-the-wall pho shops, that was a response to what was necessary at the time. Those businesses grew out of a need," says Hoang. "However, that is not something Tuan and I relate to directly."
When Hoang, Bui, and the chef-owner Dennis Ngo opened Di An Di, they billed it as a house of pho. Five are on the menu, including one that's a nod to a specific Hanoi shop, but that was catnip. "That was kind of to catch people. I guess it's a connection," Bui says. "And the new dishes were, I think, more of an evolution. Like, Okay, what else can we bring that people haven't tried before?'"
Modern Saigon's influence is strong.
Many of the dishes on their menu, Bui says, are trendy in Ho Chi Minh City and centers of the Vietnamese diaspora (Orange County, California, for example). Take the banh trang nuong, grilled rice paper with toppings like shrimp floss. But the most exciting sign of things to come might be New York's first Vietnamese coffee shop, Cafe Phin. Operated out of Bui's other restaurant, An Choi, it's a brick-and-mortar for Nguyen Coffee Supply. The beans are proudly and exclusively from Vietnam, and the drinks borrow from the country's creative approach to caffeinating. There's an iced latte made with ube syrup, plus a pitch-perfect coconut coffee.
Still, it's not so much the coffee (which is, admittedly, very good) as the fact that Phin is such a specialist — and that its owner, Sahra Nguyen, is carving out room for a Vietnamese product in a space that's been, well, boringly monochromatic. Those same food-obsessed New Yorkers probably didn't see a Vietnamese café coming or a restaurant that divides its menu regionally in a way usually reserved for Italian ones. But the individuals opening these places have, of course, been busy dreaming them up. And if the enthusiastic reception is any indication, there's room for a lot more.