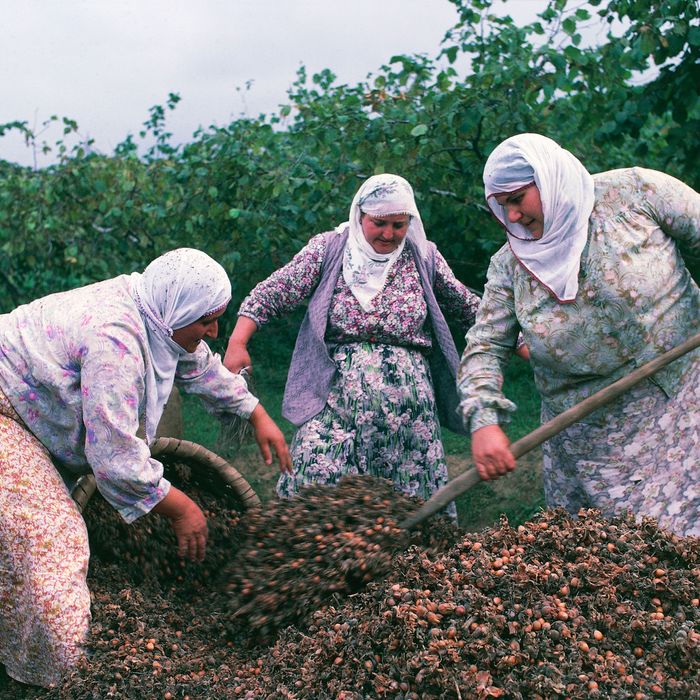 Your Nutella is not guilt free.
Photo: G. Sioen/De Agostini via Getty Images
Today, the New York Times published a thorough and thoroughly heartbreaking story about the exploitation of laborers working Turkey's hazelnut harvest. This is not about a few people on a couple farms: The vast majority of the world's hazelnuts — 70 percent to be exact — come from Turkey. In turn, that harvest is largely bought by companies like Ferrero, which buys a whopping one-third of Turkey's hazelnut harvest for Nutella and its Kinder and Rocher chocolates, as well as Nestlé and Godiva. Now, the abuse has entangled Syrian refugees, who have fled a humanitarian crisis only to find their vulnerability exploited for some nuts. Here are the most important takeaways.
To begin with, it's awful work.
One laborer tells the Times that the inclines are such that "you can never stand up straight," while another said his sons had to be attached to rocks by rope. On some farms, workers endure these conditions for 12 hour work days. More than 72 percent say they had just enough money to get by, while 99 percent say they worked seven days a week. And many Syrian refugees are without work permits, and therefore without protection.
Farmhands are at the mercy of unregulated middlemen.
The workers are found by the farms by middlemen called dayibasi, who refugees tell the Times regularly lie about wages. One worker says he was paid half the day rate he was promised ($10 versus $20), which only covered the cost of travel and living expenses. "We returned with nothing," Shakar Rudani, a refugee, explained to the paper.
The middlemen outright steal wages.
Laborers are paid enough to cover food and rent while working, and given "business cards" that they turn in for the rest of their money at the end of harvest. But a Turkish professor of labor economics named Saniye Dedeoglu tells the Times "we have so many people" fall victim to middlemen who "just disappeared." Other middlemen simply take extra money without disappearing, which the contractless workers can't do anything about.
Your hazelnuts could've been picked by child laborers.
Almost all farms pay Turkey's minimum wage, which is below the country's poverty line, a pittance of pay, of which the middlemen take at least 10 percent. Syrian refugees tell the paper, accordingly, that the poor wages leave them with no choice but to have their children work.
Regulating is left up to giant corporations.
While the Turkish government has reportedly tried to combat child labor in the industry, businesses with less than 50 employees aren't held accountable to the country's labor code. The big companies have to mostly deal with these issues themselves, but they're not being transparent about who they're working with …
As with other exploitative industries, the supply chain is obfuscated.
… And are keeping their hazelnut sources secret. For example, Ferrero declined to name a single farm it buys from. (According to the Times, a 70-year-old farmer named Sema Otkunc cannot name either her "local buyer, or the final destination of her hazelnuts.") So while Ferrero will point to its Ferrero Farming Values program, it's not willing to name names — which could actually help determine if those programs are actually working.
The farms are struggling, too.
The nature of the global economy means that while Turkey's hazelnut harvest can yield as much as $1.8 billion in one year, the farms are just trying to be profitable. Otkunc tells the paper that "we're at the mercy of the free market now" and, specifically, of price-setting buyers.
The problem is unavoidable.
There is not a single hazelnut farm with decent labor practices in Turkey, Richa Mittal of the Fair Labor Association tells the Times. Consider that agriculture accounts for a fifth of the country's workforce.
There is nothing to do about this, until the system changes.
According to Ferraro, the amount of Nutella it produces in a year is equivalent to the weight of the Empire State Building. It cannot do this without buying a lot of Turkish hazelnuts, and it cannot buy Turkish hazelnuts without buying into a exploitative system.