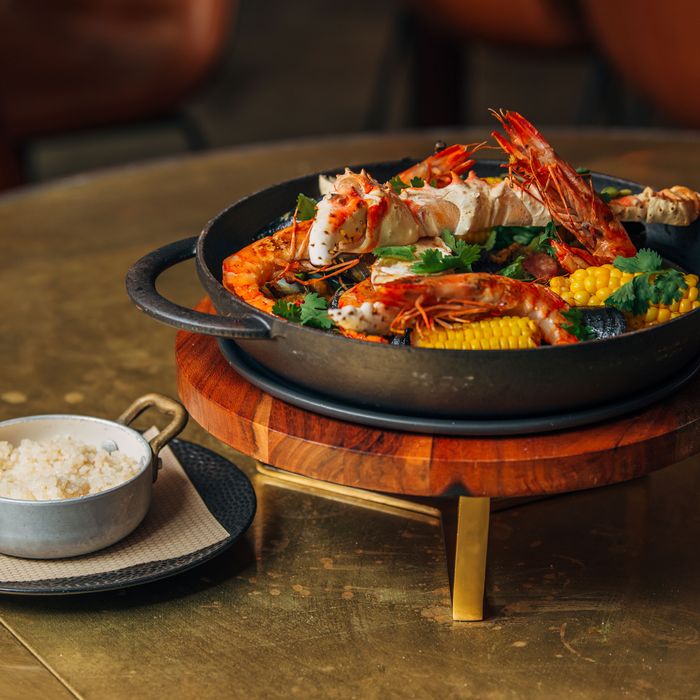 Henry at Life Hotel by JJ is one of writer Brett Martin's picks.
Photo: Christian Rodriguez
After three months spent investigating Houston's "palace of unrestrained pleasure," San Francisco's "theatrical, fine-dining seafood house," and more, GQ's Brett Martin is ready to announce his picks for this year's Best New Restaurants. New York is represented this year by Henry at Life Hotel by JJ, the chef JJ Johnson's ode to the cooking of the African diaspora, and Shabu Shabu Macoron, the high-end hotpot spot. (New York restaurant critic Adam Platt named Macoron one of his favorite new restaurants of 2018.) Check out the full list below, and Martin's article for the complete treatment.
Alewife (Richmond, Virginia)
Angler (San Francisco)
Big King (Providence, Rhode Island)
Cafe La Trova (Miami)
Georgia James (Houston)
Henry at Life Hotel by JJ (New York City)
Homer (Seattle)
Indigo (Houston)
Kyōten (Chicago)
Ma'am Sir (Los Angeles)
Nightshade (Los Angeles)
Shabu Shabu Macoron (New York City)
Vianda (San Juan, Puerto Rico)