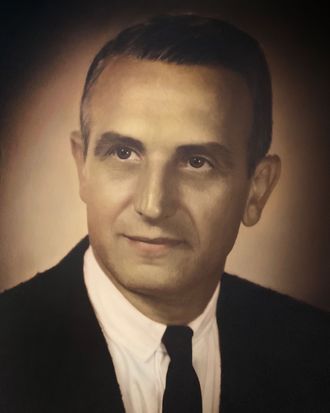 Charles Sanna was 101.
Photo: Courtesy of the Sanna Family
Sad news out of Wisconsin this week (via the Times): Charles Sanna, the inventor of the iconic Swiss Miss hot cocoa mix, died last month at the age of 101. Having originally devised the formula as a coffee creamer for soldiers in the Korean War, Sanna was subsequently forced to find a use for the surplus packets of the product the company was required to have on hand at all times. Swiss Miss was the solution.
Born in 1917 to Italian immigrants in Philadelphia, Sanna studied mechanical engineering at the University of Wisconsin–Madison before briefly working in the steel industry and serving in the U.S. Navy during World War II. After the war, Sanna hoped to reenter the steel industry but was convinced by his father to join the family business: dairy.
Brown Swiss, the first iteration of the cocoa mix, was sold wholesale to airlines and restaurants; customers often stole the packets to use at home. In 1961, the Sanna family rebranded the product as Swiss Miss and began using more shelf-stable nonfat milk powder in the formula so that it could be sold at grocery stores. The new product was a runaway hit. In 1967, Swiss Miss was sold to Beatrice Foods, which was purchased by Conagra — the company behind Duncan Hines, Marie Callender's, Vlasic Pickles, Slim Jim, and more — in the 1990s. According to Conagra, more than 50 million boxes of Swiss Miss are sold every year.
In a February 2019 interview with the Wisconsin State Journal, Sanna surmised that the quality of Swiss Miss had fallen off in the half century since the family sold the brand. Still, he remained proud of his accomplishment, telling the paper, "It nice to know that you've done something that will carry on."