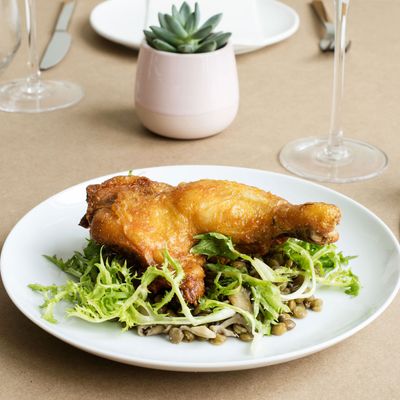 Crispy chicken thigh and drumstick with lentils, maitake mushroom, frisse, and honey-chile sesame oil.
Photo: Melissa Hom
For the better part of this decade, many wine bars that have opened in New York have been of a very specific type: inspired by France's neo-bistros, with more considered food, trendier aesthetics, and an emphasis on natural wine. Places that made the phrase "wine bar" good, in other words. Now, the owners of Coast and Valley want to take the idea one step further and do the same for contemporary California wines.
"There are natural wine bars, Spanish- or French-focused wine bars, but there wasn't one focused on California wines. We want to go for that niche," says Eric Hsu, an owner of the bar with his partner Stephanie Watanabe.
Opening tomorrow in Greenpoint, the 34-seat Coast and Valley takes elements of New York's new-school wine bars and filters them through the Golden State. What comes out the other end is a place that's stylishly restrained. With its cerulean-blue pillows, white walls, and light wood chairs, it looks not unlike the sort of aspirationally casual Los Angeles café that might serve, say, a poached chicken salad or spiffy porridge. But, it's in New York, and Watanabe and Hsu have created a place that is, instead, a sort of love letter to the state. It's also a place that is a celebration of California wine, and every single wine served here will come from that state.
Watanabe and Hsu come to New York from the Bay Area, where she worked in for the high-end caterer Paula LeDuc and he moved after co-founding Wine Direct. It's also where they both say they got into wine and started figuring out what they like. With the menu, they say they want to mimic the experiences they had of trying new wines all the time, giving people a Tour de California Vineyards.
"We feel like California has so much to offer and there's this mistaken kind of notion that California is all buttery Chardonnays and big Cabs," Watanabe says. "We want to break through that and really share what California is doing now: new world wines, pet-nats, orange wines, Italian varietals, many things people are unaware of here."
To that point, there's an emphasis on Chardonnays fermented in steel tanks; Pinot gris; Italian varieties like Barbera, Nebbiolo, and Vermentino; and even some, close your eyes wine snobs, Merlot. There are roughly 50 wines to start, and Watanabe says they'll keep working to get it upward of 100 to 120 over the next month. Also worth noting: Everything will be available by the taste or glass, even the more expensive bottles normally not offered that way.
They're keeping things California in the kitchen, too, and there is, in fact, poached chicken on the menu. "We worked on a menu that's felt like the kind of meal you'd have going out in wine country," Watanabe explains.
That gently cooked poultry is served during brunch with avocado, charred cucumber, and a ginger-buttermilk sauce, alongside a few other staples like buckwheat pancakes with cardamom butter and maple syrup. The dinner menu is equally uncluttered, but far from basic. There are roasted grapes with the ricotta; a dish of crispy jasmine rice with spring onion and more; and an also crispy chicken thigh and drumstick with lentils, maitake mushrooms, frisse, and honey-chili sesame oil. You might not be in California wine country, but if all goes according to plan, Watanabe and Hsu at least want you to feel a little closer.
Coast and Valley, 587 Manhattan Ave., nr. Nassau St.; 917-838-7559