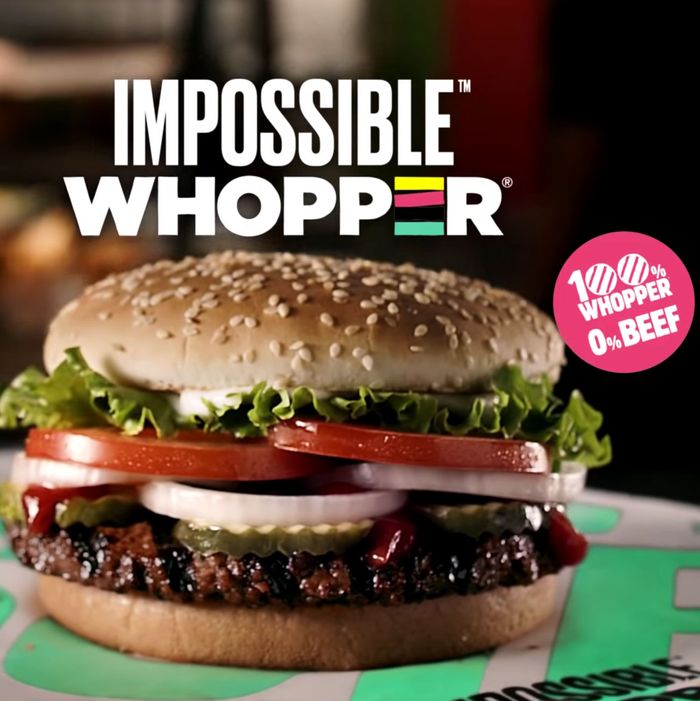 It's going nationwide.
Photo: Burger King
Since it was introduced a few years ago as "the veggie burger that bleeds," the Impossible Burger has quickly become a more and more common sight: First at trendy and culture-defining restaurants like Momofuku Nishi and later Mission Chinese Food, and then at White Castle — the chain of choice for ironic Valentine's Day dates. It's now not rare to walk by random restaurants in New York advertising that they have the plant-based patty. But the goal was always to go big and appeal to meat eaters, which means meeting them where more of them eat. That plan seems to be coming to fruition, as Burger King will introduce its Impossible Whopper to all 7,300 of its locations nationwide by the end of this year.
The announcement comes a few short weeks after the fast-food chain dipped its toes into the veggie burger waters. On April 1, Burger King started offering its Impossible Burger at St. Louis locations, and those tests, a spokesperson for its parent company tells CNN, "went exceedingly well." Burger King is using the Impossible Burger 2.0, which New York critic Adam Platt found himself a big fan of when he tried it as served by Umami Burger. Burger King's customers seem to be, too, and the company tells CNN it will start bringing the Impossible Whopper to new markets "in the very near future." For Impossible Foods, this is no doubt a big deal, considering the reach of Burger King, even given the systemic issues with the fast-food industry.