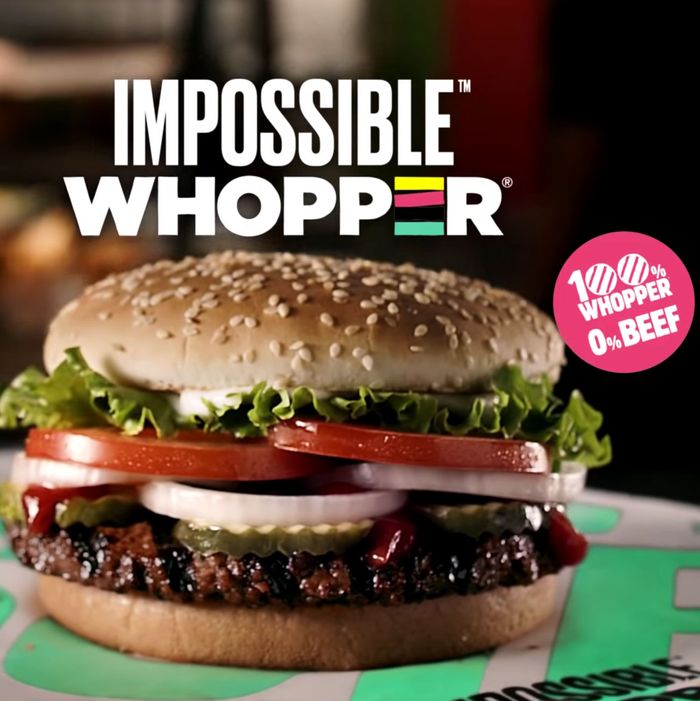 Meet the Impossible Whopper.
Photo: Burger King
The Burger King and Impossible Foods crossover you never knew you wanted has arrived: Today, the two companies announced that they've come together to create a meatless Impossible Whopper. This, it's worth noting, is not an April Fools' joke.
It's Impossible Foods' biggest announcement to date, after first testing the fast-food veggie-burger waters at White Castle, Red Robin, and Umami Burger.
Now, of course, it's landed the biggest fast-food burger of all: the fabled Whopper. Impossible Foods was so thirsty for this team-up that it had one of Burger King's iconic flame broilers shipped to its factory in Oakland to make sure it could replicate the Whopper's slightly burned taste and weirdly dry patty. The start-up also flattened its patties to make them look as Whopper-y as possible, and created an entire production line solely dedicated to Burger King.
For whatever reason, the Impossible Whopper will make its official debut in St. Louis, where it will be available at 59 locations. (Yes, this is the same St. Louis that does not slice its bagels correctly.) If the trial run proves successful, B.K. will roll out Impossible Whoppers to all 7,200 locations around the United States.
Meanwhile, the McDonald's Australian arm used the occasion of April Fools' Day to announce a veggie burger of its own. It's a joke, but it honestly does not look all that bad: