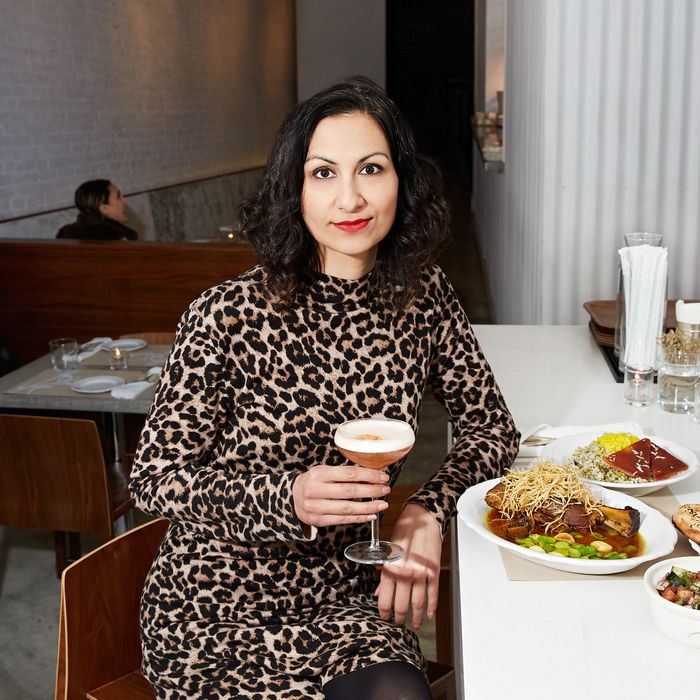 Yasmin Khan at Sofreh in Brooklyn.
Photo: Hanna Pavlova
Yasmin Khan is trying to take it easy. "Oh my God, I've just been doing very little," says the vivacious and punchy author, who's in New York after touring the U.S. for her second and universally praised cookbook, Zaitoun: Recipes and Stories From the Palestinian Kitchen. "The tour was super inspiring for me, because I'm interested in using food to, you know, create a safe place to have challenging conversations." Khan is a former human rights campaigner, and in Zaitoun she effortlessly weaves from politics to, as she puts it, "So let's talk about hummus!" While she may be recouping, she's already gearing up for her next book (next month, she's off to Turkey for a research trip) and spent her time in New York eating a whole lot of bagels, falling in love with Peppa's jerk chicken, and dropping by Sofreh. Read all about in this week's Grub Street Diet.
Friday, March 1
Back in New York! I got in from Boston late on Thursday and it was my first morning in a while where I didn't have to move. I was staying in an apartment on the Upper West Side, and I woke up to snow and sat on the couch while I looked out the window and ate an everything bagel with cream cheese with a mug of Irish breakfast tea and milk. I contacted my host to ask where to get bagels — I was doing this thing called Home Exchange — and when we arrived they already had bagels from Barney Greengrass waiting for us.
After a massive walk from the UWS through Central Park and into midtown, I hit up Junior's near Times Square for a late lunch. I hadn't been to Junior's before, actually. My partner and I love New York, and hadn't seen each other for quite a long time because of the book tour. It's probably the last thing we needed; we could have used a day of vegetables.
I had a pastrami Reuben on wheat. Extra dill pickles on the side. My fiancé had corned beef on rye, so we swapped halfway through, and I also stole some swigs of his chocolate milkshake, which was amazing. We had been hoping to try their famous dessert, but were totally stuffed. Next time. We walked home, and I tried to do some writing, but fell into a food coma.
Skipped dinner as I was still full from the Reuben, so I just had an apple and a fig cereal bar from Trader Joe's, washed down with a cup of tea. I feel like I was a huge fan of Trader Joe's a few years ago. I am, to my shame, one of those people who loves pumpkin shit. I first started coming to the U.S. seven years ago, during that time when it was popular. That's when I fell in love with it, because Trader Joe's is the king of putting pumpkin spice into everything.
Saturday, March 2
Woke up feeling exhausted. Likely it was that the aftereffects of being on the road for five weeks finally caught up with me. Decided to have a healthy day.
First thing I had was an Irish breakfast tea — because I'm English and always have to have breakfast tea in the morning, normally Tetley's — with a handful of blueberries, and then I got on my mat to do a yoga practice. I carry my mat everywhere with me and do some stretching and meditation every day. When you travel a lot, you have to have certain things that are your routine. Wherever I am in the world, it gives me that sense of familiarity. I always have the mat and — this is very sad — for like ten years I had one mug I traveled with, until I broke it earlier this year. So this was the first trip I'd done without my travel mug, though I saw a mug I might replace it with.
A bit later, breakfast was a slice of whole wheat toast with some lemon hummus from Barzini and a small salad of green leaves, half an avocado, and some goddess dressing.
Drank loads of water and remembered that New York in winter is so dry.
Another Irish breakfast tea and milk and then off for a walk with some snacks in my bag: a pear and a handful of Trader Joe's mesquite smoked almonds. I ate these as I rambled around Central Park and visited Book Culture, where I spotted my book and signed it for the store (and then also rearranged it so it stood out on the shelf, something all authors do when they see their books!). Was super hungry and wanted to eat, but I had a massage booked, so instead I grabbed a green juice from Joe & the Juice: kale, broccoli, cucumber, spinach, apple.
By the time my massage was done, I was starved. I went home and whipped up an early dinner. Roasted some butternut squash in the oven, cooked some brown lentils and seasoned them with lots of olive oil, garlic, cumin, and lemon juice. Steamed some green beans. Ate it all with white rice and lots of olive oil and black pepper. Then I was still hungry so I had another fig cereal bar and a cup of peppermint tea.
Went round to see my brother-in-law in Park Slope and had my favorite local beer, Brooklyn Brewery East IPA. Then I headed to a friend's party in Prospect Lefferts Gardens where I had a few more beers. Ate the most incredible chicken there: jerk chicken from Peppa's in Flatbush! Also, I ate a few too many crackers with brie and some Trader Joe's peanut butter cups.
Got home around 2 a.m. and had a cup of chamomile tea.
Sunday, March 3
Woke up late, slightly hungover, and added some sugar to my morning tea and milk and let it brew an extra minute.
Did some yoga and then decided to go for a walk to clear my head. Went down to Breads Bakery for the amazing chocolate babka. I'd had that babka quite a few times at my friend's house, but my partner never had, and it just felt like a nice Sunday thing to do, to go for a stroll.
We bought a whole one and I had two thick slices washed down with a strong black filter coffee while sitting outside. It's so flaky, it's not too sweet, it's kind of somewhere in between a cake and croissant. It hits all the spots.
The world felt good again.
Stopped by Zabar's on the way home and picked up a round of Graindorge Camembert. Got home and ate some with two slices of toasted whole wheat sourdough. It was the stinkiest cheese ever and the whole apartment smelled of sweaty feet. Tasted amazing, though.
(My partner wasn't in and when he got back he was like, "What's that smell?" And I said, "It's not me, I had some cheese!")
When the snow started, I hopped on the train south and headed to dinner at La Esquina in Soho, where I caught up with friends, including my dear friend Nathan Thornburgh from Roads & Kingdoms. We hadn't seen each other for almost a year, so we threw down quite a few margaritas and feasted on the best Mexican food I'd had in NYC. Octopus tostadas; lamb tacos; grilled corn with queso cotija, mayonnaise, and chili powder; red snapper ceviche; and the incredible queso chihuahua with molasses-roasted pumpkin seeds, chile de árbol, and tortilla chips.
Drank more margaritas after dinner and a little dance at the La Esquina bar to some hip-hop, Latin, and R&B grooves. Got home late and it was full snow. Went for a 1:30 a.m. walk through the snow in Central Park, which was beautiful and magical. Then back home for a cup of herbal tea and bed!
Monday, March 4
Woke up late with a sore head and went straight for a cup of Irish breakfast tea with some mango and blueberries. Followed that with a sesame bagel and cream cheese and sat down at my computer to work.
After a few hours of emails, I had a snack of a slice of leftover babka and some coffee and then went for a walk over to the Kitchen Arts and Letters bookstore, where I had to sign some copies of Zaitoun.
Came home and cooked dinner: a chickpea, potato, mushroom, and kale stew. It was just what I craved after a big walk in the snow and a late night. It felt healthy and rejuvenating and wholesome.
Watched Saving Mr. Banks and had a late-night snack of hummus and unsalted Tam Tam crackers. The movie was not life-changing, it was super easy — I'd been taking life quite easy. It's the story of how Walt Disney bought Mary Poppins, it's got Emma Thompson in it, so it's a bit English, which was nice, as I'd felt a bit homesick.
Tuesday, March 5
Started the day with tea (of course) and another bagel and cream cheese, but this time it was cinnamon-raisin, and oh my God, I love them. I really like warming spices. I felt like I was in this position where I'd traveled a lot and I was just going to eat in an "I don't care" mode, which was nice.
Spent the morning working at home and had a coffee and walked down to midtown to record an episode of the Carbface podcast, picking up a Pret avocado wrap on the way. During the podcast we gorged on candy, which was super gross but kinda thrilling in a sugar-high way. We had these horrific marshmallow chicks and rabbits, Hi-Chew sours, and Milkita, an Indonesian toffee made from condensed milk. I felt a bit sick afterwards.
Dinner was at Sofreh, one of my favorite places to eat in Brooklyn. There just haven't been fresh Iranian restaurants in the U.S. — I can't even think of a place on the West Coast that's like Sofreh. What I really like about it from a food point of view is that it has a lot of regional Iranian dishes; it's really rare to see some of those recipes in a restaurant.
My sister lives just around the corner and is a frequent visitor, and we even bought my mom here once when she was visiting NYC last year (she loved it!). The cocktails are also innovative and impressive. I had the Shirin and Sour, made with white rum, house-made grenadine, pomegranate liqueur, and Peychaud's bitters. Then the lamb shank with mixed herb rice, which you should always order with yogurt, a refreshing shirazi salad, tahdig, and torshi (Iranian pickles). Persian meals incorporate all these elements so you get contrasting flavors and textures — the yogurt, salad, and torshi bringing a sharpness and zip to cut through the heaviness of the meat. It's the best.