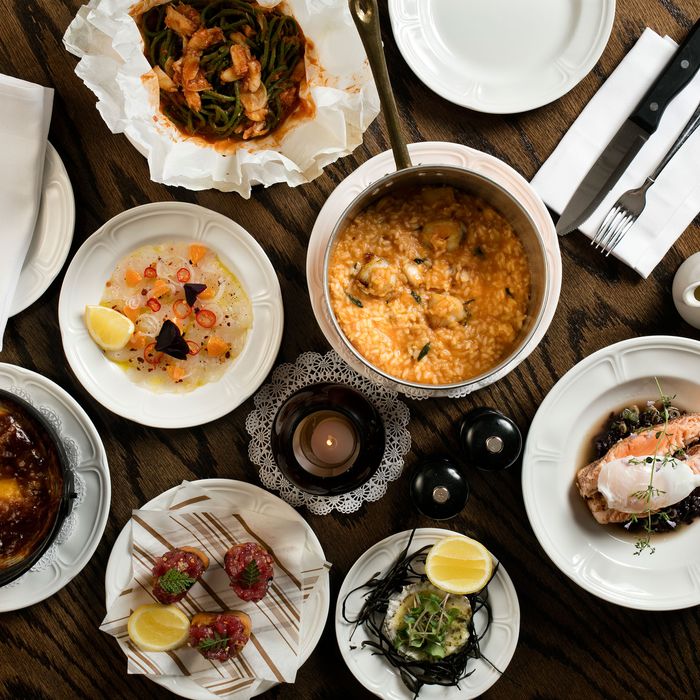 The seafood spread at Gran Tivoli.
Photo: Melissa Hom
New York City has always been a seafood-lover's paradise, yet some exciting new restaurants are nevertheless helping to expand the options with some fresh ideas. Whether it's coastal-Italian excursions, a "fish butchery" where sustainability is the name of the game, a Korean riff on a French classic, or a Vietnamese spin on uni that's drowning in some very impressive butter, there are so many great new options to choose from. Here are a dozen unmissable dishes worth ordering at some of New York City's newest restaurants.
O:n°
What: Tomato Seafood
How Much: $45 (small) or $65 (large)
The focus at this restaurant from the team behind Her Name Is Han is table-side cooking, which involves a lot of Korean hot pot. Of the eight options, four involve seafood, including the rich and mildly spicy "tomato seafood" with blue crab, Orient crab, shrimp, scallops, monkfish, calamari, and sea bass. In a city where hot pot is more or less associated almost exclusively with Chinese cuisine, O:n° and its New Korean style of food are a welcome addition to the scene.
Chamusca
What: Market Ceviche
How Much: $18
Any busy restaurant that touts itself as a "fish butchery" had better offer the freshest possible fruits de mer. Here, chef and owner Gustavo Frias's ceviche features the day's catch plus onions, garlic, parsley, shishito peppers, and, of course, a whole lot of lemon juice.
Gran Tivoli
What: Fish Stew Pot Pie
How Much: $34
If you've been living under the impression that pot pies are solely the domain of chickens, this coastal Italian restaurant will kindly disabuse you of that notion. Gran Tivoli's fish stew pot pie features four types of seafood — scallops, mussels, cod, and shrimp — under a puff pastry. The rich tomato-based stew pie arrives table-side in a cast-iron pot that's almost as pretty as the food inside it.
Barca
What: Zuppa de Lenticchie
How Much: $19
The name of this dish translates to "lentil soup," but this goes far beyond a few sad lentils in broth. First of all, the base is a rich lobster stock swimming with caramelized mirepoix. Once the lentils are cooked, lobster tail and rock shrimp are added to the mix; then it's finished with black-garlic crostini.
Sushi by M
What: Omakase Dinner
How Much: $50
This new omakase competitor from an alum of Sushi Seki manages to stand out among the city's glut of luxury fish counters by offering an actual bargain: A 12-course dinner at this 7-seat spot starts at $50. As with all omakase meals, the selection can change from day to day, but sushi standbys like tuna, hamachi, barbecued eel, salmon roe, and uni, are all present and accounted for.
Saint Julivert Fisherie
What: Cod à la Nage
How Much: $21
In just six months, this Cobble Hill favorite has become a true destination for seafood fanatics. For spring, owners Alex Raij and Eder Montero have rolled out a brand-new dish of salt cod that's wrapped in mint-like perilla leaves and poached in coconut broth. It manages to be fresh, tropical, and satisfying in equal measure: just what you want as the weather warms.
Odo
What: Sushi Kaiseki Course
How Much: $200
Kaiseki — a multicourse Japanese dinner featuring dishes that are grilled, steamed, boiled, and more — is the main attraction at Odo. But this month, the restaurant added this option, with which diners can enjoy all of the above plus an extended omakase course featuring whatever seafood and ingredients are in season. At $200, it isn't cheap, but as far as Grub is concerned, it's certainly worth the price tag.
Haenyeo
What: Spring Bouillabaisse
How Much: $29
The outstanding French-Korean bouillabaisse at this Park Slope spot takes its inspiration from spicy Korean fish stew, but pulls back a bit more on broth in favor of showcasing the steamed seafood that goes into the dish. For spring, chef Jenny Kwak is going to lighten the dish up with a white wine base featuring whitefish, scallops, and seasonal shellfish like cockles and mussels. Come summer, expect a version with crab meat.
Madame Vo BBQ
What: Charred Uni
How Much: Market price (usually $14-$20)
Beef is the star at this East Village hotspot, but don't overlook chef Jimmy Ly's massive prawns with orange butter, grilled oysters with duck fat and tamarind salt, and the fantastically rich, broiler-charred uni, which arrive practically swimming in fish sauce and beurre blanc.
Kāwi
What: Hwedupbap
How Much: $39
At the newest Momofuku outpost, the most exciting thing on the menu might be chef Eunjo "Jo" Park's creative seafood dishes, especially this mix of raw fish (tuna, fluke, and scallops), flying fish roe, and carrots, cucumbers, and radishes on a bed of sesame-seaweed rice.
Wayan
What: Steamed Black Bass Pepes
How Much: $24
At this Franco-Indonesian restaurant from husband-and-wife team Cédric and Ochi Vongerichten, there's lots to choose from seafood-wise, but the standout is this wild-caught black bass steamed with pea shoots, lemongrass, kaffir lime, and onions in a banana leaf. The finished dish is served with a coconut chile-calamansi vinaigrette for a powerful citrus aroma that'll make any takers the target of "just-one-bite" thieves.
Wild Ink
What: Seared Diver Scallops
How Much: $18
There are a lot of very boring ways to serve diver scallops, but luckily that's not a problem at this new Hudson Yards restaurant, where the shellfish offering is pan-seared diver scallops with lardo (basically, very fancy bacon), served in a creamy, lentil and red bean-based dal. It's the Indian-Italian crossover you didn't even know you needed.